Anne Appleby: Hymn For The Mother
August 6 2021 - December 20 2021
Observing and responding to her the forest surrounding her home and studio outside of Jefferson City, Montana, artist Anne Appleby distills her perceptions of natural elements as they perpetually alter throughout their life cycles. In this new series of works, Appleby addresses the collective angst we are experiencing, consciously or not, regarding the rapidly changing climate. Through a subtle approach employing various mediums and imagery, the exhibition examines the romantic ideas we hold culturally in relation to the reality and effects of a warming planet. Appleby states "I have spent the last twenty-three years painting the landscape of my Montana home, in a reductive language observing the cyclical nature of trees and plants. I use this language in the exhibition but also explore a traditional style of romantic landscape painting."
"As an elegy to Mother Earth in face of unprecedented environmental destruction, A Hymn for the Mother may be best understood through the lens of forward-thinking conservation practices and legislation and the development of the environmental movement in Montana. Usually, contemporary art falls on one end of a spectrum while environmental policy and activism lie elsewhere, unrelated, but Appleby manages to create a body of work that bridges this traditional division. This is not to say that Appleby's work is overtly political. Rather, the environmental movement in Montana works as an armature to support deeper engagement and a better understanding of the artist's practice and her work." —Brandon Reintjes, senior curator at MAM.
This exhibit is sponsored by The Wren in downtown Missoula and Ruth and Kim Reineking.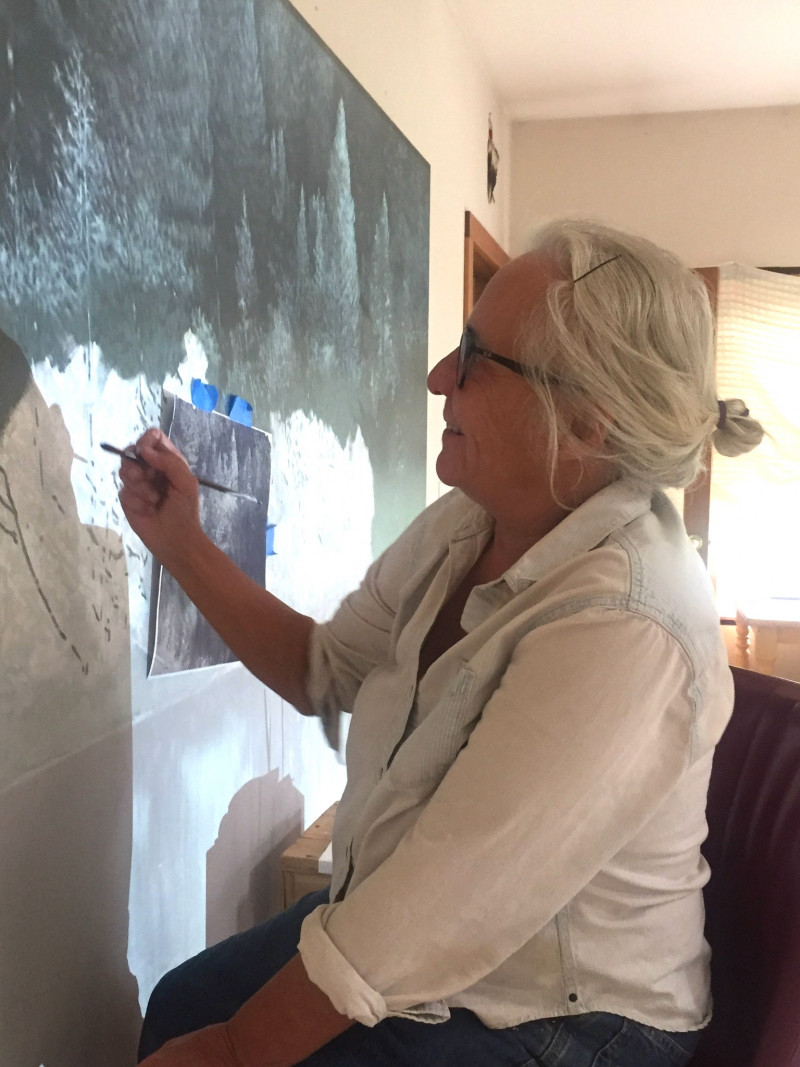 Anne Appleby lives on a timbered mountainside outside of Jefferson City, Montana. Her home and studio look into the woods where the landscape and flora provide Appleby with endless inspiration. She is known for painting focused meditations on the natural cycles of plants and trees. A Hymn for the Mother is a departure for Appleby with limited, muted color paintings that explore traditional, romantic landscapes as opposed to distillations of pure color.
A Hymn for the Mother is Appleby's third major exhibition at MAM including Anne Appleby and Wes Mills in 2000 and Here We Are in 2009. She was a Portland Art Museum Contemporary Northwest Artists Award winner in 2013. Born in Harrisburg, Pennsylvania, Appleby earned a BFA at the University of Montana in 1977 and an MFA in 1989 from the San Francisco Art Institute. Appleby is represented by Franklin Parrasch Gallery in New York, and Parrasch Heijnen Gallery in Los Angeles.
"My interest as a painter is in the fragile and ever-changing phenomena of the temporal world in which we live. There is a subtle and rich beauty in our lives when we honor this seemingly obvious truth. I paint plants because they reflect this truth in their annual cycles through the seasons that come about through exposure to light."