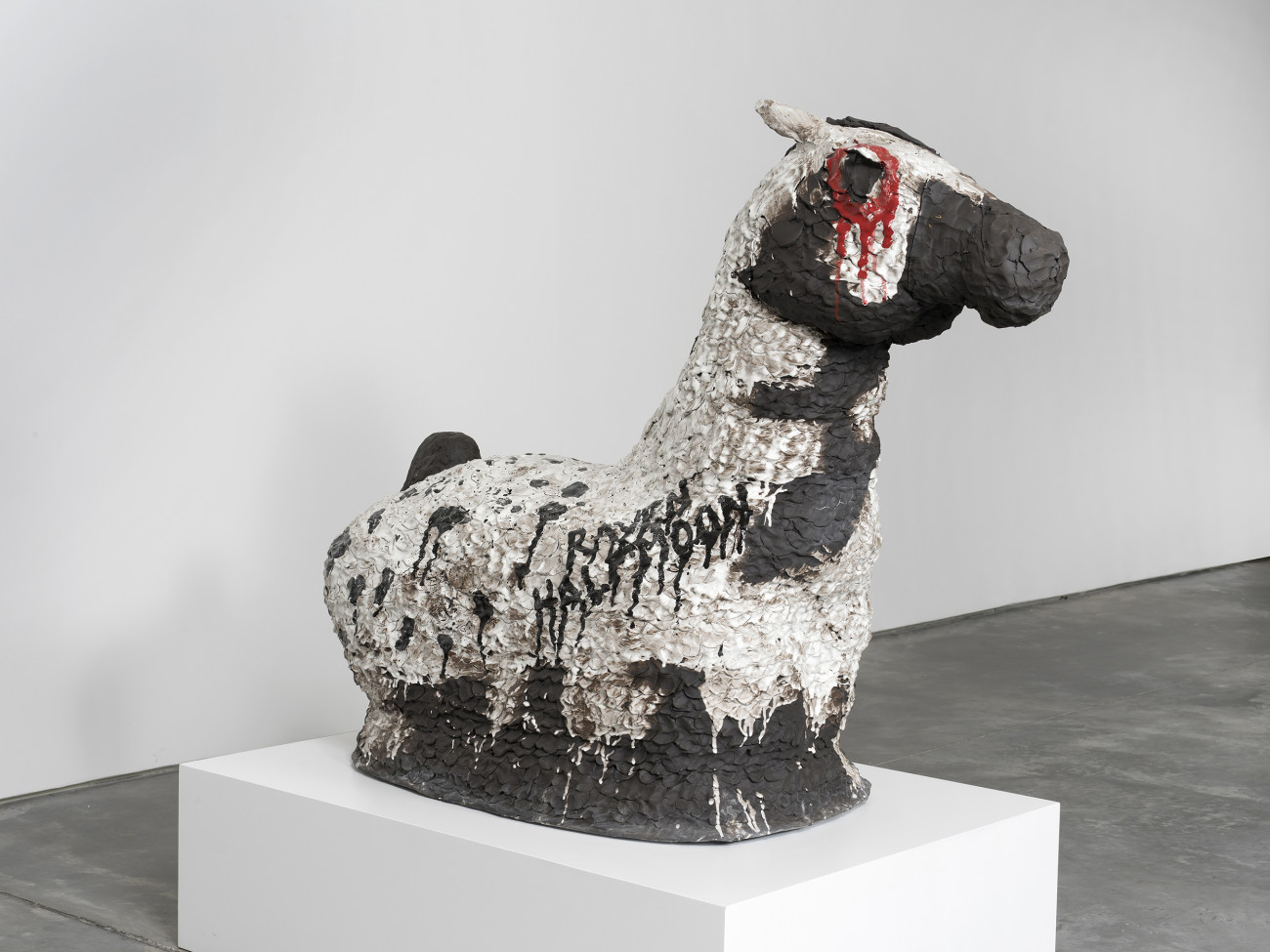 Raven Halfmoon: New Monuments
August 2 2022 - December 31 2022
Raven Halfmoon (Caddo Nation) is from Norman, Oklahoma, and has recently finished a two-year residency at the Archie Bray Foundation for the Ceramic Arts in Helena, Montana. She is only one of a very few Native artists who have historically participated in the prestigious international Bray residency program. Halfmoon is ambitious, focused, but easy to talk to and ready to engage in discussions about her artwork and heritage, which are lovingly intertwined.
The Caddo Nation is a sovereign political structure that exists within the confines of the United States borders. Not many people think of Native people this way. It's a designation complicated by agreements and negotiations with the United States government and their policies towards Native people on issues such as treaty rights, healthcare, and especially the antiquated and racial problematic practice of blood quantum to determine tribal enrollment and eligibility. The Caddo Nation is a confederacy made up of several southeastern Mississippian Tribes who historically occupied much of the eastern part of Texas, Arkansas, Louisiana, and Oklahoma. With reservation policies, the Tribe was first relocated to east Texas, and now centers in Oklahoma where Halfmoon grew up.
Halfmoon's artwork is a continuance and expansion of contemporary Caddo culture with her vivid, monumental figurative sculpture. She attended the University of Arkansas where she earned double bachelor's degrees in ceramics and cultural anthropology and delved into ceramic residencies immediately afterward. She has steadily gained momentum in her career with every passing year and garnered an impressive series of awards and accolades, including being named the 2018 Fund the Change recipient from the Activist and Social Justice Arts Organization in Oklahoma, a Burke Prize finalist at the Museum of Arts and Design, in New York, NY, the American Craft Council Emerging Voices Award, and Ceramics Monthly Emerging Artist—all in 2019, and last year, a John Michael Kohler Arts Center residency.
Halfmoon has recently felt compelled to increase scale in her work, with pieces now topping out at several hundred pounds and double-stacked tiers that rise over 9 feet tall. Her monolithic figures are memorable for their repeated features—rows of eyes, the copied visual staccato of parted hair extending like an impossible coiffure, duplicated and mirrored faces, each visage facing the opposite direction. Halfmoon hand-builds her sculptures using coils. Her approach to glaze is straightforward, take-no-prisoners. Thick areas of black, white, or red glaze cover exposed areas of raw clay. Her first exhibition in New York City, Okla Homma to Manahatta, was on view at Ross + Kramer Gallery in early 2021. Raven is represented by Kouri + Corrao Gallery in Santa Fe, New Mexico.
This exhibition is sponsored by Windfall, Inc.
Read more in the article Raven Halfmoon: Contemporary Caddo Series, which appeared in Ceramics Monthly in fall 2021.