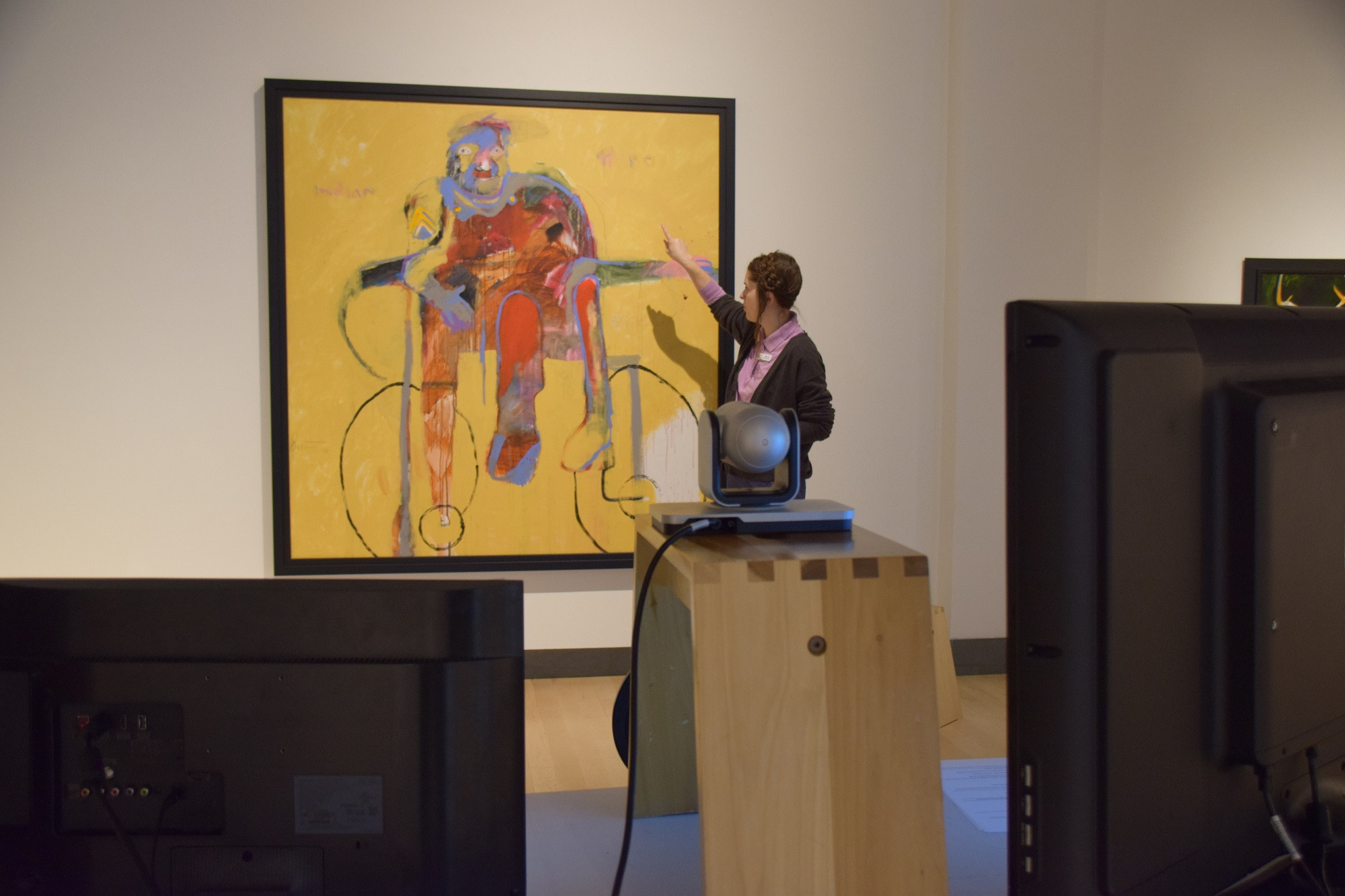 MAM is dedicated to supporting teachers, caregivers, and parents during this unique and difficult school year. Regardless of your school's plan, we have a virtual course that fits your needs on Museum as Megaphone, MAM's distance-learning platform. All of the courses meet the Montana state standards in visual art, Social Studies, and English/Language Arts. Additionally, most of the courses also meet the Montana Indian Education for All (IEFA) Essential Understandings standards.
What is Museum as Megaphone?

Museum as Megaphone is the Missoula Art Museum's distance learning platform. It gives students and teachers access to contemporary art exhibitions on view at MAM, and a chance to interact directly with artists and arts educators. Students and teachers from schools all over the state can participate in real-time, interactive tours in the MAM galleries. MAM's arts educators lead students on an inquiry-based tour to engage and promote self-discovery through dialogue and discussion. Each course is self-paced and is not timed. The steps can be completed as a class or assigned as independent work. We have created these programs to mirror the experience of coming into the museum galleries as closely as possible. This includes video tours, art-making instructions for projects, resource lists, and more! Museum as Megaphone was created in partnership with Inspired Classroom.
Contemporary art can challenge students to think deeply about issues that impact their community, explore artists' creative processes and techniques, flip their perspectives, and widen their worldview. Museum as Megaphone amplifies MAM's reach to share art and ideas with our rural and Tribal communities state-wide and it amplifies student voices as they become part of the conversation on contemporary art. Watch this short video to see Museum as Megaphone in action at St. Ignatius Middle School in 2019.
If you have questions, please contact us!
Museum as Megaphone
VIRTUAL Fifth Grade Art Experience (FGAE) 2022–2023
Welcome to the Missoula Art Museum's annual virtual Fifth Grade Art Experience (FGAE), Museum as Megaphone. The Missoula Art Museum (MAM) welcomes fifth grade classrooms to participate in a FREE distance learning program featuring an art-looking and art-making experience based on three extraordinary contemporary art exhibitions at MAM. Museum as Megaphone combines an online curriculum with an opportunity for classes to meet and interact with one of the exhibiting artists.

This year, to complement the online curriculum, we're inviting you and your fifth grade class to learn more from artist, April Werle, in a VIRTUAL Live Day. Students will get to interact directly with April, who will be live in the gallery at MAM where her paintings are a part of the group exhibition, Imaging the Sacred. Register and login to receive online curriculum. ALL time slots for VIRTUAL live artist sessions are below. Only 45 minutes for an enriching art-making and participatory learning experience that meet Montana Core Standards! Please email to book your time slot.

Find answers to frequently asked questions about Live Days at bottom of page.

About the curriculum and event:
• All FREE! Just register/login and select your timeslot below and email back.
• Meets Core Standards in Social Studies, English Language Arts, Indian Education for All (IEFA), and Visual Art.
• Engages students directly with professional (conversation and art-making!)
Special thanks to the Art Associates of Missoula, MCPS, the Jane S. Heman Foundation, and Inspired Classroom for their support!
Exhibitions:
Marilyn Lysohir: The Dark Side of Dazzle
Imaging the Sacred: Birdie Hall, Talia Roberts, April Werle, Daphne Sweet
Returning teachers and caregivers, click the red link below and use the new challenge code "BHYXYGEF"
If this is your first time participating in Museum As Megaphone, click the black "Register Here" link below.
LIVE DAY TIME SLOTS BELOW
Please RSVP to this email with your preferred time slot. If you have multiple 5th-grade classes at your school, you can all jump on during ONE time slot. As you can see below, time slots are limited.
Monday, Jan. 9
8:30-9:15

9:30-10:15

10:30-11:15

1-1:45

2-2:45
Tuesday, Jan. 10
8:30-9:15

9:30-10:15

10:30-11:15

1-1:45

2-2:45
Wednesday, Jan. 11
8:30-9:15

9:30-10:15

10:30-11:15

1-1:45

2-2:45
Thursday, Jan. 12
8:30-9:15

9:30-10:15

10:30-11:15

1-1:45
Friday, Jan. 13
8:30-9:15

9:30-10:15

10:30-11:15

1-1:45

2-2:45
Live Days Frequently Asked Questions
What are "Live Days"?
Live days are timeslots for your students to livestream with contemporary artist April Werle. This is a rare opportunity for your students to talk to a professional artist. Your students will be able to ask questions and April will lead them in an engaging drawing activity! This is entirely free and all you need to participate is a webcam and an Internet connection. Available timeslots are listed above.
Do I need to prepare my students for the Live Day?
• To prepare for the Live Day, your students should watch this April Werle Artist Interview (about 12 minutes), and prepare some questions for the artist. You could even assign this for homework!
• If you want more, MAM designed a short, free virtual curriculum that mimics the full IN-PERSON FGAE experience. This features three remarkable contemporary art exhibitions and meets state standards in social studies, visual arts, language arts, and Indian Education for All (IEFA). It's self-paced and includes videos of artists, artwork and exhibitions, as well as reflective writing and art-making prompts. The virtual curriculum can be done as a class or assigned as independent work. Your class can work through the steps in Museum as Megaphone: FGAE (1 hour total), before or after the Live Day, at your own pace. To register for this short virtual curriculum, click on this link and you're all set.
• Museum as Megaphone: FGAE is MAM's free, distance learning platform which enables schools across the state to participate in this signature program virtually. Watch this short video to learn more about how it works.
What exactly will happen on the Live Day "Meet the Artist"?
• Plan to be in a room with a computer with a camera and microphone. If you have more than one class jumping on, everyone can zoom in from their classroom. Kids can zoom in from home too!
• Have your classes arrive with questions for April Werle (the artist) in advance (5 per class).
• Have the students ready to speak their question into the mic and be sure to say their name.
• April will lead a drawing activity which will take about 15 minutes and we will invite the students to share their art by bringing it up to the camera to share. Please have one piece of paper and a pencil ready for each student.
• We will ask students to write a reflection - just a sentence about what they will remember, and ask that you email us those.
• We will also be emailing out a short poll to capture your feedback. This has been invaluable in improving our offering and making it work for everyone. It also helps us get funding so that we can offer this program to you and your students for FREE. Thank you in advance for doing this.
I'm confused or stuck! I don't know when my Live Day is happening!
If you need assistance, just shoot us an email!