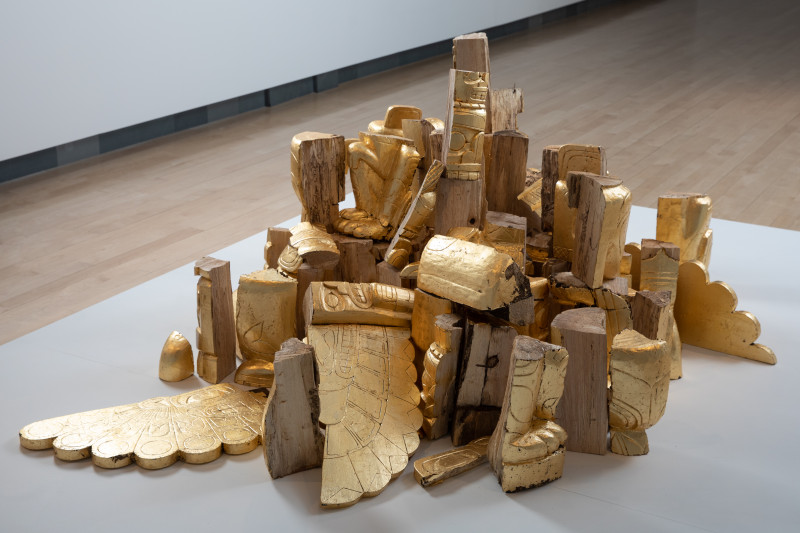 In winter 2021, MAM exhibited an incredible loan from the Art Bridges Foundation: I Think It Goes Like This (Gold) by Tlingit artist Nicholas Galanin. Faced with a recent issue (the pandemic) and an ongoing one (the sheer size of the state of Montana), the staff at MAM proposed a new program to help spread the word about Galanin's installation. The Art Host program was based on the idea that "representatives" in Tribal communities would serve as a conduit between Native peoples and the museum.
Each Art Host received a stipend for their time, energy, and input. Using funding provided by Art Bridges, MAM facilitated meetings and trainings with the Art Hosts, a meeting between the Art Hosts and Galanin, and a discussion between Nicholas Galanin and Art Bridges Associate Curator Ashley Holland. The overall project outcome is stronger relationships with Tribal people, and relationships on every reservation, which has long been a strategic goal of the museum.
There are seven federally recognized Indian reservations in Montana. The Missoula urban Indian population, plus the newly recognized (but not landed) Little Shell tribe, make nine populations represented through this new program. Jenny Bevill, educator and outreach coordinator for the museum, began by asking for recommendations from the college tribal association, as each reservation in Montana has its own community college. The result was eight individual hosts, whose careers include professors, public health advocates, therapists, and artists.
The goals of the Art Host program were three-fold:
• Build relationships between Tribal communities and MAM, and relationships among the different Indian Reservations, and contemporary Indigenous art and artists through use of art hosts
• Practice a Radical Welcome and facilitate a bridge for remote communities to easily access MAM's free virtual offerings/ bring virtual programming to reservations across the state
• Engage and connect Tribal communities with nationally recognized contemporary Indigenous art and artists and amplify their voices through educational, creative, and civic opportunities.
Meet the Art Hosts: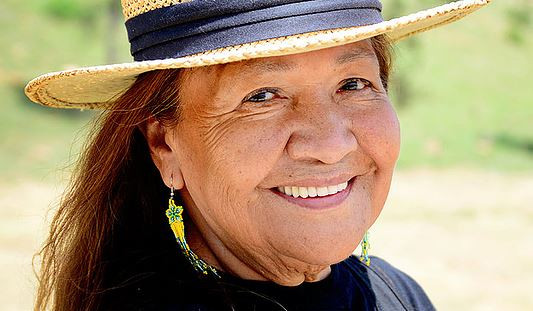 Alaina Buffalo Spirit
Alaina (Northern Cheyenne) represented the Chief Dull Knife Reservation in south-central Montana. She is a ledger artist.

Watch her TEDx talk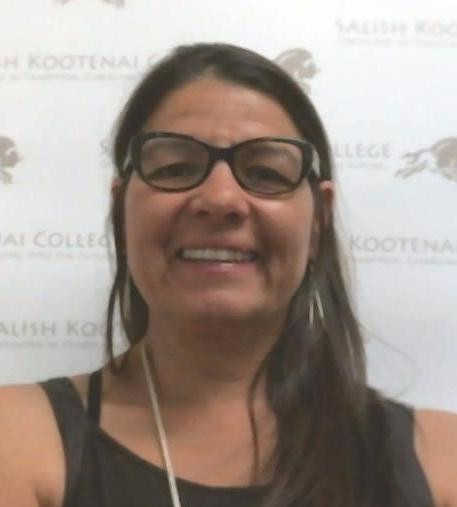 Co Carew
Colleen "Co" (Mescalero, Apache) represented the Flathead Reservation/Salish Kootenai Tribes. She is an artist, social worker, and art therapist. She received her PhD in Expressive Therapies from Lesley University and her Masters in Social Work from the University of Montana. Co is on the faculty of both Salish Kootenai College and the University of Montana.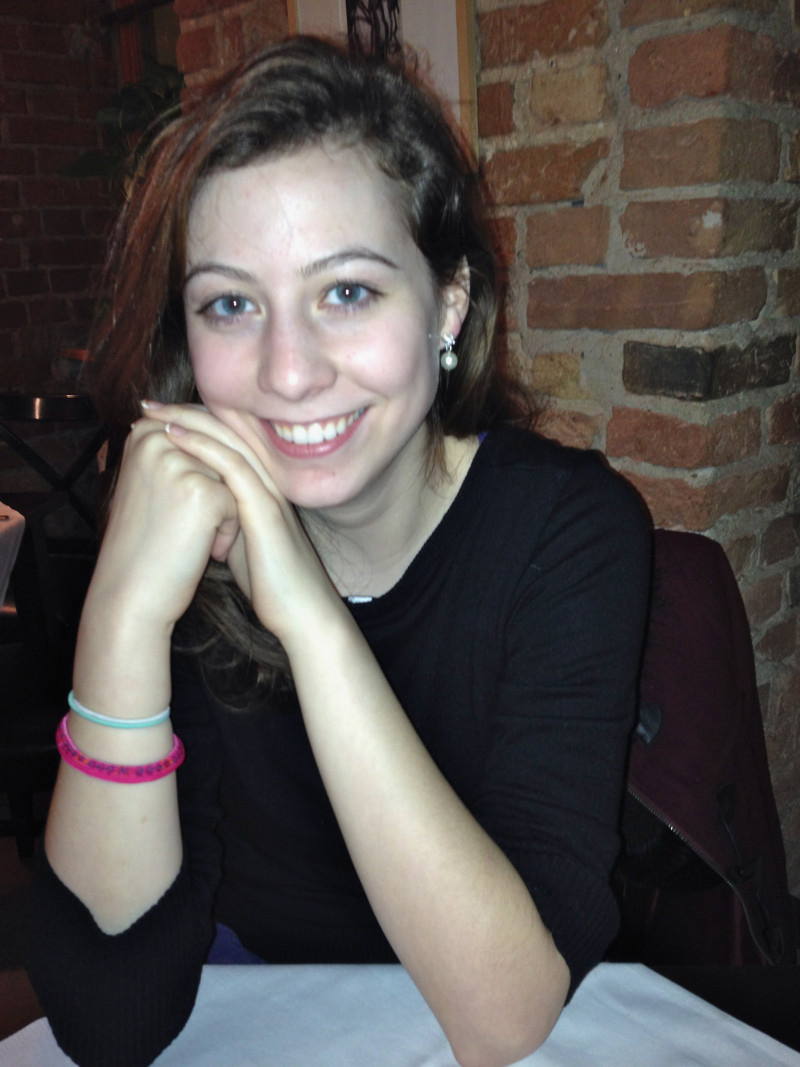 Camille Carter
Camille Carter is a writer, poet, educator, and traveler. She has studied at Loyola University New Orleans, the University of Chicago, and KU-Leuven. A recent recipient of the Hackney Literary Award for Poetry, her work is featured in The American Poetry Review, Broad River Review, SWWIM, Hotel Amerika, and The Birmingham Arts Journal. She currently lives in Harlem, Montana, where she teaches at Aaniiih Nakoda College on the Fort Belknap Reservation.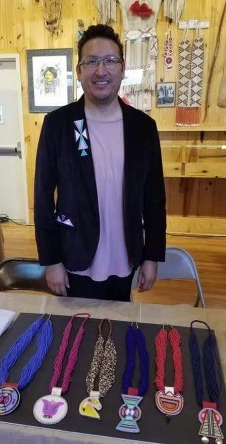 Samuel Enemy Hunter
Samuel (Crow) represented the Crow Reservation. He is beadworker and clothing designer based in Lodge Grass, Montana.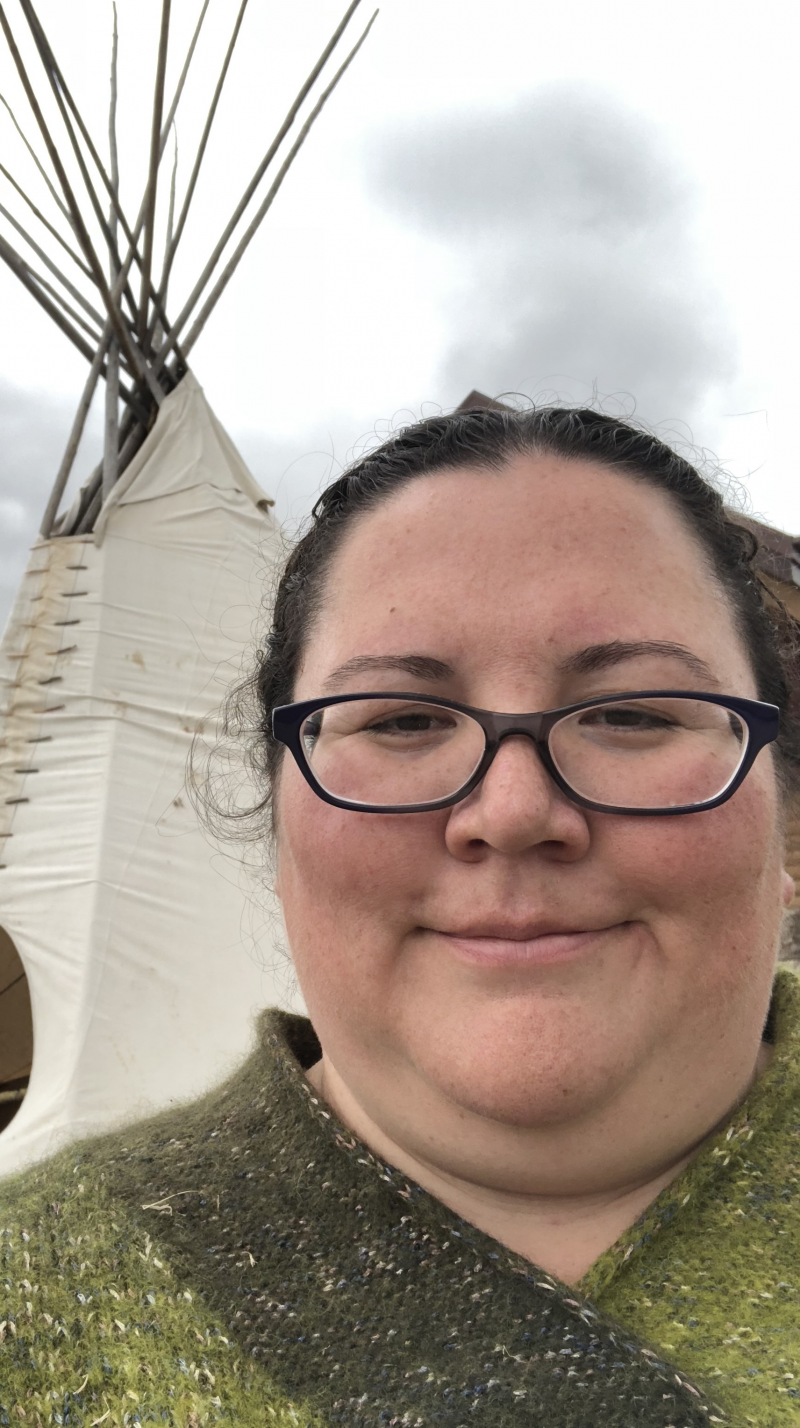 Aaron LaFrambroise
Aaron LaFromboise is the Director of Library Services at Blackfeet Community College's Medicine Spring Library. In the five years that Aaron has been the director many community arts programs have been established, such as traditional arts (beading, sewing with buckskin, parfleche making, backrest making, etc), contemporary arts with paints, found objects, and performance arts. Providing a space for everyone to learn about and enjoy making art is one of the library programming cornerstones. Most arts programming is suitable for all ages, and both individuals and multi-generational households take advantage of the free programs. Medicine Spring Library hosts a community art show every April as a place for artists of all ages and talents to show their work. As an artist herself, Aaron took advantage of the stay-at-orders during the COVID pandemic to become proficient in creating quilt tops, beading, and gardening. Aaron also makes cards, is learning carpentry, and plays the trombone.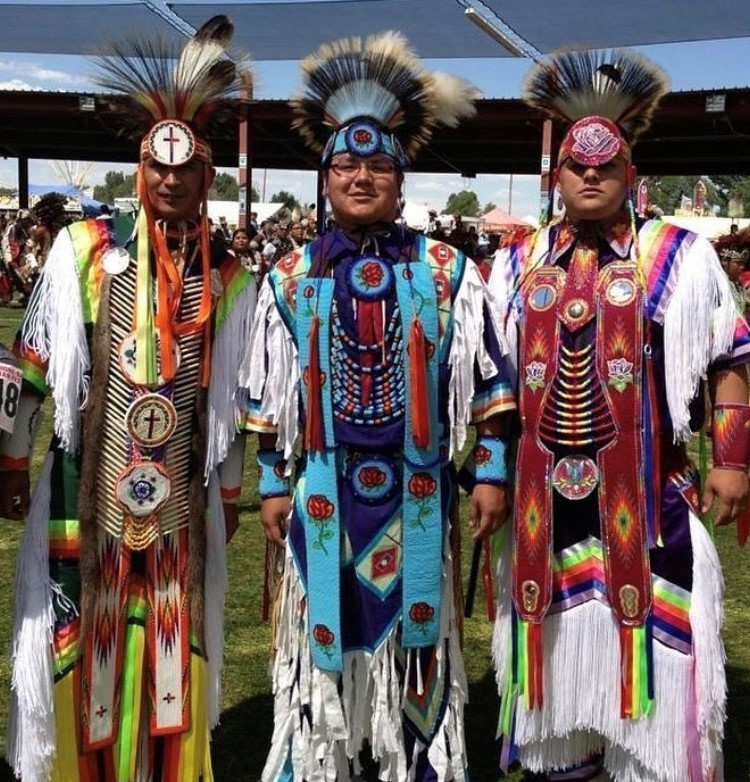 John Murie
John (Cree) represented the Rocky Boy's Reservation/Cree, Métis andChippewa Tribes. He is an art professor at Stone Child College and beadworker. Follow him on Instagram to see his incredible beadwork!
Follow him!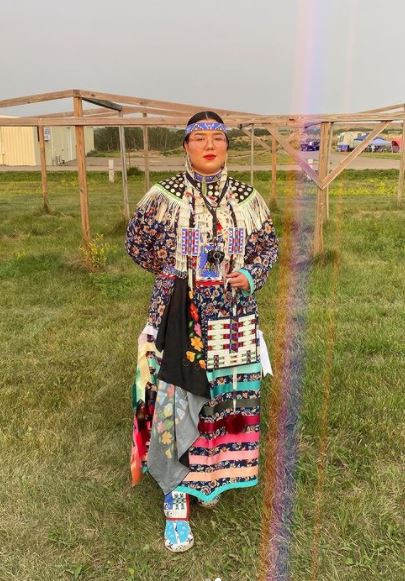 Chelysa Owens-Cyr
Chelysa (Pasqua First Nations/Nakona/Cree) represented the Fort Peck Reservation/Assiniboine and Sioux Tribes. She is a recent graduate of Fort Peck Community College. Chelysa is a ledger artist and beadworker. In early 2021, she submitted her design called "Unity" to the American Indian College Fund x Pendleton Blanket Design Contest, and her design was chosen! Her design will become a Pendleton Woolen Mills blanket available for purchase in spring 2022. Follow her on Instagram to see more of her designs!
Follow her!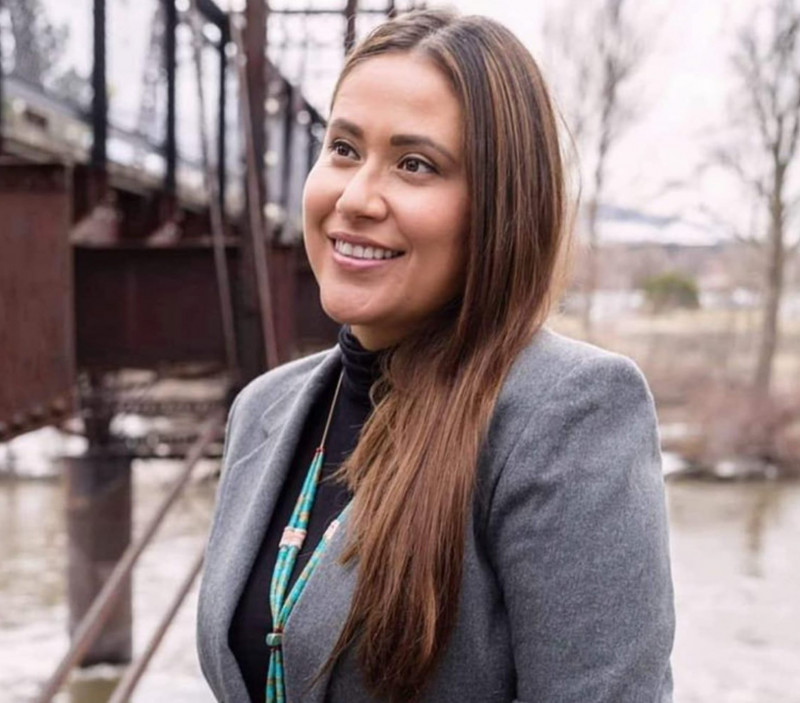 Lauren Small Rodriguez
Lauren Small Rodriguez (Thunder Woman) is a citizen of the Northern Cheyenne Nation and grew up in Lame Deer, Montana. Lauren is also Mexican-American Indian and grew up among large extended families. Lauren's career focuses on Indigenous Public Health in both urban and reservation communities. In addition, she designs and facilitates innovative trauma-informed healing modalities, including medicinal plant gatherings and cultural art therapy circles.
She also provides education and prevention workshops with tribal members on Indian Reservations. Lauren is also an artist and has been a featured artist on B.Yellowtail and has displayed her artwork in multiple boutiques within Montana.
In 2019, Lauren created the first Indigenous Art Market in Missoula for the First Friday events at local downtown galleries. Her goal is to develop available access for Indigenous Artists in the Missoula Art Scene. She believes that as Indigenous Peoples, we should lead our own events and programs that elevate platforms of cultural education properly.