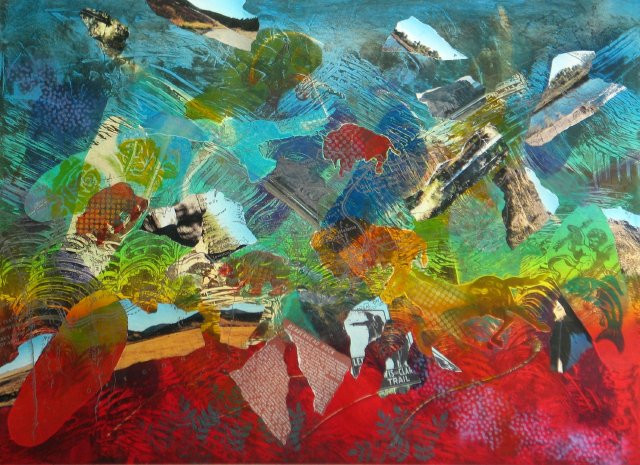 Contemporary American Indian Art
The Contemporary American Indian Art Collection at MAM

The Missoula Art Museum has long held a dedicated focus on contemporary Native artists, presenting 10 Indigenous exhibitions from 1975 to 1990. The majority of these exhibitions were anthropological, with the exception of the 1987 exhibition Photographing Ourselves: Native American Photography, curated by Jaune Quick-to-See Smith (Salish-Kootenai, Shoshone-Bannock, Metis-Cree), and an exhibit of Quick-to-See Smith's work in 1983 called Flathead Wellspring. Both of these shows toured through the Montana Art Gallery Directors' Association (MAGDA). MAM staff began to work directly with Native American artists to present their work in 1990, upon Laura J. Millin's new directorship. During this time, MAM became involved with the Montana Indian Contemporary Arts organization based out of Livingston, Mont., of which Laura served on the board.
The Rutgers Center for Innovative Print and Paper (now the Brodsky Center) donated two prints by Jaune Quick-to-See Smith to MAM in 1997. Following her 1998 survey exhibition at MAM, entitled Subversions / Affirmations, the artist pledged a gift of a large portion of her printed oeuvre. To date, she's donated 45 works (31 of her own, 14 by others), which is the largest museum holding of her work in the world. This generous gift led to the creation of the Contemporary American Indian Art Collection (CAIAC) at MAM.
Today, the CAIAC features almost 250 objects by the nation's most recognizable and powerful Native artists, and is the most sought-after part of the collection, with frequent requests for loans. At the core of the CAIAC are artists from tribes in Montana. The CAIAC holds 65 works by six Salish or Salish-Kootenai artists, 32 works by five Blackfeet artists, and nine works by five Crow artists. Through gifts and partnerships, MAM has acquired more than 100 works from regional and national artists. Joe Feddersen (Colville), Chris Pappan (Osage, Kaw, Cheyenne River Sioux), Sara Siestreem (Hanis Coos), Melanie Yazzie (Navajo), and many others represent MAM's expanding commitment to indigenous artists in the central and western United States. In addition to the named collection owned by MAM, the museum cares for three works by James Luna (La Jolla Luiseño-Ipi-Mexican-American), Ernie Pepion (Blackfeet), and Fritz Scholder (Luiseño/American) held in the Missoula County Art Collection.
Currently, MAM holds the largest collection of contemporary American Indian art in the state of Montana and the largest collection of Quick-to-See Smith's work of any museum.
The Lynda M. Frost Gallery of Contemporary American Indian Art
In 2006, as MAM was wrapping up a major expansion and renovation, executive director Laura Millin met with tribal elders and numerous Indian artists from throughout the region to ask for their thoughts about the creation of a gallery dedicated solely to contemporary Indian art. With their input, the Lynda M. Frost gallery was dedicated to honor the creative cultural contributions of American Indian people to contemporary art and to ensure that Indian artists will always have a place to celebrate that contribution. This gallery is MAM's commitment to American Indian artists, and to presenting their work in a way that is educational and respectful. A few of the artists MAM has exhibited over the past few years include Rick Bartow, James Lavadour, Dwayne Wilcox, Kevin Red Star, Donna Loos, Angela Babby, Marie Watt, and Wendy Red Star. In the words of celebrated Salish-Kootenai artist Corky Clairmont, "The real Indians did not die out sometime in the 1850s. By exhibiting contemporary Indian Art, you have to recognize that Indians are alive and active participants in life today."