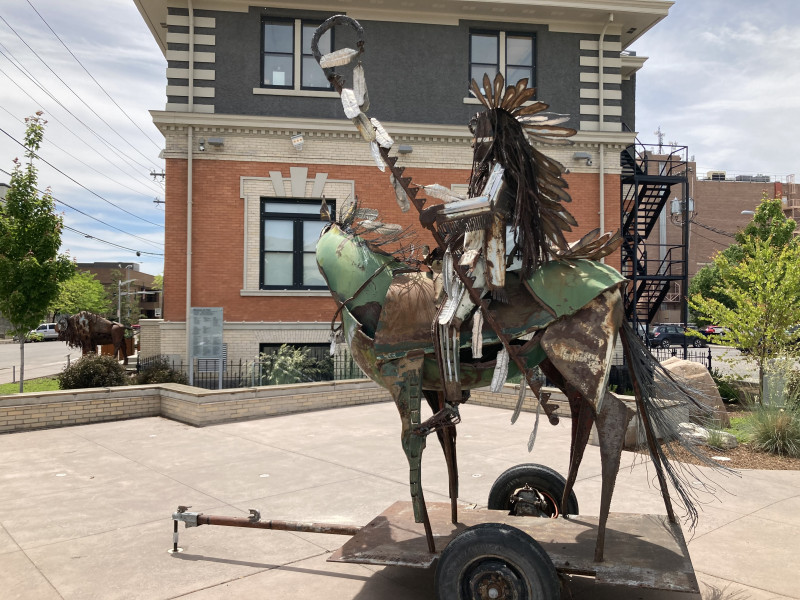 MAM partnered with the City of Missoula and Adventure Cycling Association to create a one-of-a-kind destination in Missoula—an outdoor sculpture park. The Missoula Art Park opened in 2017 and extends MAM's gallery and exhibition space into the realm of the outdoors and seasonally features large-scale sculptures by local and world-renowned artists. This extraordinary pocket park promotes creativity in a public space, provides artists with a public exhibition space, and attracts the local community and visitors.
The Missoula Art Park is creative place-making at its best, where partners from public, private, nonprofit, and community sectors strategically establish and shape the physical and social character of a community around arts and cultural activities. It connects nature and art to people where they live, work, and recreate. It brings diverse people together to energize and rejuvenate the streetscape.
While the Missoula Art Park is an external expression of MAM's commitment to contemporary art, it also embraces the values of Missoula residents. It is a spot where culture meets nature, a civic gathering plaza, and a place to show off to guests. Rooted in a collaborative effort, the Missoula Art Park enhances our downtown community and contributes to our sense of place. The project incorporates newly planted trees using best practices in urban landscapes and celebrates biking and walking in the park and beyond. Learn more about the creation of the Missoula Art Park here.
Exhibitions featured in the Art Park: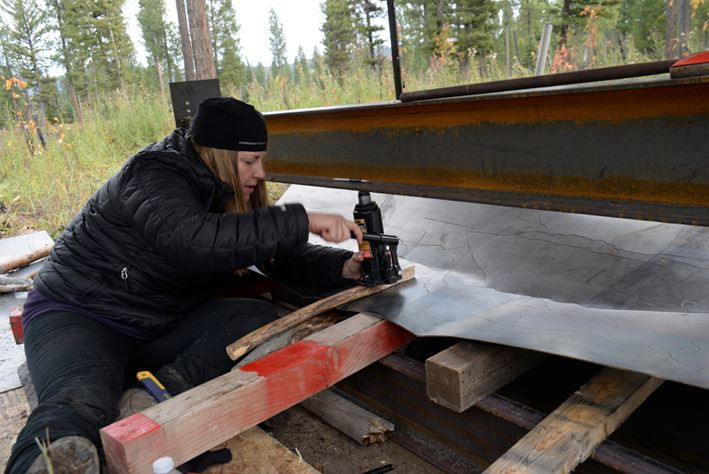 Noellynn Pepos
This summer MAM remembers Noellyn Pepos (d. 2017) with an exhibition of her sculptures both inside the museum, in the lobby gallery, and outside in the Art Park. Pepos was a versatile artist and skilled fabricator who became known for welded iron and steel in a juxtaposition of graceful, natural forms and heavy, industrial material. Pepos thought about our human relationship with the natural world and her sculptures often mimic or echo forms found in nature.
Image: Pepos installs Of Earth, of Sky, Oo Place Between at Blackfoot Pathways: Sculpture in the Wild in 2015. Pepos was the first female artist invited to install work at Blackfoot Pathways.

Learn More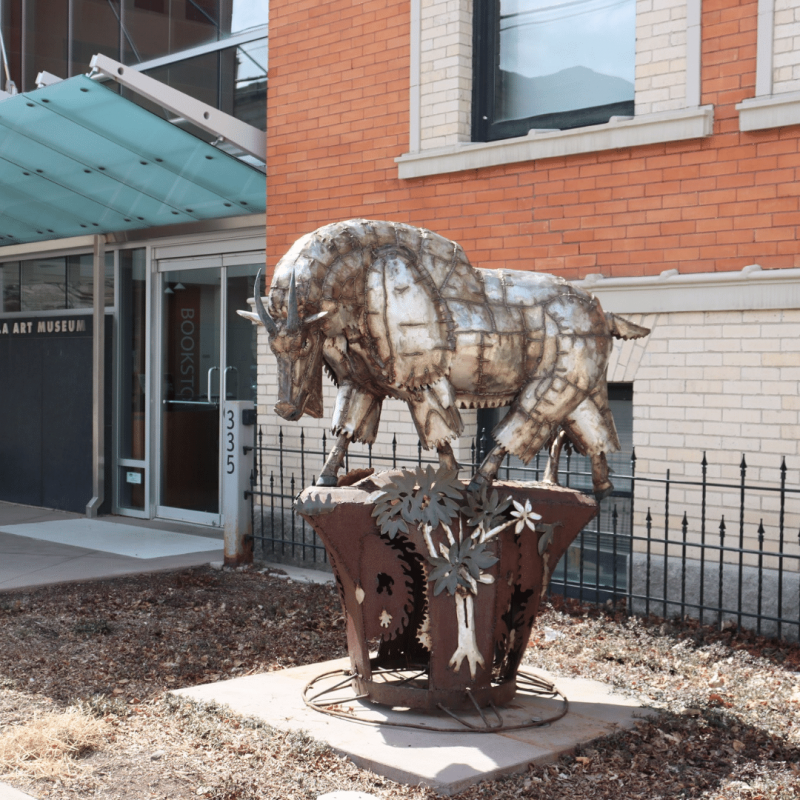 May 6–October 8, 2022
Contemporary Folk Animals
Featuring an elk and goat from Drummond rancher Bill Ohrmann (1919–2014), a bison and owl from Bozeman artist Kirsten Kainz, and a horse created by Missoula sculptor George Ybarra, this summer exhibition in the Missoula Art Park is a miscellany—a fun selection of sculptures by several artists.
Click here!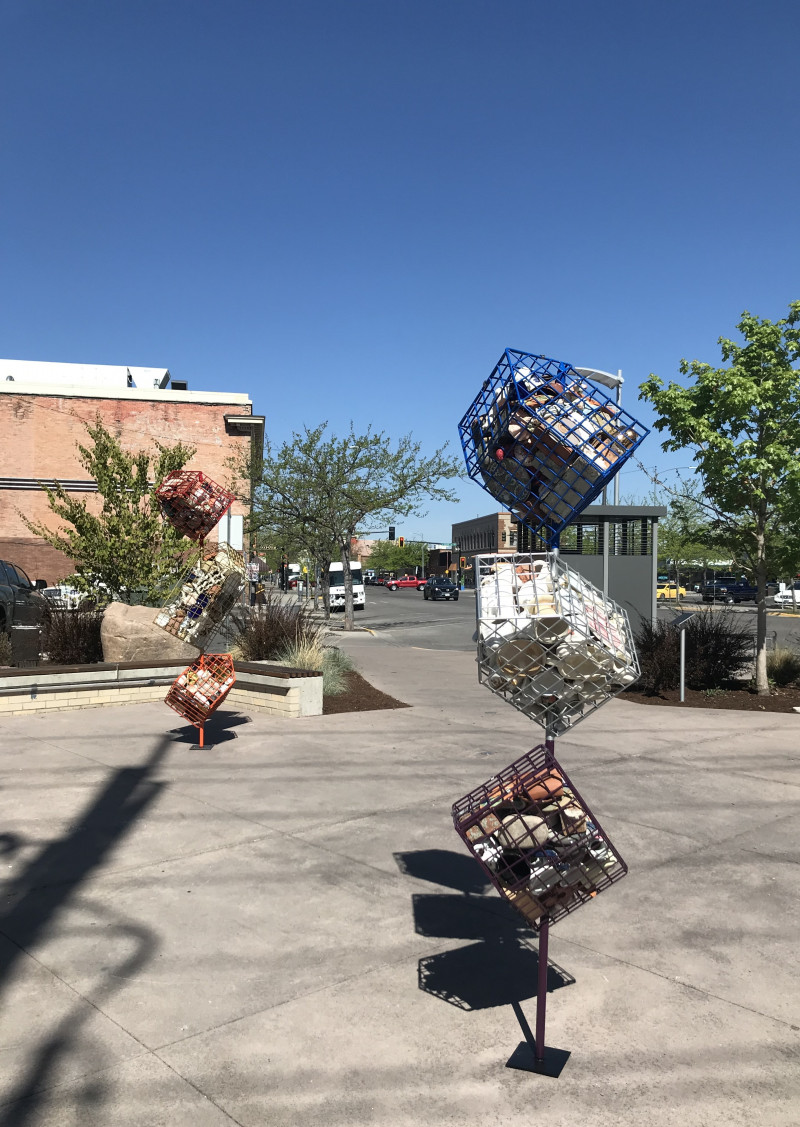 May 17–October 15, 2021
Robert Harrison: It Takes a Village
Robert Harrison is at the forefront of radical change in the ceramic community. Author of Sustainable Ceramics: A Practical Guide and leading the National Council on Education for the Ceramic Arts Green Committee, Harrison challenges the medium's extractive history and encourages its long-term sustainability.
Harrison is internationally known for his large-scale, site-specific architectural sculpture. For the Missoula Art Park, Harrison created site-specific wire-mesh house structures that continue his exploration of his architecturally based work. The concept for his installation juxtaposes and stacks small and large iconic house forms with human scale and bright colors. Harrison invited the Missoula community to contribute material—brick, stone, porcelain—to fill the interior space. The accumulation of house forms suggests a community, giving voice to the adage that celebrates collective action.
Learn More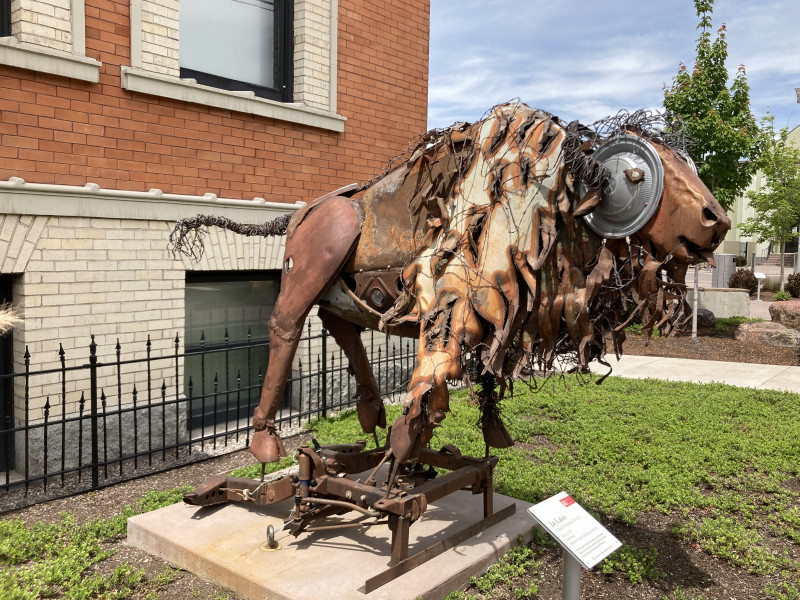 June 5–October 15, 2020
Jay Laber: Reborn Rez Wrecks
Jay Laber (Amskapi Pikuni/Blackfeet, 1961–2019) left a strong legacy of public artwork. When he was three years old, Laber's family left Montana after the devastating flood of 1964. When Laber returned to Montana in the late 1990s, he enrolled at Salish Kootenai College in Pablo to study forestry. After taking art classes on the side, he began making sculptures of warriors, dancers, and wildlife out of discarded car parts. Laber's innovative sculptures depict traditional Native culture using found and salvaged metal. "It's a new twist on an old tradition…to make things out of whatever was handy, and that was handy," Laber said.
"This exhibition is an important acknowledgment of an internationally recognized artist whose iconic public commissions are located across the state. The Art Park is the ideal environment in which to host Laber's large-scale sculpture, and this is the first exhibition in the Art Park that exemplifies MAM's strong commitment to contemporary Native artists," said Brandon Reintjes, senior curator at MAM. This exhibition is sponsored by Dick Anderson Construction, Caras Nursery, Rocky Mountain Moving & Storage, and the City of Missoula.
Learn More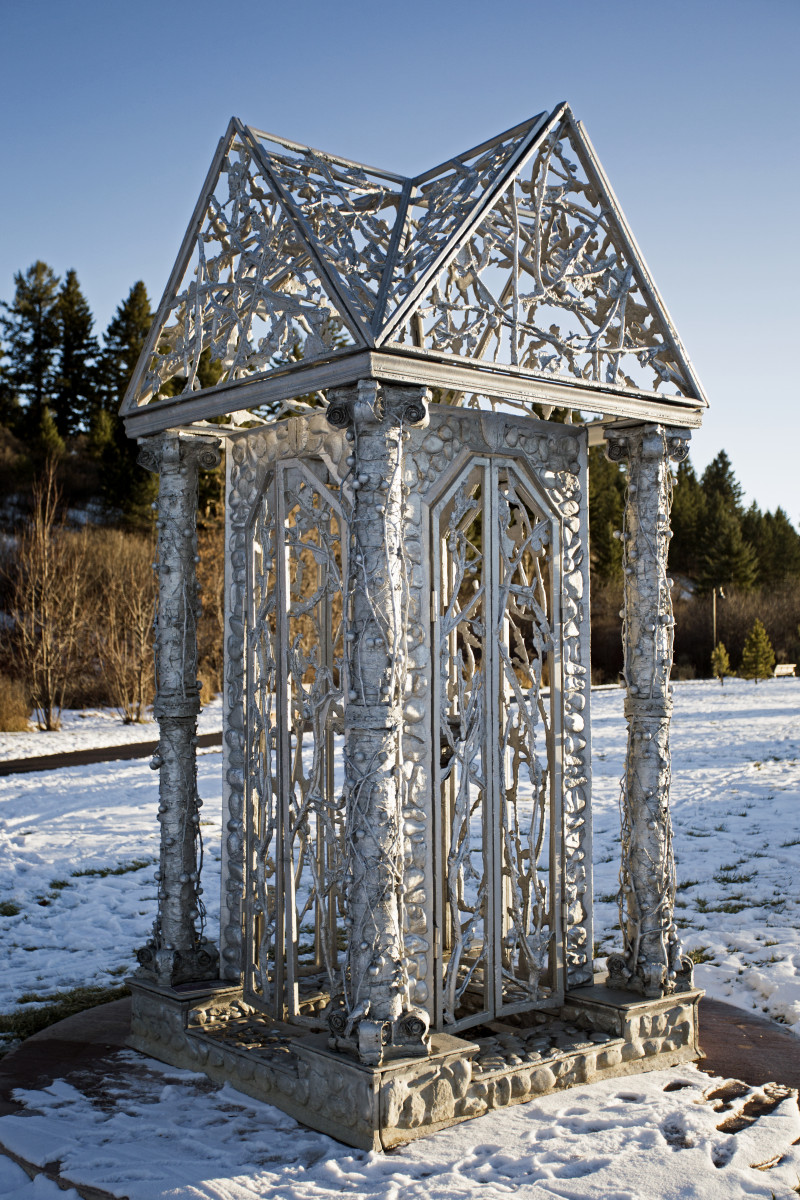 May 13–October 4, 2019
Clarice Dreyer: In the Garden
MAM presented another great Montana sculptor at the Missoula Art Park: Clarice Dreyer of Bozeman. Despite numerous awards and accolades, Dreyer has never had an outdoor solo exhibit of her cast sculptures in her home state, and MAM is pleased to now have a dedicated exterior gallery designed by a landscape architect for art to showcase this exceptional work. Dreyer is an artist who creates paintings, prints, and sculpture in cast bronze and aluminum that emulate natural forms, systems, and phenomenon.
Learn More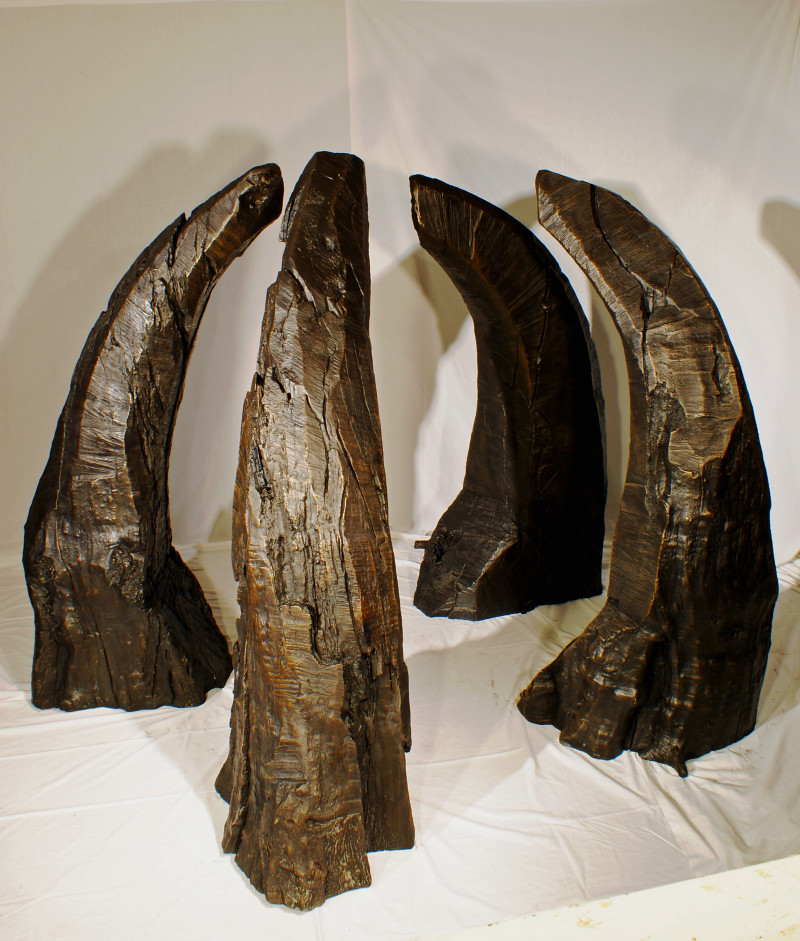 May 23–October 10, 2018
Phoebe Knapp: Rough Cuts
MAM is kicked off the second season of the Missoula Art Park with Montana sculptor Phoebe Knapp. The outdoor exhibition features four large-scale public sculptures. This year brought the first instance of a sculpture that sits on the Art Park plaza in front of the Adventure Cycling Association building across from MAM. Adventure Cycling was a collaborative partner in the design and construction of the Missoula Art Park and MAM is thrilled to expand Rough Cuts across the entire footprint of the park.
Learn More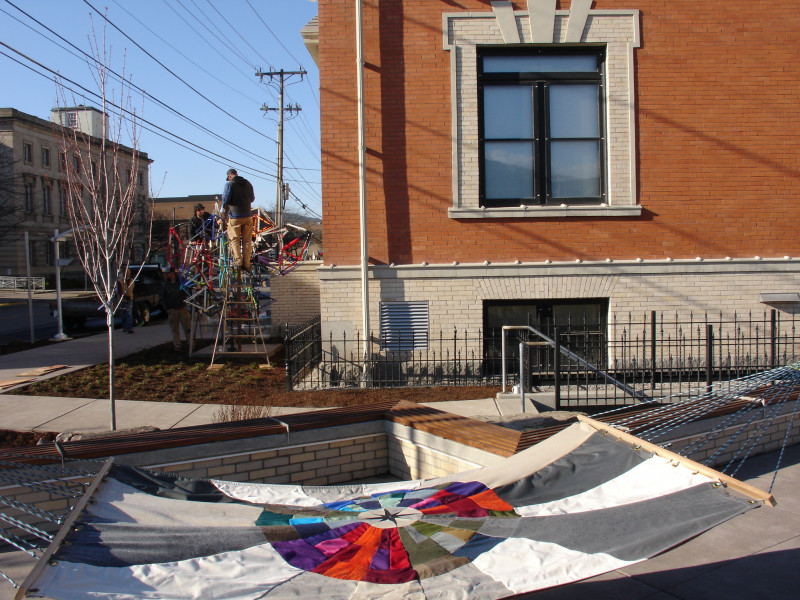 April 21–November 4, 2017
By the Bike
The inaugural exhibition in this newly created city park features art made with or inspired by bicycles in honor of MAM's partnership with Adventure Cycling. Artists Anne Appleby, Kim Reineking, Whitney Ford-Terry, Keith Goodhart, Jeremy Hatch, and Patrick Zentz each created an artwork that incorporates or responds to the bicycle physically, conceptually, or abstractly.
Learn More