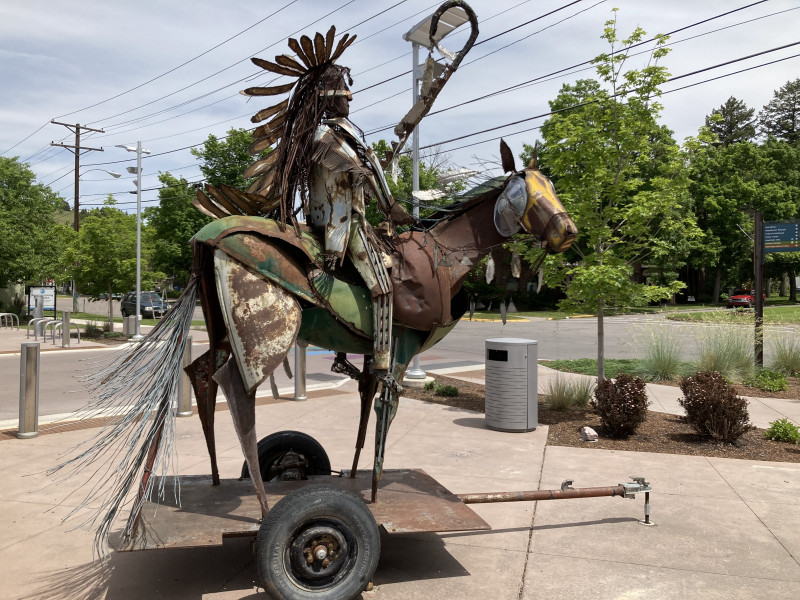 Jay Laber: Reborn Rez Wrecks
June 5 2020 - October 15 2020
Missoula Art Park
A free exhibition catalog is available at the museum!
Three years after artist Jay Laber (Amskapi Pikuni/Blackfeet, 1961–2019) was born, his family lost everything. The devastating flooding across the Blackfeet Reservation in June of 1964 has been called Montana's worst natural disaster and resulted in 31 deaths. Laber's family, now homeless, relocated to New Hampshire and it was decades before Laber returned to Montana.
Laber passed away last year after a long battle with cancer. He left a strong legacy of public artwork. When he returned to Montana in the late 1990s, he enrolled at Salish Kootenai College (SKC) in Pablo to study forestry. After taking art classes on the side, he began making sculptures of warriors, dancers, and wildlife out of reused car parts. Laber's innovative sculptures depict traditional Native culture using found and salvaged metal. Laber said, "It's a new twist on an old tradition…to make things out of whatever was handy, and that was handy."
Laber has numerous public works sited across Montana and abroad, notably on SKC's campus, the University of Montana, the Rocky Boy's Reservation, and in private collections. Early in his career, Laber won the 1999 "People's Choice" award at the American Indian Higher Education Consortium's annual conference in Billings with a sculpture of a bison that was later accessioned by the Westphalian State Museum of Natural History in Münster, Germany. Later that year, the Blackfeet tribe and the Montana Arts Council commissioned a set of four sentries to oversee the North, West, South, and East entrances of the Blackfeet Reservation. Laber made them using rusted out cars destroyed in the 1964 flood. This exhibit includes one of Laber's first sentry pieces, made in one of Corwin Clairmont's classes.
Laber eventually settled on Post Creek outside of St. Ignatius and launched the Reborn Rez Wrecks studio, complete with a yard filled with car parts for materials. A precise craftsman, Laber built large scale sculpture that weighed hundreds of pounds with tight tolerances. He would meticulously sift through hundreds of parts before selecting and inserting exactly the right piece to suggest or describe an essential detail. An expert at considering all the angles that sculpture might be viewed, he made his works appear active, kinetic, and full of energy.
Thank you to the following exhibition sponsors: Dick Anderson Construction, Caras Nursery, Rocky Mountain Moving & Storage, and the City of Missoula.
Watch Dylan Running Crane, a Visitor Engagement and Security Officer at MAM, read her essay about what Laber's work means to her.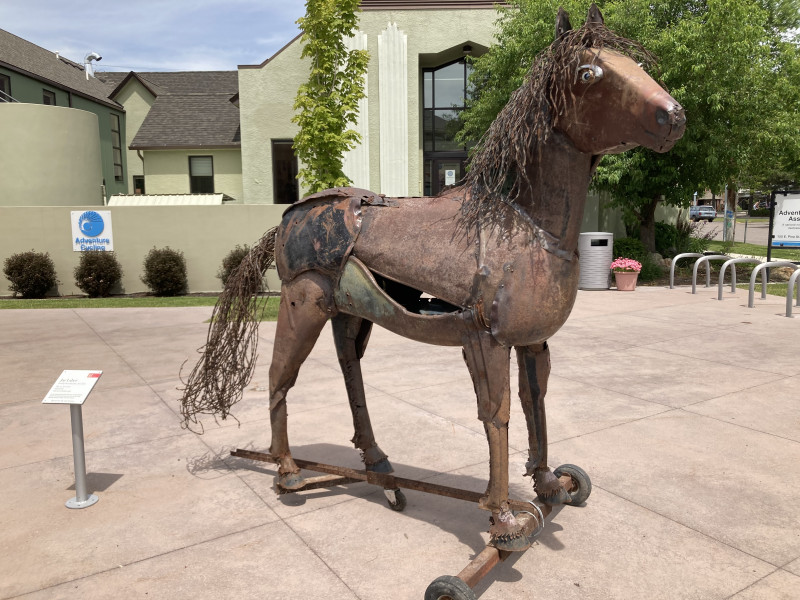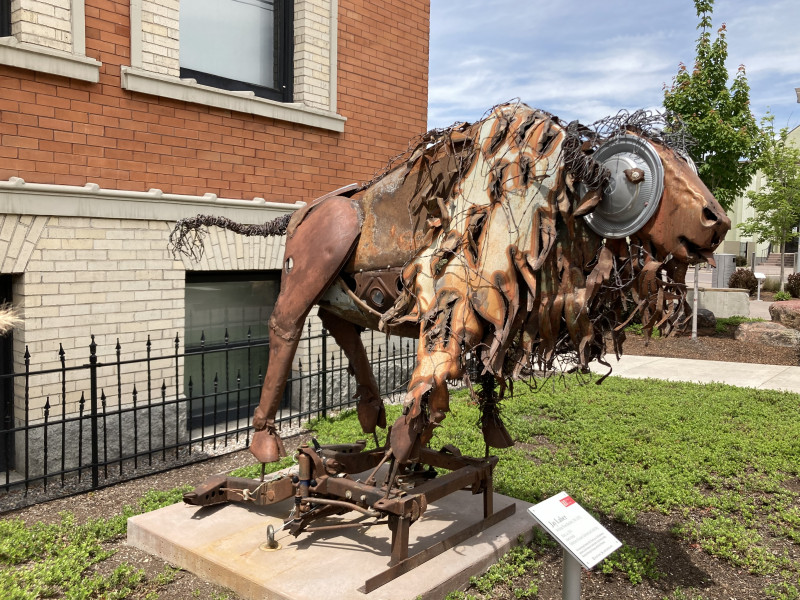 Images: Bison, ca. 2014, mixed media, 80 x 103 x 52 inches. Collection of Corwin Clairmont and Linda King, copyright the artist, photo courtesy of the Missoula Art Museum, copyright the artist.
Pony, 2015–2016, mixed media, 84 x 96 x 50 inches. Collection of Natalie Nelson-Laber, photo courtesy of the Missoula Art Museum, copyright the artist.