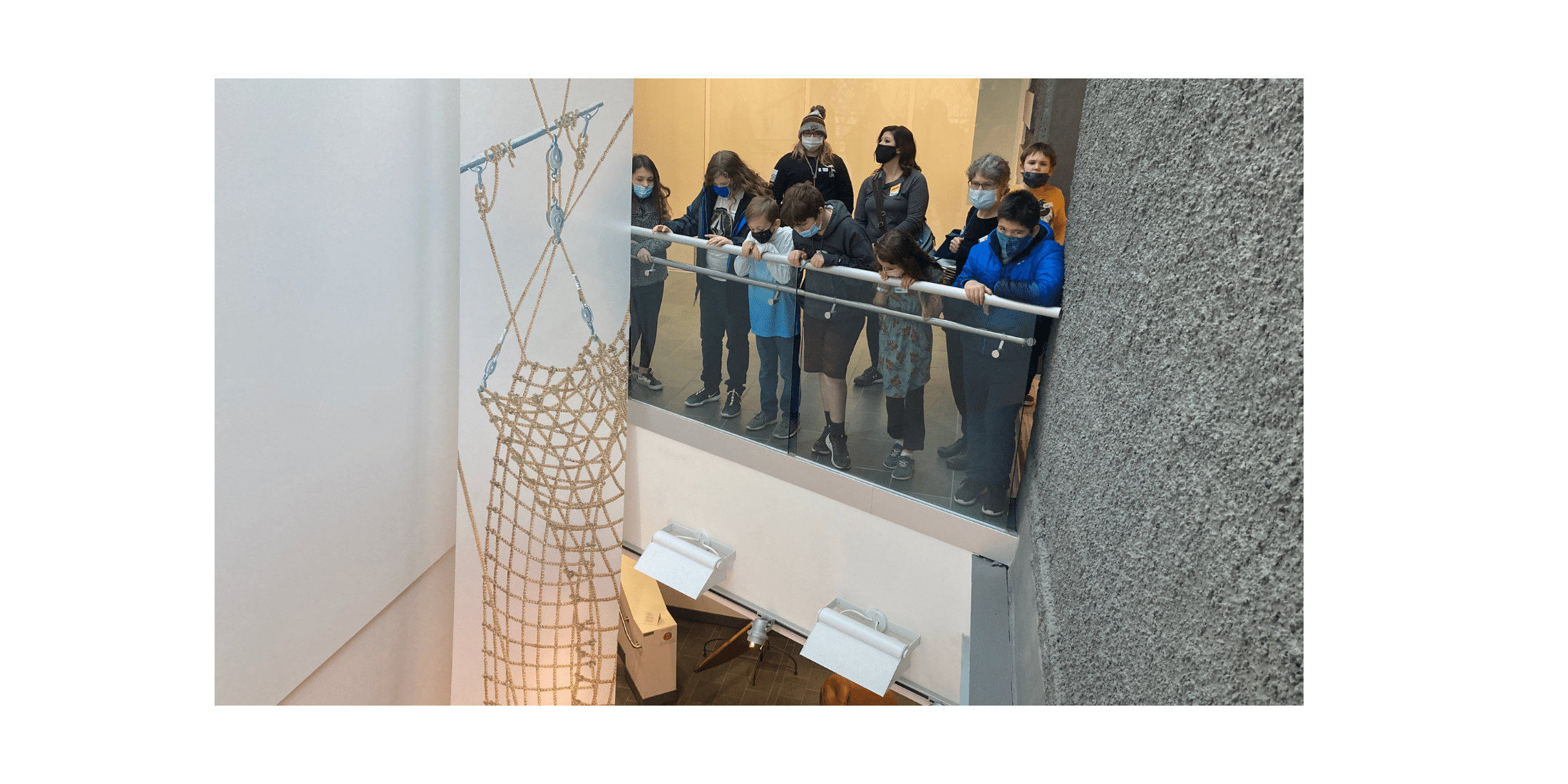 Fifth Grade Art Experience
The Fifth Grade Art Experience (shortened to FGAE) is the signature education program at the Missoula Art Museum. Each fall, MAM invites every public and private elementary school in Missoula county and beyond within a 70-mile radius to partake in the program at no charge, involving an average of 45 to 50 fifth grade classes. This program introduces students to the Missoula Art Museum and to the educational offerings at the Missoula Public Library. For many students, this is their first time stepping foot into a museum, and more specifically, a contemporary art museum. MAM extends the Radical Welcome to the Flathead Nation Tribal Schools and surrounding rural communities by offering busing for an additional 10 to 15 schools and 500 youth beyond Missoula County. The program provides an opportunity for this broad cross-section of Western Montana's youth to experience contemporary art in an interactive and creative way; through open-ended interpretation, and a hands-on art project taught by professional, practicing artists. Every student leaves the museum with their own original work of art. After the half-day visit to MAM, the classes travel to the Missoula Public Library for storytime and an introduction to using the library. This exemplary program has served over 50,000 youth since its inception.
This exemplary program provides an introduction to contemporary art and artists, a connection with their "home" museum, encourages participation engagement while interacting with art, and provides quality art education experiences, both looking and making. Inquiry-based gallery activities encourage self-engagement and the process and culture of self-discovery that have become the core of MAM's education programs. MAM's trained art docents lead FGAE tours through the galleries using a new, innovative approach to connect students with art—the infusion of an interpretive philosophy which uses inquiry methods of observation and interpretation. MAM's interpretive strategy involves asking open-ended questions to encourage curiosity, close looking, discussion, and reflection. While art docents provide content and context, these strategies allow students to form their own personal connection with the artwork first. Art docents may also offer different ways of engaging with the art such as through movement, sketching, or partner work.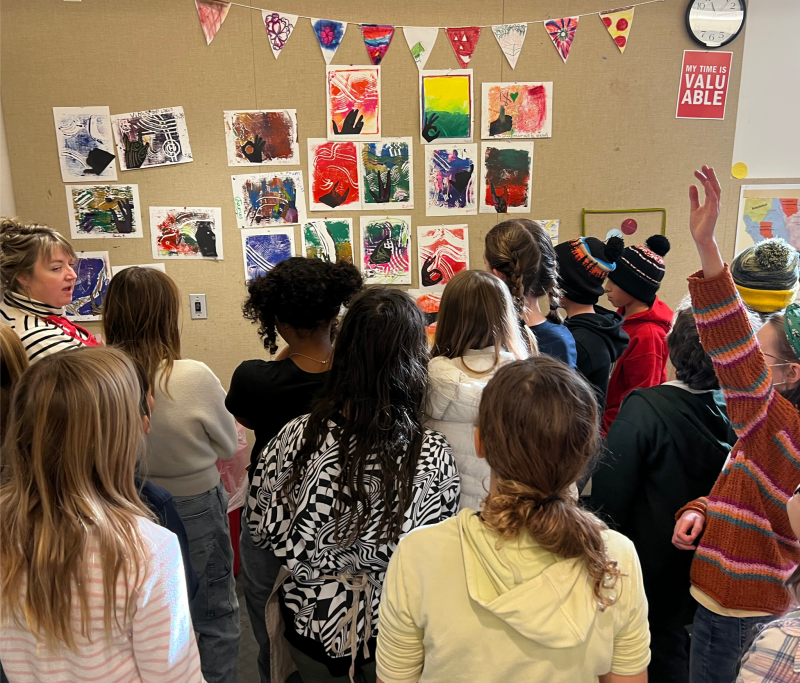 Current Year
Fifth Grade Art Experience
37th Year: 2022–2023
Welcome to the Missoula Art Museum's 37th annual Fifth Grade Art Experience (FGAE). The Missoula art Museum (MAM) welcomes fifth grade classrooms again this year for an art-looking and art-making experience based on three extraordinary contemporary art exhibitions at MAM. FGAE begins on Tuesday, September 27 next week and runs through Friday, December 9 and is FREE. Special thanks to the Art Associates of Missoula, MCPS, the Jane S. Heman Foundation, and Inspired Classroom for their support!
Exhibitions:
Marilyn Lysohir: The Dark Side of Dazzle // Watch the interview

Imaging the Sacred: Birdie Hall, Talia Roberts, Daphne Sweet, April Werle // Watch the interview with April Werle

Raven Halfmoon // Watch a video made by the artist. Raven's great grandfather Hubert Halfmoon (Caddo/Delaware) is a drummer and singer on Songs of the Caddo, featured in this video. Morning Dance song is playing. Thanks to Unique Board for their part in making this video possible.

Art Project:
Students will be inspired by the work of artist, APRIL WERLE, to create mixed-media prints based on personal stories. Inspired by the work of April Werle, students will create a layered, handprinted image including personally meaningful symbols and characters. In this artmaking session, students will be encouraged to let curiosity and experimentation lead the way. They will be provided with different tools and processes for hand printing and layering and will have time to experiment and add them to their artwork. We will use more traditional processes like carving into Styrofoam, rubber stamping, and using cray-pas to resist the ink. Students will add a silhouette of their hand using construction paper that is posed in a way that helps students tell their audience a story. Most students likely already understand what a symbol and a character are from their ELA work. Werle uses symbols and characters too, specifically she plays with the characters from her Pinay heritage and uses paintings of hands that communicate a story. Students will be encouraged to choose a character that has meaning to them for their artwork. Everyone has an individual identity and journey. Many of us may also use the same symbols to mean different things. Students might choose a favorite character from a book, movie, or song, or someone (public figure, family member, mentor, friend, pet) that they admire and want to be like. Students will take home their own original print.
FGAE Schedule:
9 AM Class arrives at MAM
9-9:30 AM Intro and Welcome in the classroom
9:30-10:30 AM Tour three exhibitions in small groups
10:30-11:30 AM Hands on artmaking with a professional teaching artist
11:30 AM-12 PM Clean up and lunch in the classroom or the MAM Art Park; Classes walk over the new Missoula County Public Library for a tour and related stories. HERE is a link to apply for a library card.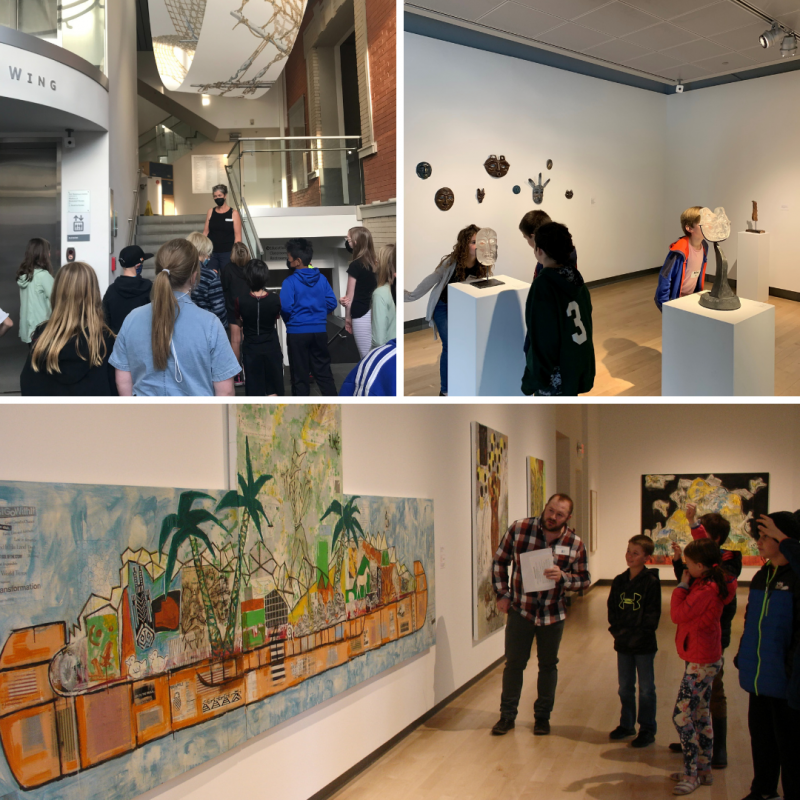 37th Year: 2021–2022
The 36th year of FGAE was another success! Students from all over the county returned to the galleries. Special thanks to the Art Associates of Missoula, MCPS, the Jane S. Heman Foundation, and Inspired Classroom for their support! The focus exhibitions for this season were:
35th Year: 2020–2021
Special thanks to the Art Associates of Missoula, MCPS, the Jane S. Heman Foundation, and Inspired Classroom for their support!
Though the Missoula Art Museum was open to the public, FGAE was a completely virtual program during the 2020–2021 school year. MAM is dedicated to continuing this tradition in collaboration with the Missoula County Public Library and Missoula County Public Schools.
FGAE was delivered using the Museum as Megaphone platform, which contains self-paced modules that can be completed as a class, or assigned as independent work. Each course includes video instruction from a MAM educator or exhibiting artist, an exhibition tour, learning resources, and a guide for a hands-on art-making activity. Curious, the focus of this season, features live-stream days where your class can log on and talk directly to the artist Doug Turman. The content meets the Montana state standards in visual art, Indian Education for All (IEFA), Social Studies, and English/Language Arts.
We created this program to mirror the classic FGAE experience of visiting the museum and the Missoula Public Library. This included three exhibition tour stops and artmaking instructions for a project. MAM provided watercolor supplies for classrooms that needed them. Be sure to share your students' creations online with the hashtag #FGAE35!
The 2020–2021 FGAE course spotlighted the following exhibitions:
34th Year: 2019–2020
The 34th season of FGAE focused on Rick Bartow: Things You Know But Cannot Explain. The 2019–2020 year of FGAE served over 1,500 fifth graders from five counties in northwestern Montana. This program is always free and is generously supported by the Art Associates of Missoula.
33rd Year: 2018–2019
Each weekday from October through January, hundreds of fifth-graders from Missoula County Public Schools and beyond spent the first three hours of their day at MAM interacting with Cathy Weber's exhibition, Understory/Overstory, and then created their very own bird sculpture project using air-dry clay. The opportunity to work directly with Cathy Weber impacted students on a deeper level, connecting them directly to her artistic process, her creative problem-solving complexities, and the inspirations and challenges that she and most artists encounter when making art. Learn more about the artist in this video produced by Slikati Photo + Video.
"Our trip to MAM for the Fifth Grade Art Experience is the most favorite field trip of the year. Students get to use their imagination to create an original piece of art—an iteration of their very own bird, based on Cathy Weber's exhibition. It gets better every year." —5th Grade Teacher, Lewis and Clark School, Missoula County Public Schools.
Read more about previous years in this 2017 article from the Missoulian.