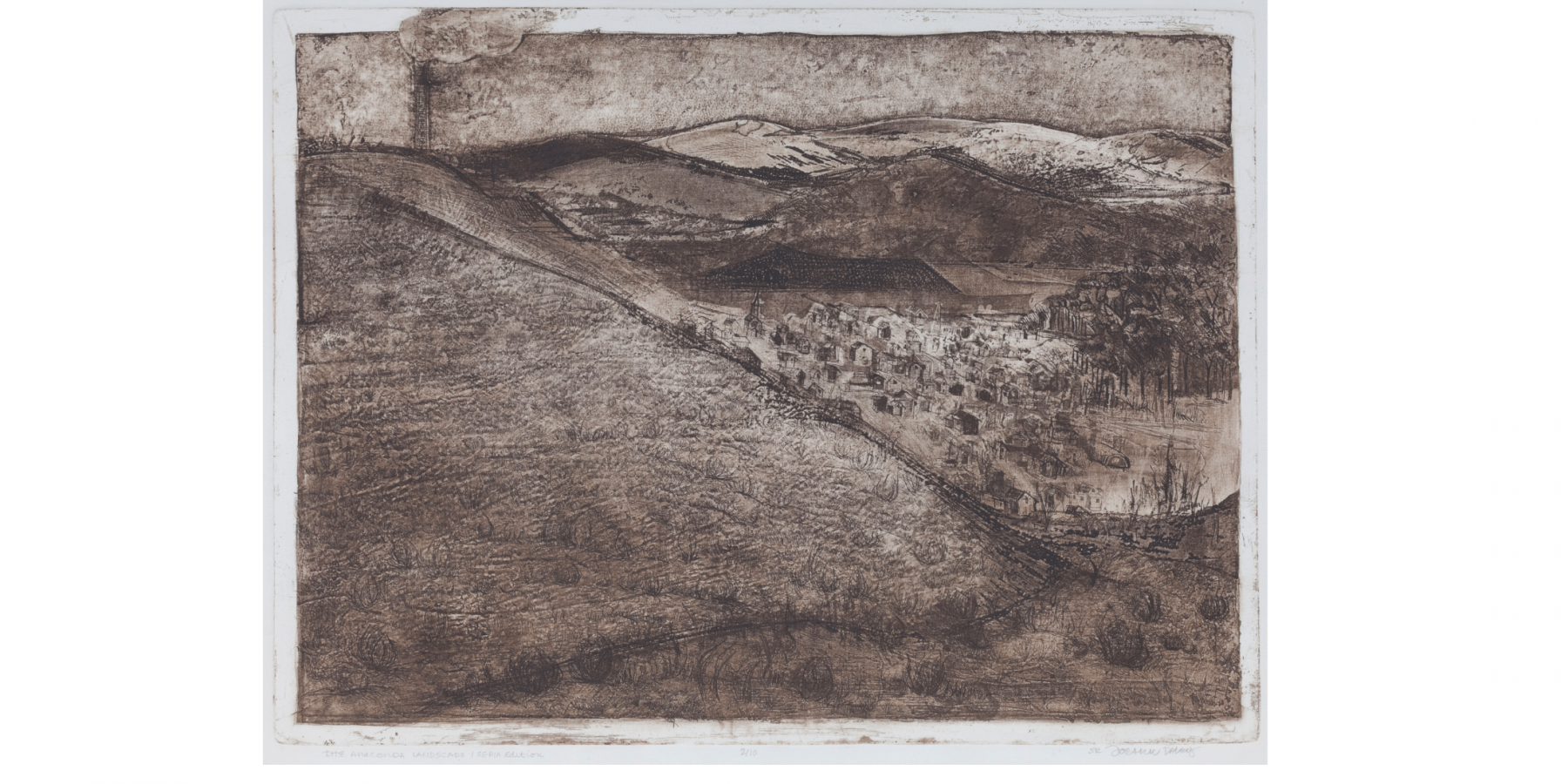 Joeann Daley: Montana Remembered
October 15 2023 - December 23 2023
The Missoula Art Museum announces Joeann Daley: Montana Remembered. The exhibition comprises three print and collage series made by Daley between 1969 and 1988. She was a member of the Montana Modernists movement in the mid-20th century and this series documents the changing landscape of the town of Anaconda, Montana, following the demise of the mining industry.
Using media including sculpture, drawing, lithography, etching, and collage, Daley chronicled the particularities, personalities, and quirky beauty of Montana's people, architecture, celebrations, and landscapes—seeing as an outsider, yet immersed in the daily life of the community. Her work reveals essential but often overlooked details of place—from workers changing shifts at the Anaconda smelter to Marcus Daly's opulent Montana Hotel, from the frescos and ornate grillwork of the Washoe Theater to Hi-line grain elevators. Daley believes that "the ordinary things of life deserve to be seen," and considers it part of her mission as an artist to see and re-present things that are so commonplace as to go unnoticed.
Daley was born in Wisconsin and moved to Anaconda in 1969 to teach in the local Catholic High School. Daley, who often uses the designation "O.P." following her name, is a member of the Dominican Sisterhood. O.P. is the abbreviation of "Order of Preachers," and is a designation of her dedication to the Dominican Sisters of Sinsinawa. She founded and directed Anaconda's Copper Village Museum and Arts Center, and then worked for the Montana Arts Council, helping small communities identify, connect, celebrate, and grow their cultural assets. She returned to Anaconda in 1985 after seven years of studying art in Italy. Throughout her career as an artist and as a Dominican sister, engaging communities has been central to her creative practice.
Daley gained access to the Anaconda smelter, where she recorded the horrific beauty of the 19th-century machinery and the hardship and dignified strength of the people who flowed through the gates in daily shifts. While working for the Montana Arts Council she made a series of prints documenting the long highways and rural communities she visited. In the 1980s, Daley's practice increasingly shifted from printmaking to collage. She discovered that by re-combining elements from her prints, she could connect disparate images and ideas across time, dispense with traditional perspective, and better communicate the spirit of a place.
Joeann Daley: Montana Remembered will travel across the state under the auspices of MAGDA through 2023. This exhibition was curated by Susan Floyd Barnett and organized by the Missoula Art Museum. Montana Remembered will open at the Copper Village Museum & Art Center in Anaconda in May. It will travel to the Carle Gallery, Butte; Holter Museum of Art, Helena; and the Missoula Art Museum.