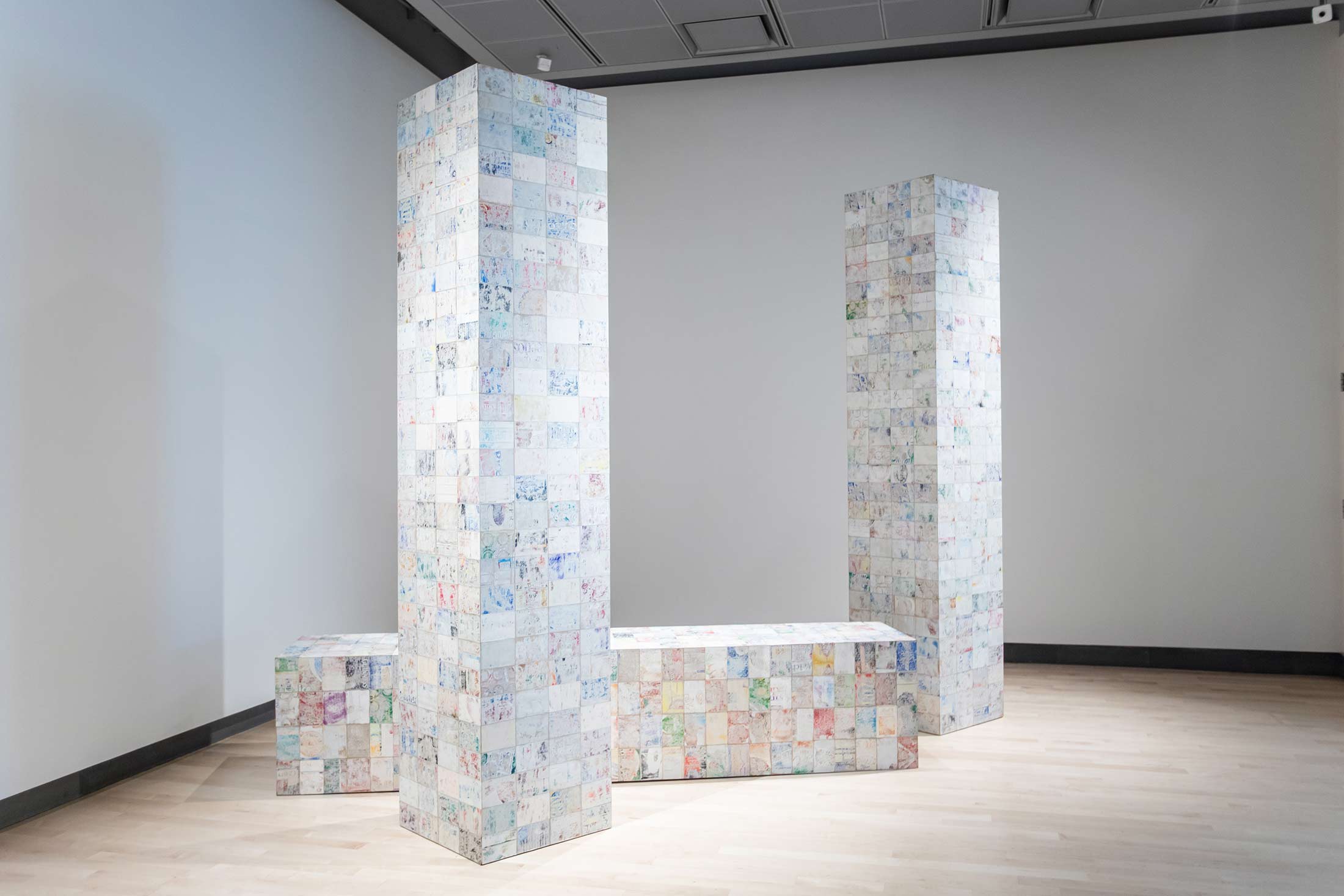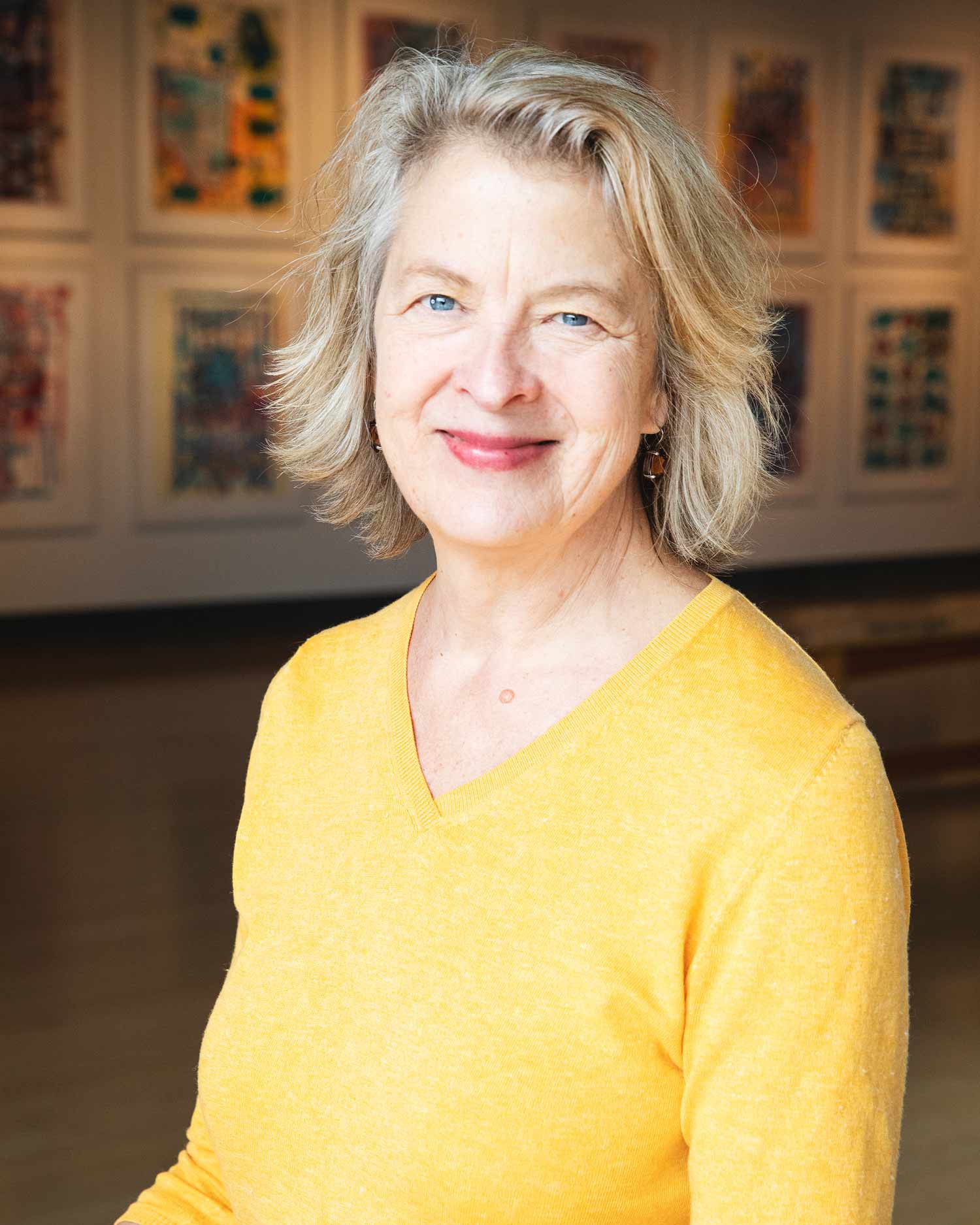 Laura Millin
Executive Director
For over 30 years, Laura Millin has dedicated herself to MAM and its vision, doing everything from steering the direction of the museum, raising money, and maintaining and expanding the museum facilities, to making soup for crowds of guests. As Executive Director, Laura has taken MAM from a small county agency living in a converted Carnegie library to an independent, thriving nonprofit in a beautiful, renovated and expanded facility. Laura moved to Missoula after spending a decade in contemporary art in Seattle, where she co-founded the International Festival of Films by Women and the Center on Contemporary Art. She has served on the board of directors or advisors for at least a dozen nonprofits, and has received seven awards for her leadership, fundraising, and community service achievements. MAM is a labor of love for Laura and represents her life's work. She is continually rewarded by the "MAMily" of staff and board members who make it all possible, and by the artists who enrich our lives, and says she still has plenty more to do at MAM. Laura graduated from Evergreen State College with a bachelor's in interdisciplinary studies.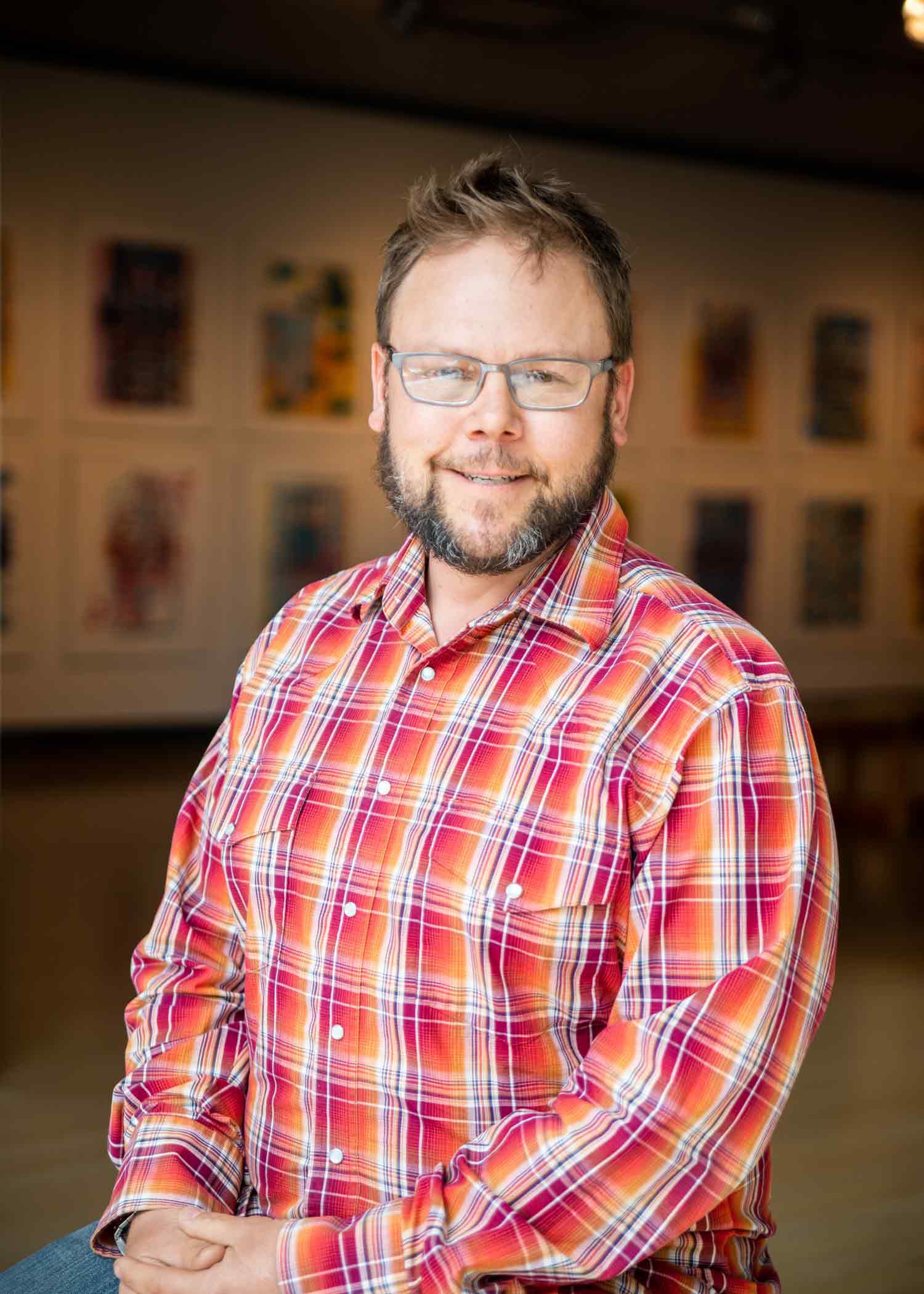 Brandon Reintjes
Senior Curator

At MAM, Brandon oversees strategic planning for programming initiatives, which is a technical way of describing the pleasurable task of working closely with artists to help them realize their creative visions. Brandon has worked as curator for a number of institutions throughout the state. He previously worked at the Montana Museum of Art & Culture at the University of Montana-Missoula, Speed Art Museum in Louisville, Kentucky, the Akron Art Museum in Akron, Ohio, and the Holter Museum of Art in Helena, Montana. Recent publications include Phoebe Knapp: Rough Cuts; Cathy Weber: Understory/Overstory (2018); Our Side: Elisa Harkins, Tanya Lukin Linklater, Marianne Nicolson, and Tanis Maria S'eiltin (2018); and Shape of Things: New Approaches to Indigenous Abstraction (2018). In addition, Brandon regularly contributes articles to the Journal of Modern Craft, Ceramics Art & Perception, and Ceramics Monthly. He received a bachelor's in painting and drawing from the School of the Art Institute of Chicago and his master's in curatorial and critical studies from the University of Louisville.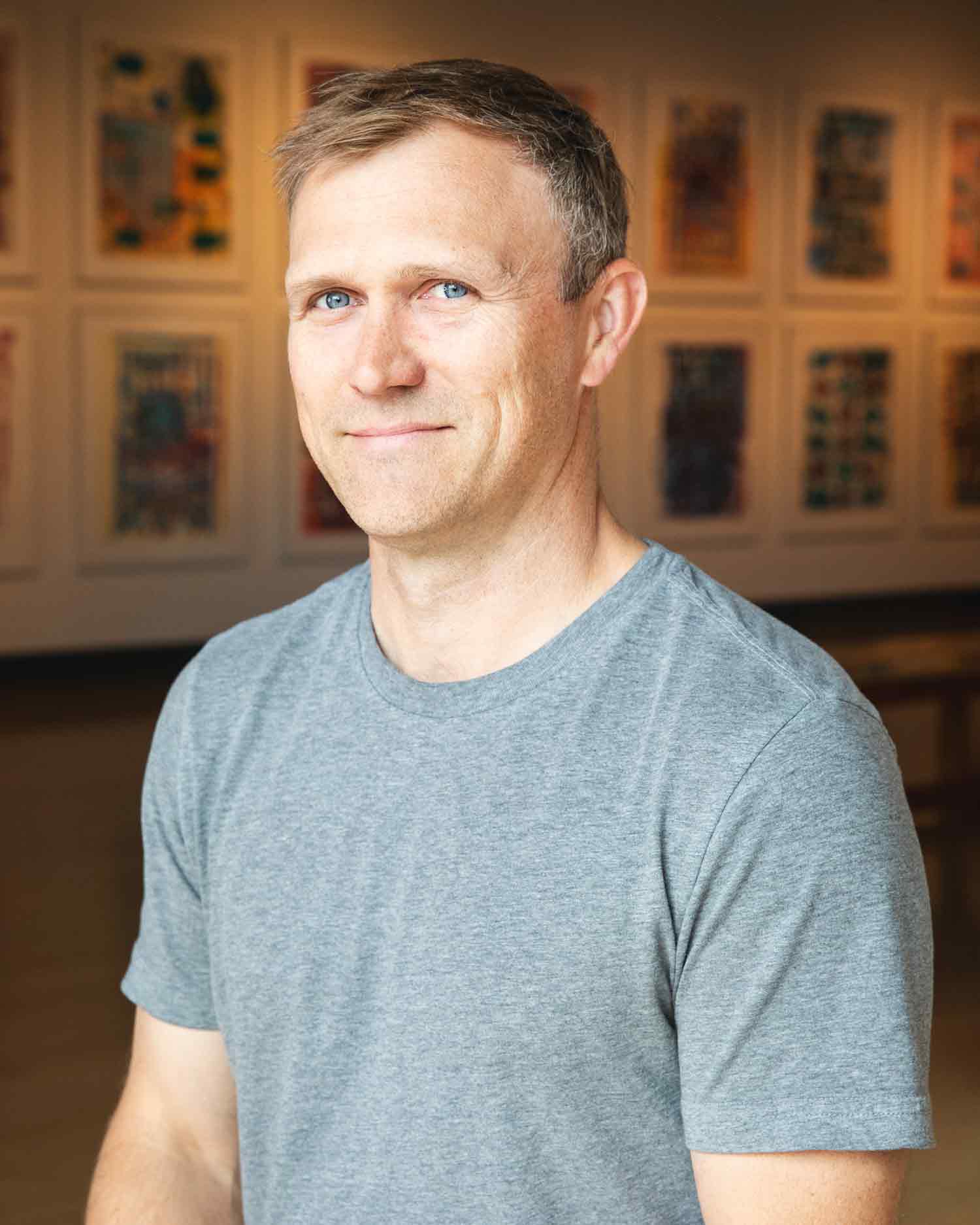 John Calsbeek
Associate Curator
While at the University of Montana, John had his first taste of working in the arts with a work-study job at MAM and then as the University Center Gallery student coordinator. After earning a bachelor's in fine arts, John worked as the director of a small, commercial photography gallery in Missoula. John was hired at MAM during its 2006 expansion. As Associate Curator, John now works together with Senior Curator Brandon Reintjes and directly with artists to develop, design, and install all of MAM's exhibits. He also works with the programming team to develop interpretation and create public programs centered on the exhibition schedule. John has been co-chair of MAM's auction committee since 2006, working with volunteers and staff to coordinate the annual benefit art auction. His favorite part of the job, in addition to hands-on work in the gallery, is meeting artists—going to an artist's studio to look at new work and engaging in meaningful dialogue about art and art-making.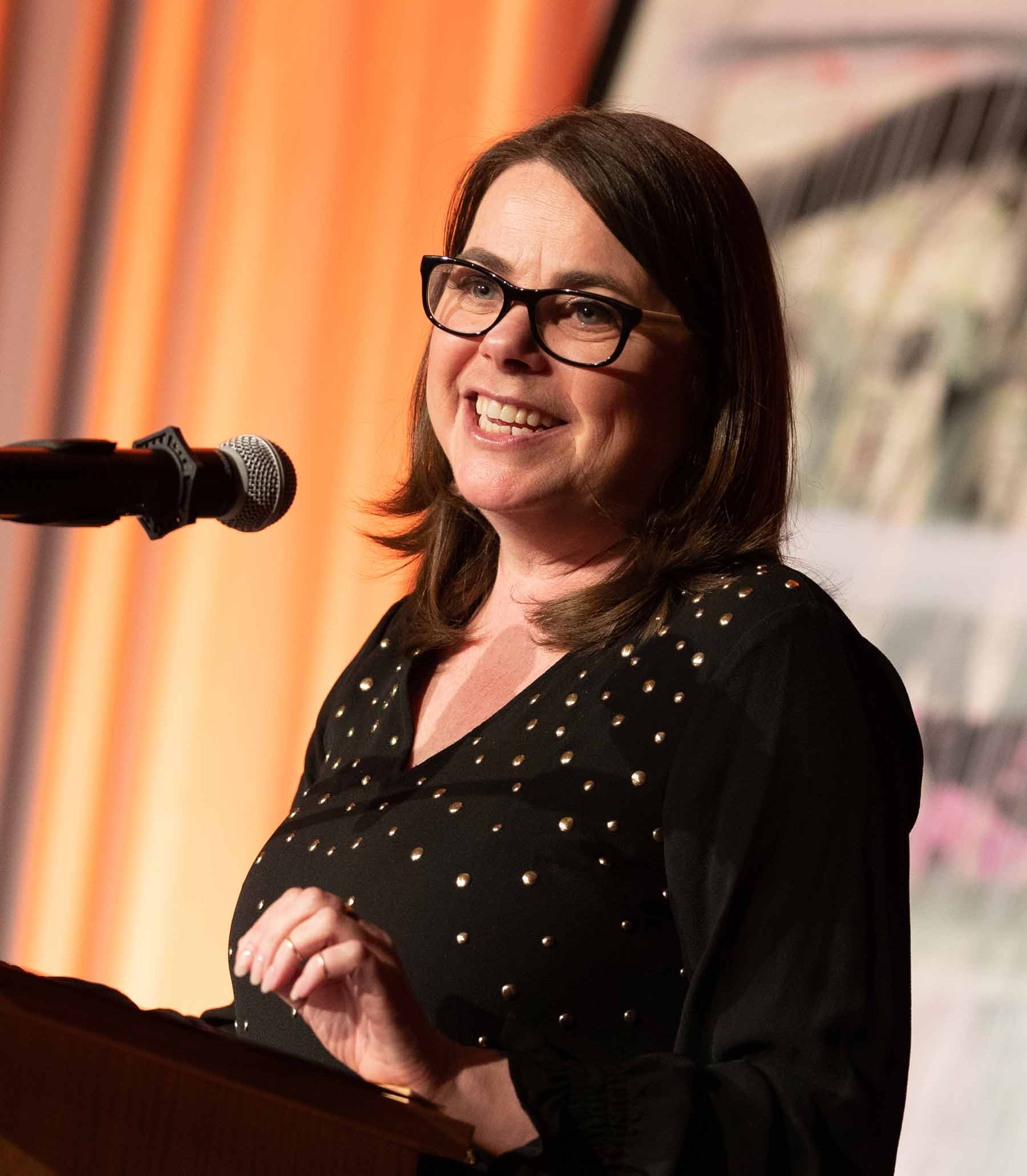 Tracy Cosgrove
Deputy Director for Finance and Advancement

Tracy is the Deputy Director for Finance and Advancement at the Missoula Art Museum. Before moving to Montana she spent 12 years in the communications industry doing public and investor relations at boutique firms in the Twin Cities. She was COO at Forward Montana and Forward Montana Foundation, and has served on more than a dozen nonprofit boards at the local, state, regional, and national level. She chaired the national board of the YWCA USA in Washington, D.C., as well as the Minnesota Women's Consortium, and has served as treasurer of the Seattle-based Social Justice Fund and Montana Conservation Voters. Tracy serves as treasurer for the board of directors of the Jeannette Rankin Foundation, which empowers women through education. She attended the Medill School of Journalism at Northwestern University and is a member of Mensa.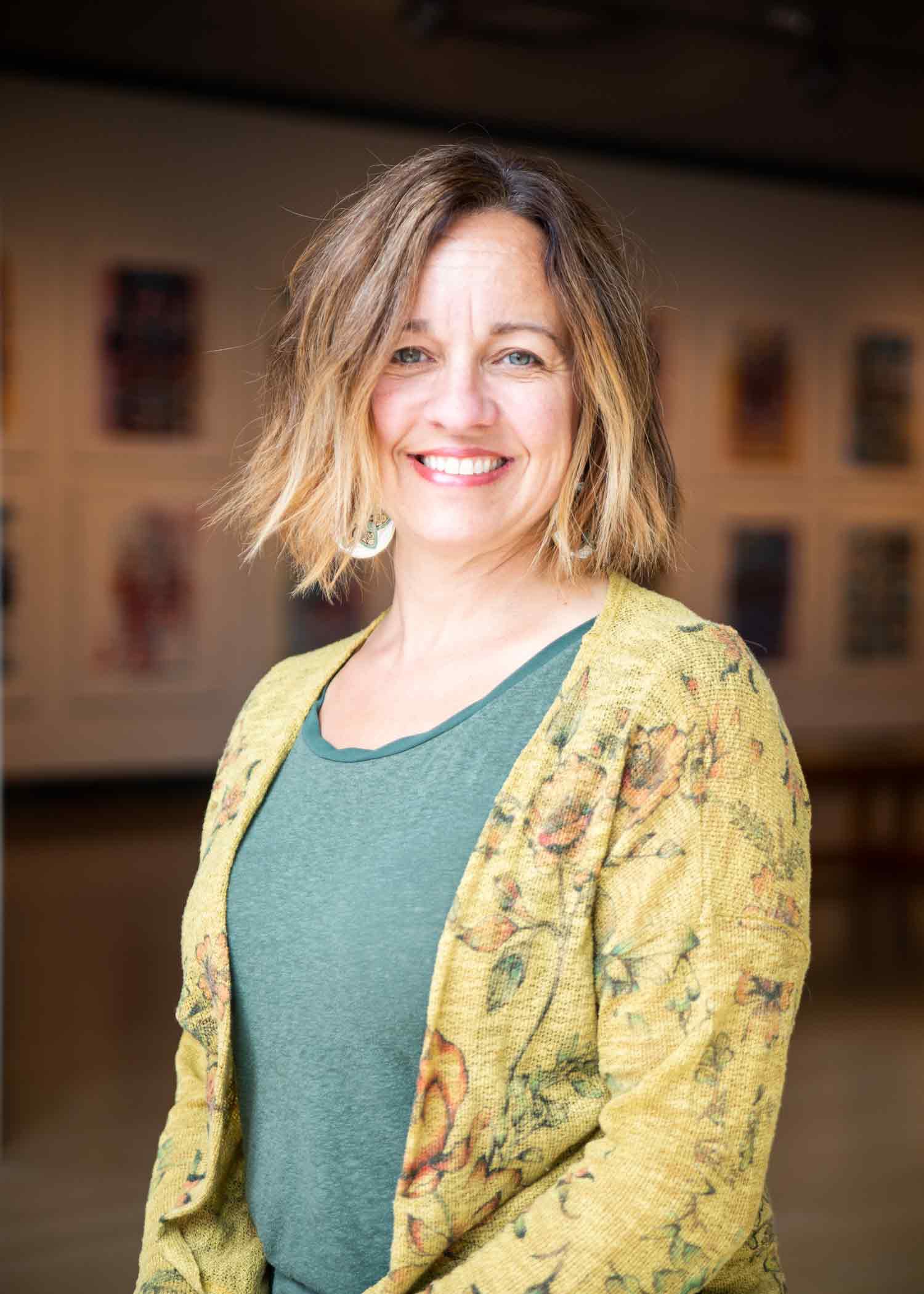 Kay Grissom-Kiely
Curator of Education

Kay is the Curator of Education for the Missoula Art Museum. Prior to this position, she worked at the Montana Museum of Art and Culture, the Montana Arts Council, homeWORD, as co-editor of the St. James Guide to both Latin American Art and African American Art, and as Development Director and grant writer/researcher at MAM. During her time in Chicago, she was the Director of Education at the Hyde Park Art Center in Chicago and has been committed to arts education throughout her career. While in Chicago, she worked at Marwen and Gallery 37, both inner-city arts centers. She completed a curatorial internship for the John D. and Catherine T. MacArthur Foundation, as well as internships in museum education at the Art Institute of Chicago and the Eiteljorg Museum of Native American and Western Art in Indianapolis. Kay brings experience designing and implementing teen mentorship programs in the arts, curriculum-based arts-integrated programs, jobs-training programs in the arts, and other interpretive programs from institutions with nationally recognized arts and museum education programs. She has an extensive background in art, with a master's in art history, theory, and criticism in modern and contemporary art from the School of the Art Institute of Chicago—where she focused on contemporary women artists of Cuba—and a bachelor's in art history from DePaul University.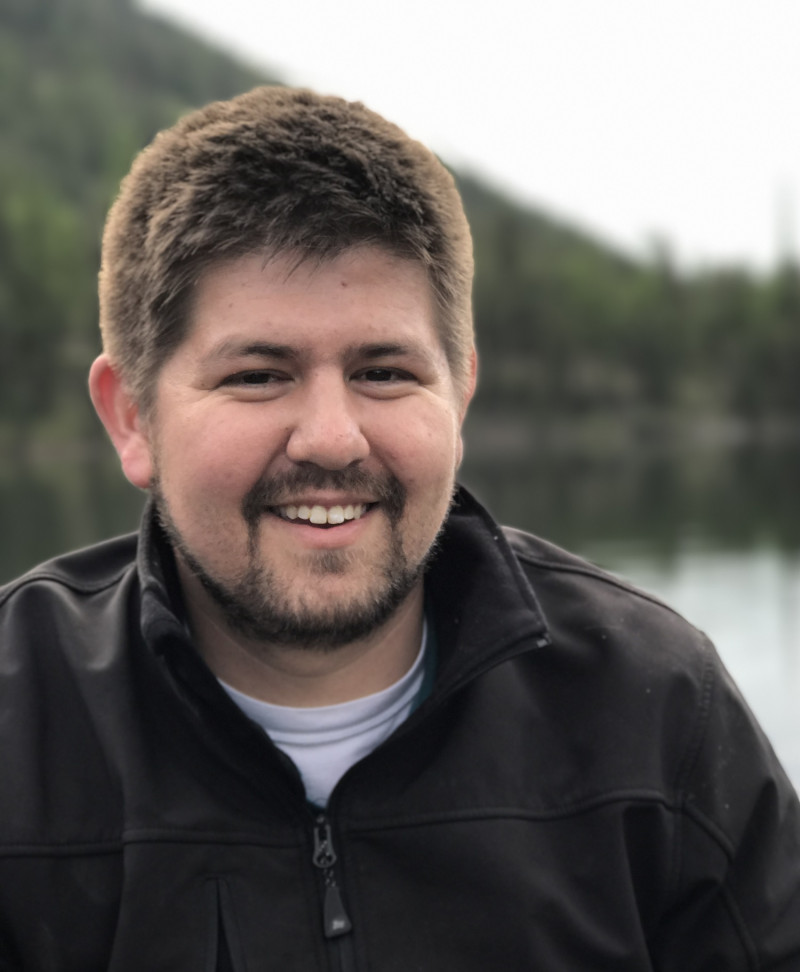 Cameron Decker
Educator and Outreach Coordinator

Cameron Decker is a proud member of the Diné (Navajo) Nation. He is a Salish descendant. He is coming from Salish Kootenai College where he has taught courses in studio arts, art history and portfolio since 2011. He was hired as Fine Arts Department chair in 2016. Cameron received his Bachelor of Fine Arts in Art History at the University of New Mexico. He received his Master of Fine Arts in Integrated Arts in Education at the University of Montana. He is a painter, printmaker, and ceramic artist. He takes pride in educating people about art and bringing people together for meaningful art experiences. His wife is a member of the Confederated Salish and Kootenai tribes and is one of the few fluent speakers remaining and is teaching Cameron how to speak Salish. Together they are raising their four young children to be creative, cultural, and fluent Salish speakers.
Jessica Noe
Advancement Officer

Jessica Noe joined the MAM in 2022 as Advancement Officer. Prior to this position, Jessica was in Denver where she held positions at two of Colorado's largest cultural institutions, the Denver Zoo and the Denver Center for the Performing Arts. Jessica graduated from the University of Denver with a bachelor's degree in Communications and a minor in Studio Arts.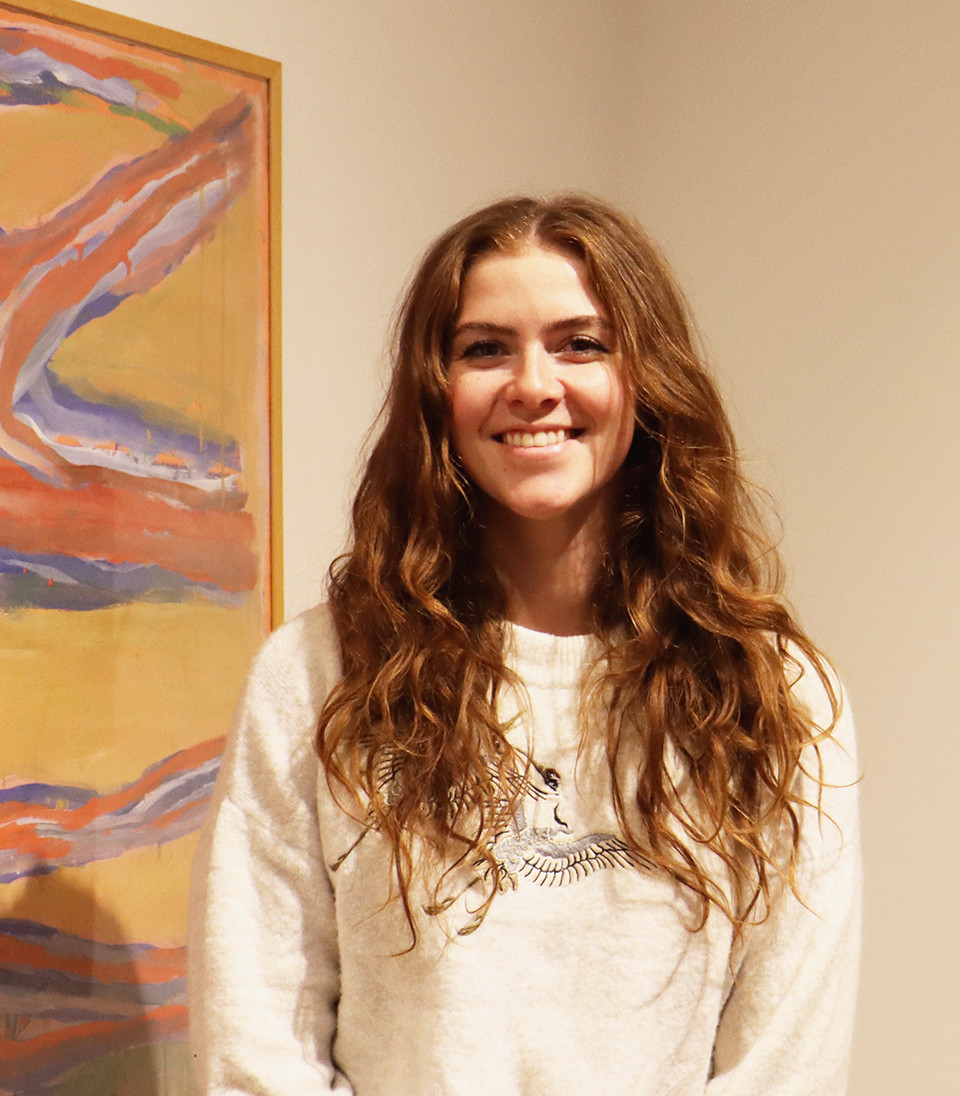 Nicolle Hamm
Operations Assistant
Nicolle began working with MAM in 2019 as an education intern, then as a Visitor Engagement and Security Officer for close to three years before moving into her current position as Operations Assistant. Nicolle earned an associate's degree at Spokane Falls Community College and a Bachelor of Fine Arts in ceramics from the University of Montana. Nicolle is a practicing studio potter and serves on the National Council on Education for the Ceramic Arts Green Task Force (NCECA GTF), which focuses on sustainability in the ceramics field. She has presented her research on the sustainability of mining and refining at NCECA 2021, NCECA Clay Week 2021, and NCECA 2023.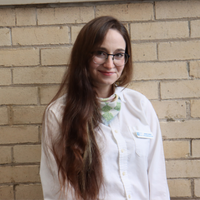 Hannah Harvey
Visitor Engagement/Security Officer
Hannah Harvey joined the MAM team in 2021 as a Visitor Engagement/Security Officer. Since then, she has thoroughly enjoyed connecting with the museum's numerous visitors and learning more about Missoula's rich community of artists and art lovers. Hannah attended the University of Montana, where she spent her time making plenty of art, teaching students of all ages, working in galleries, and even lending her skills to the MAM as an education intern! After graduating in 2019 with a bachelor's degree in painting and art education, she was thrilled to be welcomed back to MAM. Hannah values the universal power of visual language, and hopes that art lovers and skeptics alike will find something at the museum that sparks their curiosity.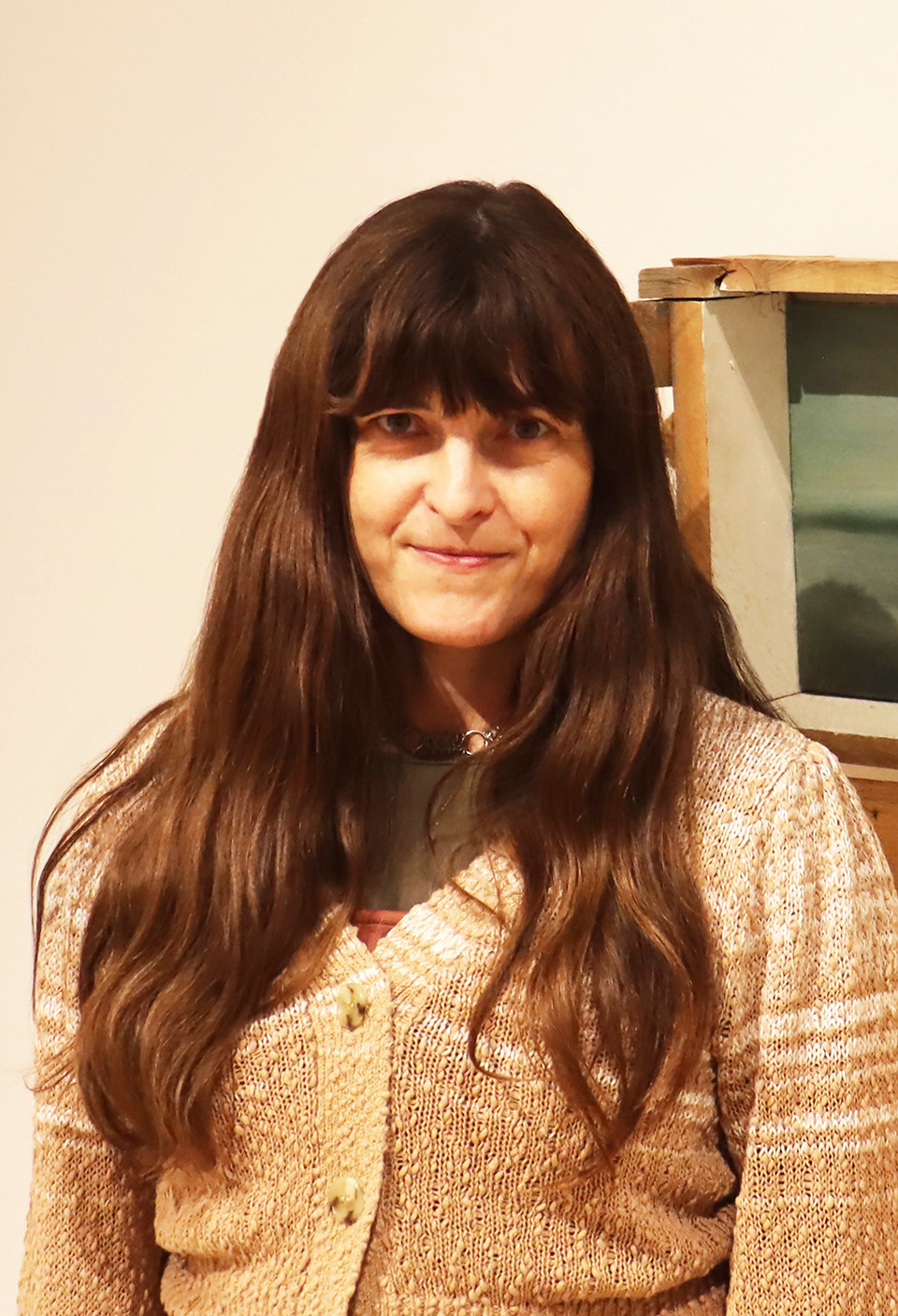 Anna Wilson
Marketing and Communications Coordinator
Anna Wilson joined the Missoula Art Museum in 2022 and is excited to share the MAM's story and mission. Anna holds an M.F.A. in creative writing from Louisiana State University and attended University of Montana to study literature and ecology, with particular interest in the West, the Western, Indigenous futurism, science fiction, and apocalypticism. She has taught writing and literature and has published poetry, non-fiction, and hybrid works in journals such as Gulf Coast, The Volta, and Pool. Anna's visual practice ranges from printmaking and book arts to video and handmade paper installations.
Board of Directors
Matt Gibson, President
Stephanie Christensen, Vice President
Josh Gimpelson, Treasurer
R. David Wilson, Secretary
Libby Addington
Colin Boyle
Lara Dorman

Paul Filicetti
Amy Leary
Fran Legon

Kate Shanley
Amy Sings in the Timber
Kate Sutherland