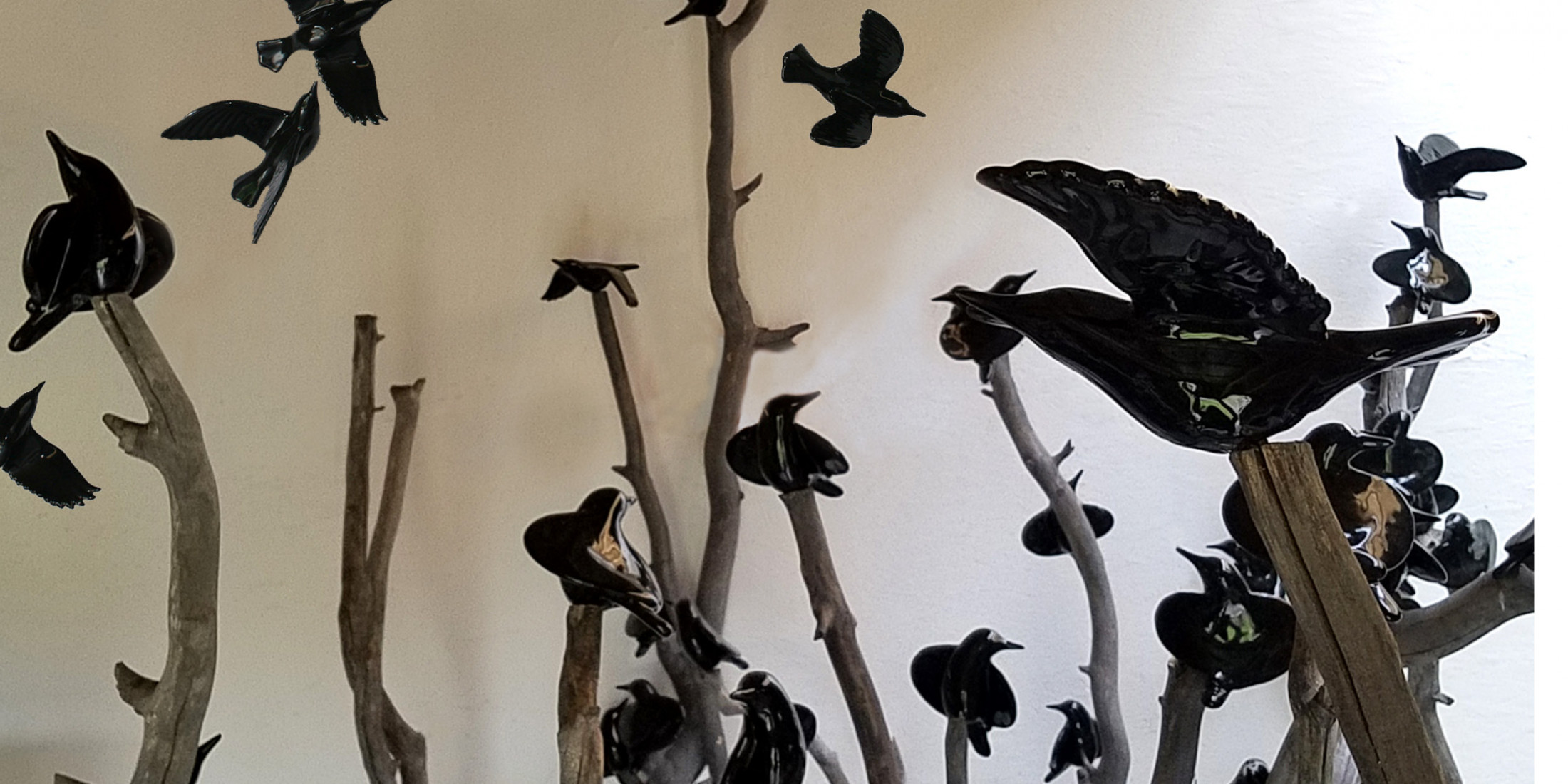 Cathy Weber: Overstory/Understory
August 28 2018 - January 12 2019
Cathy Weber created a site-specific installation of found and altered trees to recreate a magical forest populated by blackbirds that alight in branches and rise in a murmuration on the gallery walls. This is Weber's first foray into large-scale installation, and she produced this work solely for MAM. The title refers to the ecological relationship between upper and lower forest vegetation that expresses the diversity, composition, and structure of the ecosystem. Understory refers to the area of growth beneath the canopy, while overstory refers to the upper crown cover. The terms also refer to stories that are hidden and those that are revealed. The forest is a metaphor in fairytales for those things that are kept hidden, magical, or secret, and it informs Weber's family history, where she uncovered her lineage to women who were persecuted for practicing witchcraft.
The installation adopts the metaphoric language Weber has developed in her paintings and illuminated manuscripts, where she depicts handmade and natural objects arranged in lines to create visual poems. Likewise, in this installation, she arranges ceramic birds and recovered aspen from her property along the Grasshopper Creek in the Pioneer Mountains in southwestern Montana to create an immersive experience for the museum visitor.
Weber's work is about the interplay between natural and human systems. She believes we have a responsibility to the natural world and to one another that takes the form of justice and community. With Understory/Overstory, the disruption of ecosystems is as much a metaphor for the inequities experienced within human communities as it is for the consequences of human decisions playing out in the landscape. The concept of environmental or climate justice implicit in Weber's installation is that everyone participates in a system that is mutually beneficial and sustainable. Clean environments and clean communities are a right as much as an ideal. Author Gretel Ehrlich, backpacking through the landscape in her book The Future of Ice, reaffirms the implicit qualities found in nature when she wrote, "Everything we need to know about beauty, justice, time, movement, subtlety, and surrender is here."
Weber imagined this installation after she visited Nathan Coley's outdoor sculpture at the National Galleries of Scotland titled There Will Be No Miracles Here. It is a 19-foot-tall scaffold with neon text. This statement was taken from a royal proclamation made in 17th century France at a site of frequent miracles. Coley's interest in public space and how systems of personal, social, religious, and political belief make up our towns and cities—and thereby ourselves—resonated with Weber. Her response is to make art that insists miracles surround us, beauty is everywhere, and art is integral to the human experience. Weber wrote, "What best motivates me in my work is the potential to uncover, expose, and describe the sacred. The fruits of the earth and the human heart offer the language. Working is the prayer." By working with common, humble materials, Weber hopes to make beauty accessible and to create a shared space and shared experience for her viewers.
Learn more about Cathy Weber in this video produced by Slikati Photo + Video.