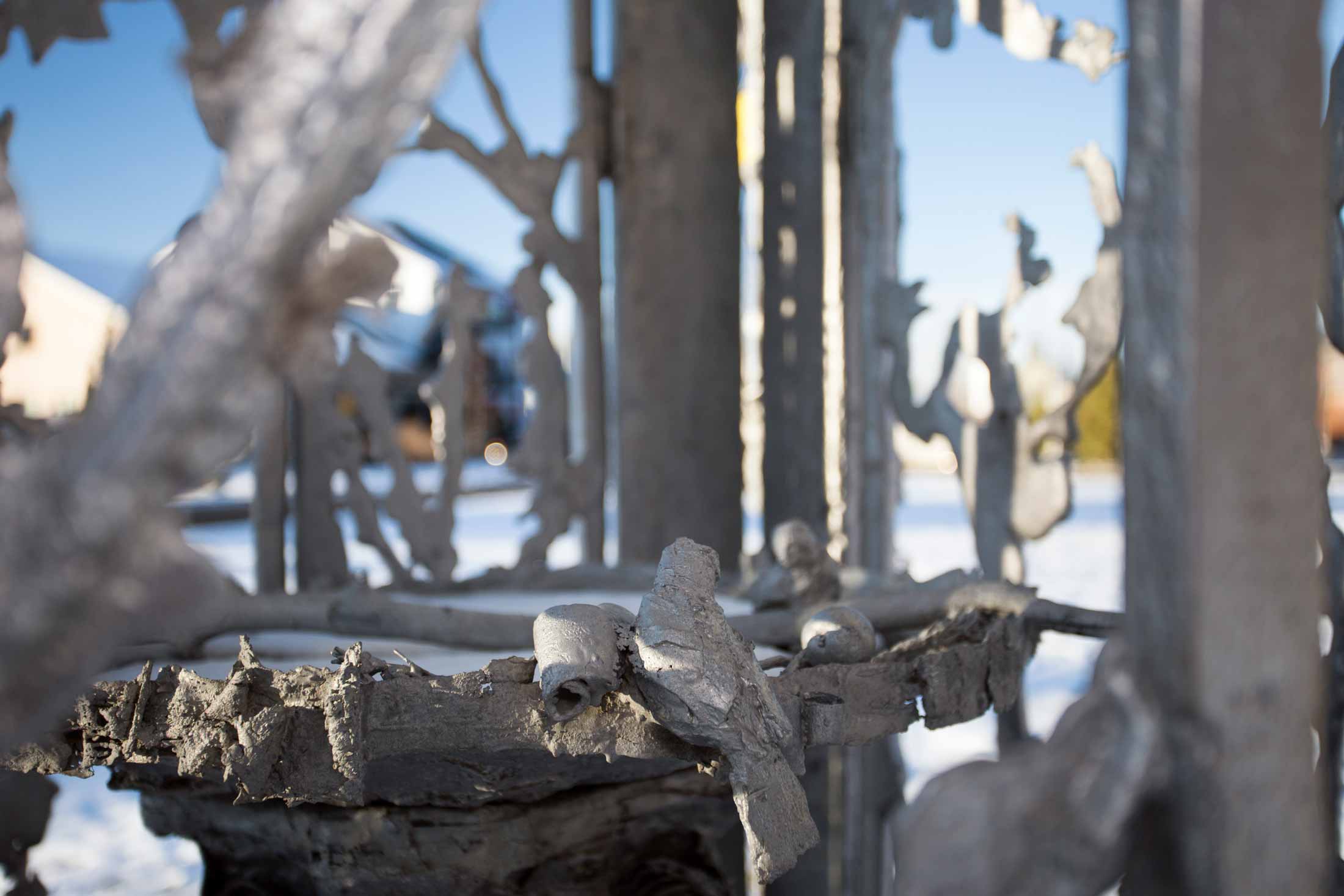 Missoula Art Park // Development
Extending the experience of art outdoors ($1.1 million, includes capital investment, Missoula Art Park development, and ongoing curatorial support)
Creative Place-Making | Missoula Values
The Missoula Art Park is creative place-making at its best, where partners from public, private, nonprofit, and community sectors strategically establish and shape the physical and social character of a community around arts and cultural activities. It connects nature and art to people where they live, work, and recreate. It brings diverse people together to energize and rejuvenate the streetscape.
While the Missoula Art Park is an external expression of MAM's commitment to contemporary art, it also embraces the values of Missoula residents. It is a spot where culture meets nature, a civic gathering plaza, a place to show off to guests. Rooted in a collaborative effort, the Missoula Art Park enhances our downtown community and contributes to our sense of place. The project incorporates newly planted trees using best practices in urban landscapes and celebrates biking and walking in the park and beyond.
Downtown Missoula is officially one of the greatest places in America! The Heart of Missoula neighborhood was named one of five great neighborhoods by the American Planning Association, a national organization of planners and consultants. The article credits the Art Park as one of the contributions that put Downtown Missoula on the map.
THE MISSOULA ART PARK OPENS TO THE PUBLIC!
Watch the community-wide speeches given at the Opening Dedication on April 21, 2017, thanks to the Missoula Current. Read about the dedication and opening exhibition ceremony for BY THE BIKE, thanks to the Missoulian, April 22, 2017. Discover the generous community support that made the vision a reality: ART PARK DONOR WALL. Fundraising for building costs to the Art Park is ongoing. We invite you to JOIN THE LIST of supporters with your gift to the Art Park today!
CULTURAL & ARTISTIC BENEFITS Missoula and Montana realized an extraordinary opportunity on April 21, 2017 with the Dedication & Inaugural Exhibition Opening of the Missoula Art Park. Designed to promote creativity in a public space, provide artists a venue for large-scale outdoor art, educate the public, and furnish outdoor classroom space, the Art Park surrounds the Missoula Art Museum and extends across Pine Street to Adventure Cycling Association.MAM's installation of large-scale sculptural artworks placed throughout the Park, combined with opportunities to create public art, is destined to attract visitors and local residents. As noted in the 2012 Americans for the Arts' Creative Industries: Business and Employment in the Arts study, "Arts organizations…are the cornerstone to tourism and downtown revitalization."
ECONOMIC & ENVIRONMENTAL BENEFITS
The Missoula Art Park epitomizes "Creative Placemaking," which is becoming state-of-the-art nationally, where partners from public, private, nonprofit, and community sectors strategically shape and establish the physical and social character of a neighborhood, town, city, or region around arts and cultural activities. Creative Placemaking energizes public and private spaces, rejuvenates structures and streetscapes, improves local business viability and public safety, and brings diverse people together. The scope of the Missoula Art Park project evinces a strong sense of place to unite the diverse offerings of our vibrant community and ensure and sustain its physical and economic health. Read a recent article about the importance of public art and creative placemaking in America. The economic benefits of the Park promote smart growth by providing an outstanding quality of life downtown. It also catalyzes economic growth by helping businesses thrive, increases property values throughout downtown, extending visitors' time downtown, and enticing them to spend more on goods and services.
ENVIRONMENTAL AND PUBLIC HEALTH
The Missoula Art Park provides additional environmental benefits with thoughtful and ecological landscaping in our urban core. Trees were chosen to improve air quality and filter airborne pollutants. The park improves water and soil quality with its healthy trees and foliage and features best practices in growing trees in the urban environment. The park helps to calm traffic and reduce noise for a more peaceful setting, encouraging and even celebrating biking and walking in the Park and beyond. Outdoor spaces with trees and public art discourage crime and violence, promote community-building, and reduce stress, help businesses thrive, and increase property values. In addition, providing bike facilities and route networks are vital to local quality of life and prosperity. Trees were planted using new Silva Cell systems, which create space for roots below streets thus fostering strong and healthy trees. Downtown Art Park stakeholders expressed the need for a public bathroom for nearby Saturday market customers and people outdoors, so the Art Park includes a Portland Loo, a well-designed public restroom that answers cleanliness and security concerns. Read about the Silva Cell installation on October 14, 2016. Learn more about the safety features of the Portland Loo in the Missoulian article from April 26, 2017.