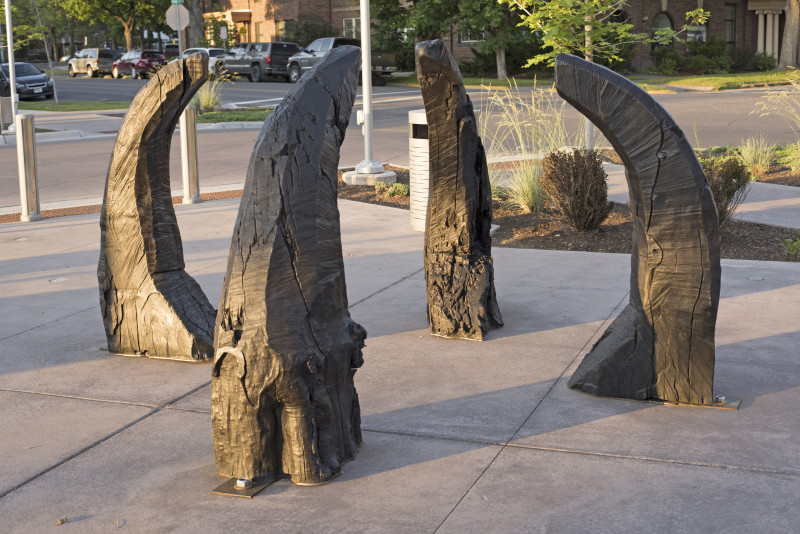 Phoebe Knapp: Rough Cuts
May 23 2018 - October 10 2018
MAM is excited to kick off the second season of the Missoula Art Park with Montana sculptor Phoebe Knapp. The outdoor exhibition features four large-scale public sculptures. This year, for the first time, a sculpture sits on the Art Park plaza in front of the Adventure Cycling Association building across from MAM. Adventure Cycling was a collaborative partner in the design and construction of the Missoula Art Park and MAM is thrilled to expand Rough Cuts across the entire footprint of the park.
Knapp works primarily with wood but incorporates metal details and accents. She searches for and scavenges huge slabs of wood, tree trunks, and giant burl knobs from old-growth trees. The fact that the materials were once living things makes each piece of raw material unique. Knapp's years of experience working with wood informs her knowledge of the medium. Whether it is a slab left in its natural form, but planed smooth and highly polished, as in Lighting Strike, or left rough with carved, claw-like forms, as in Beastie Boys, it is evident that Knapp allows the natural form of the tree to guide her decisions. Lightning Strike is a new work that was completed this spring and it will be featured near the museum entrance. Beastie Boys will be arranged in the Art Park plaza and was cast in bronze from four carved and burned pieces of elm.
Phoebe Knapp is a graduate of the Rhode Island School of Design and a third-generation rancher near Fort Smith, Montana. She has exhibited widely in the western states and her work is collected throughout the United States. She divides her time between Fort Smith and her studio in Billings, located in the city's historic district.