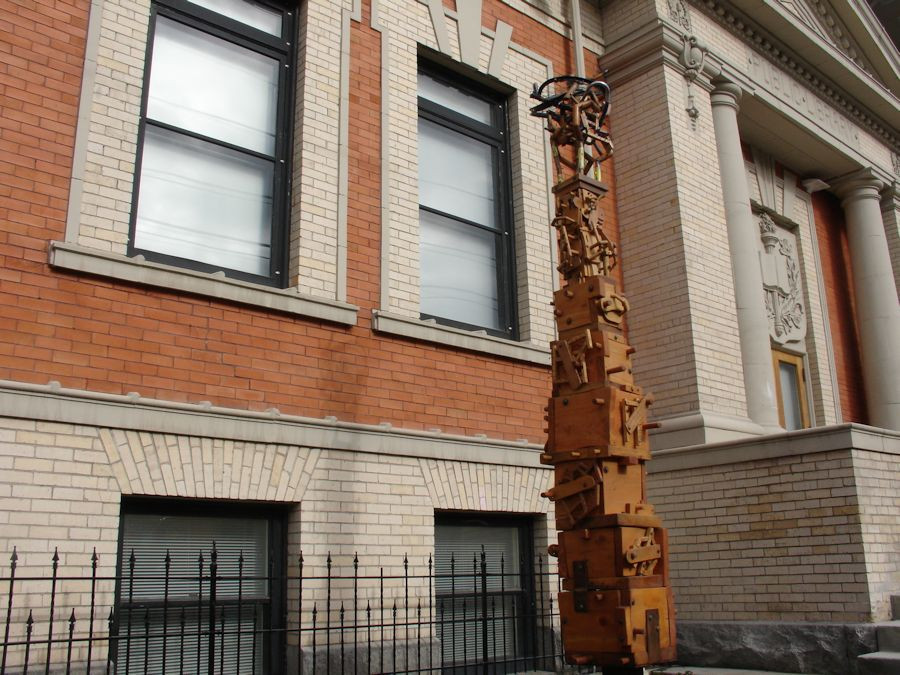 By The Bike
April 21 2017 - November 4 2017
The Missoula Art Park functions as an outdoor gallery, featuring changing public art installations in a highly-designed park setting that communicates the museum's commitment to contemporary art and community. The park was created by MAM in partnership with the City of Missoula and Adventure Cycling, with the endorsement of a broad spectrum of stakeholders, and thanks to the support of public and private grantors, and hundreds of businesses and individuals. It's a people's park in the best sense!
The inaugural exhibition in this newly created city park features art made with or inspired by bicycles in honor of MAM's partnership with Adventure Cycling. Artists Anne Appleby, Kim Reineking, Whitney Ford-Terry, Keith Goodhart, Jeremy Hatch, and Patrick Zentz each created an artwork that incorporates or responds to the bicycle physically, conceptually, or abstractly.
Ford-Terry is an Adventure Cycling Tour Specialist whose practice centers on self-supported bicycle touring as a platform to investigate our relationship to social and physical landscapes. She created a nomadic listening space for visitors to hear audio stories about bicycle travel by some of the field's visionary practitioners. The site also serves as a meeting place for cycling day trips throughout the summer.
Appleby and Reineking worked collaboratively to create an abstract, three-dimensional line drawing using recycled bicycle parts. Appleby and Reineking were classmates at the University of Montana, where each received a BFA. Appleby went on to earn an MFA from the San Francisco Art Institute. She currently maintains studios in Jefferson City, Montana, and Santa Fe, New Mexico. Her work has been collected by institutions and individuals internationally, and she is the recipient of numerous awards, including the Pollock-Krasner Foundation, a Biennial Award from the Louis Comfort Tiffany Foundation, and a SECA Art Award from SF MOMA. Reineking is the past-president of Reineking Construction, and received numerous awards for his sustainable construction and design.
Goodhart is a largely self-taught artist who operates a sheep ranch near the Crazy Mountains outside of Big Timber, MT. His studio is a log cabin where he makes art using materials such as window screen, scrap lumber, and house paint. An avid cyclist, Goodhart created an abstract monument of rough boxes covered in wood pieces and reclaimed bicycle tubing.
Hatch used a variety of techniques to create and ambitious ceramic installation. A Professor at Montana State University-Bozeman, he founded Ricochet Studio to collaborate with various artistic disciplines and develop ceramic-based products. His installation, which he describes as an "assemblage/ conglomeration like [my] Big Wheels/tricycle project, but more open," is in the MAM atrium to unite the interior and exterior of the museum.
Zentz has built his career translating environmental phenomena into conceptual installations. Raised on a cattle ranch near Laurel, Montana, he abandoned his study of biology to pursue an MFA from the University of Montana, where he helped Robert Smithson and Nancy Holt install her seminal Missoula Ranch Locators. Zentz says, "I [am] intrigued by the idea of taking natural phenomena, putting it through a mechanism, a logical system, and ending up with a different apprehension of the phenomena."