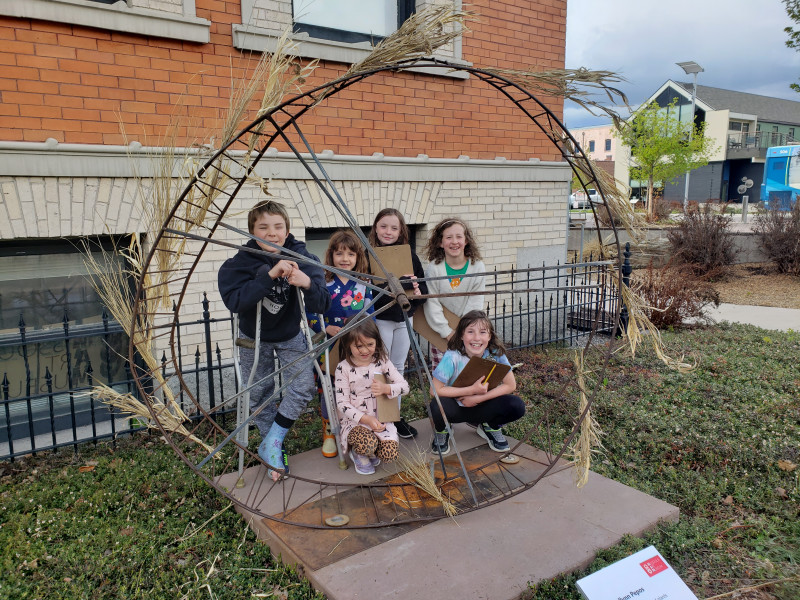 Noellynn Pepos
May 9 2023 - October 16 2023
This summer MAM remembers Noellyn Pepos with an exhibition of her sculptures both inside the museum, in the lobby gallery, and outside in the Art Park. Pepos passed away in 2017 from natural causes, but unexpectedly, at age 53. She was a versatile artist and skilled fabricator who became known for welded iron and steel forms. Most often, the sculptures are a juxtaposition of graceful, natural forms and heavy, industrial material. Pepos thought about our human relationship with the natural world and her sculptures often mimic or echo forms found in nature. One of the pieces installed outside titled Inside Passage, circa 2000, was fashioned after wagon wheels but the form is organic and loose. One of the works display in the lobby, from MAM's collection, is made from steel nails which Pepos keenly conveys the feeling of windswept grass or underwater motion. Also in the lobby stands a long, narrow table—again welded steel— which demonstrates Pepos' craftsmanship.
The Missoula Art Museum hosted Pepos' first solo museum exhibition in 2001, Like Waves they Break. The Holter Museum of Art featured her in 2005. Pepos was at the height of her artistic career when she passed. In 2015, she was the first woman to be awarded an Artist-in-Residence at Blackfoot Pathways: Sculpture in the Wild in Lincoln, Montana. where she installed her piece titled Of Earth, Of Sky, Of Place Between. Pepos was born in Tacoma, Washington and earned a bachelors degree in art at the University of Washington and her MFA from Southern Illinois University in Carbondale.
MAM is honored to exhibit this selection of works in memory of Noellyn Pepos, an artist who had positive impacts on the institution, local arts community and far beyond. The exhibition is possible with the generosity of Geoff Pepos and his partner Cindy Knudsen.