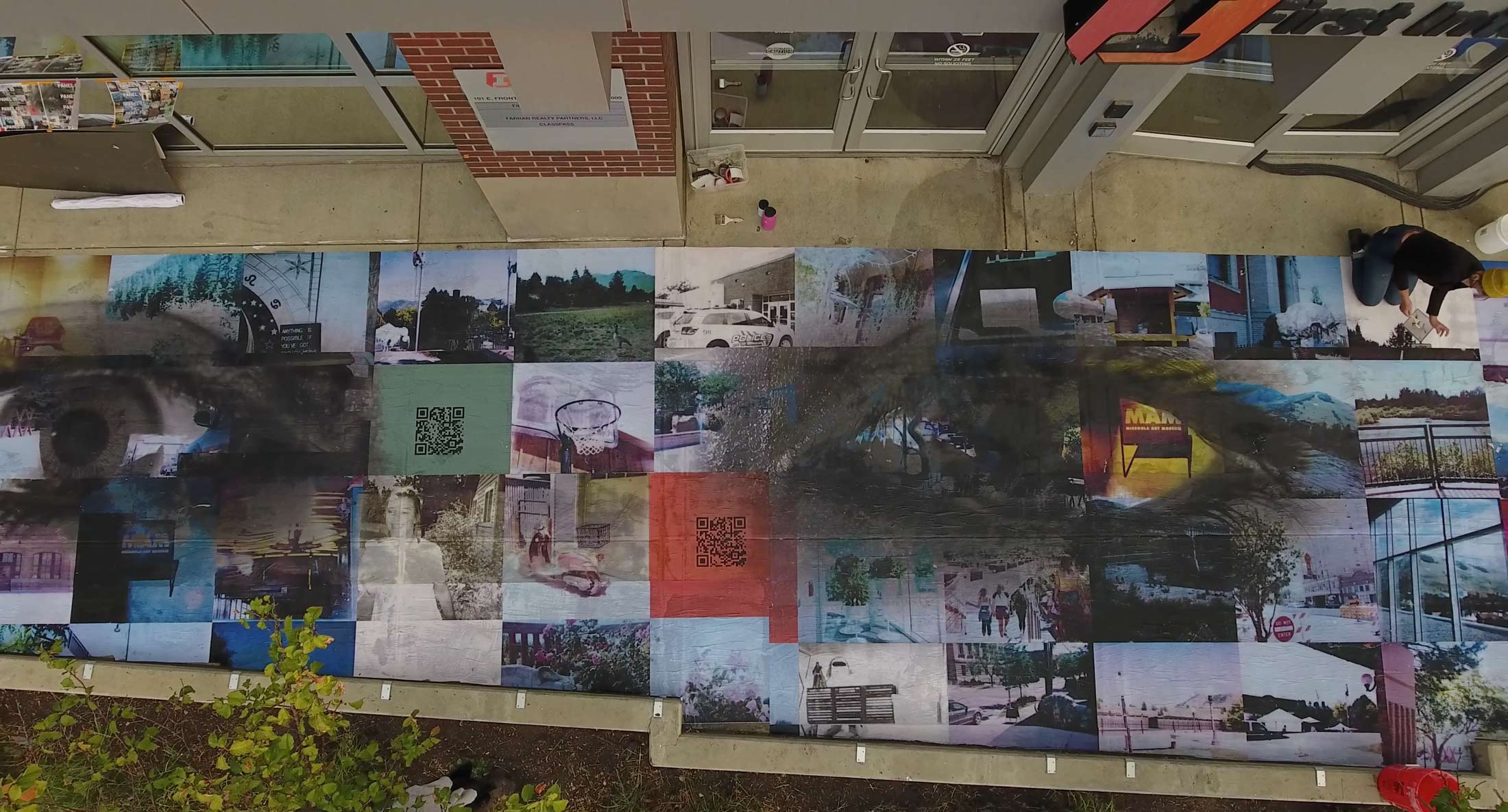 Paper, wheat paste and ink on a sidewalk
A collaboration between the resident artist Janaina Vieira-Marques and the 2022 TAP participants.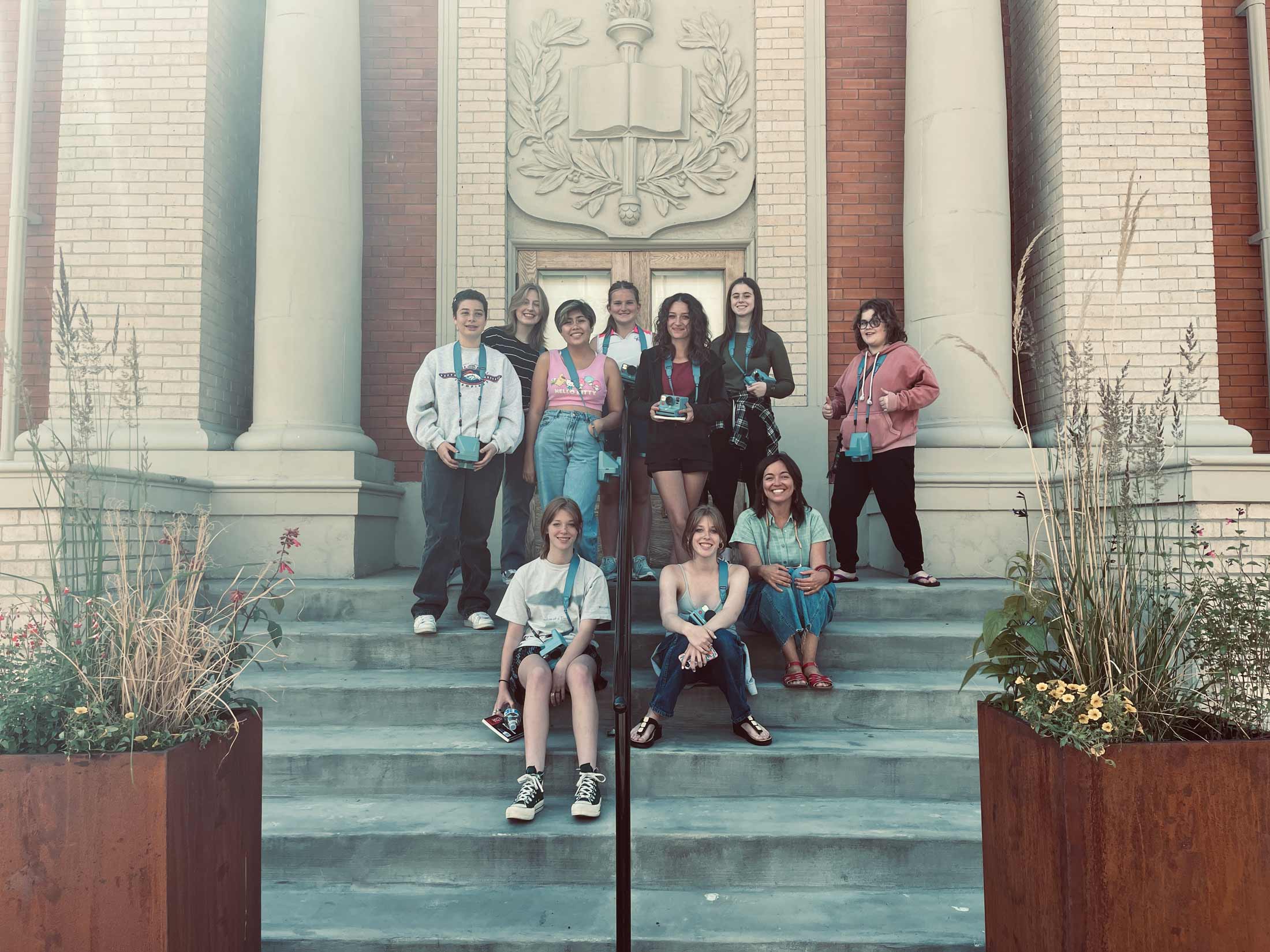 Hayleigh (TRIO-Upward Bound)
Marcus (TRIO-Upward Bound)
Janaína Vieira-Marques
//
Sarah Fathima Mohammed
//
Brooklyn Little
Janaína Vieira-Marques is a Brazilian-American art director and educator who lives in Missoula, MT. For the past thirteen years, as both an educator and art director, she has created art encounters and education programs that often end in public art pieces, performances or costumes that facilitate people's collaborative interactions while beautifying the place we share.
Janaína has collaborated with light designers, choreographers and dancers on installation and site-specific pieces and exhibited her own work in galleries and art spaces. With her training in Arts Integration from the Kennedy Center, and the Visual Thinking Strategy, Janaina is adept at instilling curricula with visual arts. She was an artist in residency at the Holter Museum (Helena, MT) in 2019, 2020 and at the Missoula Art Museum in 2021 and 2022. She is currently working as an art director providing her services to business and education institutions.
Sarah Fathima Mohammed, daughter of Indian Muslim immigrants, is the National Student Poet of the West, the nation's highest honor for youth poets. Poetry has become a world where she can speak freely, holding her voice in her hands while excavating the histories of the women in her family. She writes poetry sourced in grief, faith, and longing because, for her people, these emotions are inherited. When she travels back to her hometown - a small fishing village in Kumbakonam, India - Sarah Fathima sits in circles with girls at the mosque, introducing them to poetry. Together, they read and reread Safia Elhillo and Fatimah Asghar's lovely anthology of Muslim voices, Halal If You Hear Me. She hopes to share with fellow immigrant women from conservative cultures how storytelling can be activism and how poetry can turn otherness into power. When she is not writing, Sarah Fathima loves long morning walks with her family and listening to music by Yuna.
Brooklyn Little is a student of Montana, studying art education. Her interest in education led her to serve at the Missoula Art museum as an assistant in many art programs, including the Teen Art Project. She says, "My experience working with children and teenagers this summer has furthered my love for education. I look forward to getting back in the classroom, where I can continue to build community and help students see themselves as artists." In the Fall of 2022 Brooklyn is scheduled to complete her student teaching placement and earn a bachelor's degree in art education and a minor in art history.
A special thank you to Sarah Fathima Mohammed for inspiring the teens on the creation of their poems and also to Brooklyn Little for all she has done to support the success of this project!
Young artists from Missoula County high schools and regional Indigenous teens from the University of Montana's TRIO-Upward Bound created magic this summer at MAM. Led by MAM's education department and Brazilian-American resident artist Janaina Vieira_Marques, 15 teens worked collaboratively to design a site-specific public art installation on the sidewalk along First Interstate Bank in downtown Missoula. Based on the concept, "What Connects Us to a Shared Sense of Place?," teens used Polaroid cameras and their poetic minds to explore memory, identity, and place. National Student Poet, Sarah Fathima Mohammed, worked with students to find their voice through poetry based on the same theme of a shared sense of place, which can be accessed through QR codes incorporated into the public art piece. In its second year, MAM's summer TAP program gives teens a place to share their voice, explore their creativity, and collaborate with their peers to create something truly meaningful for our community. This 96-foot-by-13-foot multimedia installation incorporates public art, photography, poetry, and technology while engaging the community in three elements: the voice of our youth, their memories of place, and the pedestrians showing the passage of time as they walk over the piece. Made of biodegradable wheat paste, the art installation will naturally fade over time, but the memory of its creation will be forever stamped in those who created it and those who felt its purpose and meaning.
- Kay Grissom-Kiely, Curator of Education
"As this project fades away with the water. I like to think about its connection to life, which is a continuous evolving process where changes give us an opportunity to grow, to learn and to hopefully collaborate with one another"

- Janaina Vieira-Marques, Resident Artist
Many thanks to the community and to all the generous sponsors who made this entire process successful:
Dennis and Phyllis Washington Foundation

First Interstate Bank

Front Street Pizza

Gecko Designs

Harvey Schwier Media

Missoula Downtown Foundation

Montana Arts Council.