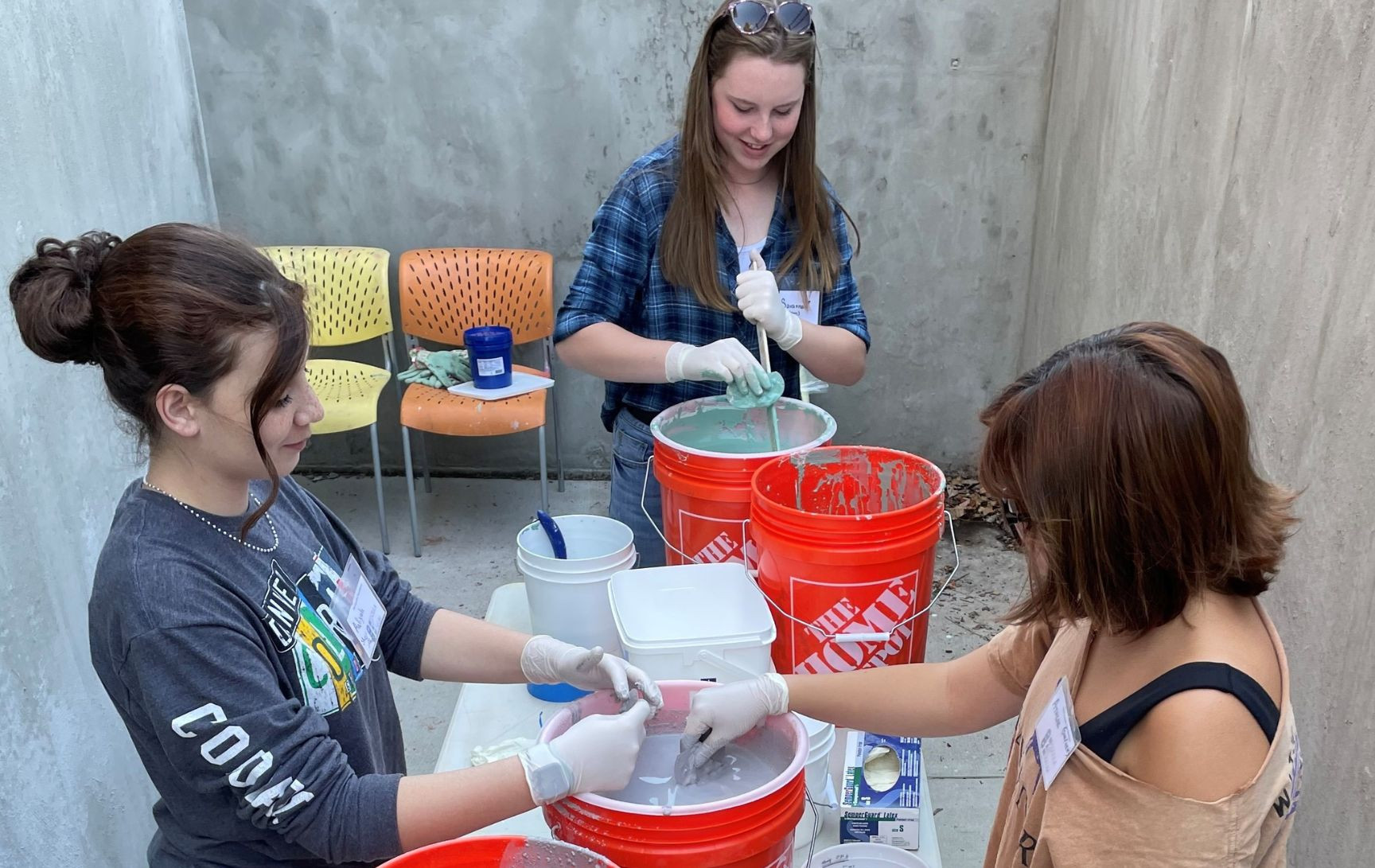 Teen Art Project (TAP): What Is Community To You?
October 12 - August 8 2024
MAM Teen Art Project (TAP) 2023/2024!
FREE! Art supplies and pizza every week provided.
REGISTRATION OPEN NOW! If you are between the ages of 13 and 17, enjoy making art, and are a creative thinker, this program is for you!
To register, email MAM Educator/Outreach Coordinator Janaína Vieira-Marques at janaina@missoulaartmuseum.org.
UP NEXT! Fall TAP—Working with Clay
Exploration and Concept: Inspired by the exhibition,
Make It Funky

, teens

work with professional artist Patricia Garcia

to learn and enhance hand-building and wheel-throwing techniques.
Oct. 12 to Dec. 21, Thursdays 4 to 6pm (No class Oct. 19, Nov. 23)
Tour contemporary art exhibitions, learn art techniques, and create original artwork under the mentorship of a professional teaching artist. MAM is committed to the next generation of creatives and professional artists and is a space where voices matter.
The program will be divided into four parts (8-week sessions) according to the seasons. Register for one or all sessions. Note: All schools end at different times, so come after your school ends.
Future Sessions:
Winter TAP – February 8 to April 4, Thursdays (4 to 6pm):Collaboration and problem solving: Create prototypes and explore different techniques! Then combine ideas to create original pieces of art. No class March 21.
Spring TAP – April 18 to June 6, Thursdays (4 to 6pm):Process and Imagination: Hands-on making and imagination. Art becomes a vehicle to connect, to communicate, and to manifest ideas.
Summer TAP - June 11 to August 8, Tuesdays and Thursdays (1:30 to 5pm):
What is community to you?
Public Art: Installation through Artmaking: Visit a public site, learn applications necessary for applying materials, develop an installation plan, write an art statement, create original pieces to add to overall program, help to curate the pieces for the installation, and install the collaborative public art piece. No classes July 2 and 4.
TAP has become all about collaboration, public art, and citizenship. MAM is committed to creating a space where teen voices matter and have the potential to transform communities through artmaking, and where teens learn, through collaboration, how to coexist respectfully and peacefully.
Teens will work toward creation of a site-specific installation in a downtown public space to engage the community. This program will connect youth voices to their community by addressing the question: What is community to you? Throughout the design process, teens will explore identity and their sense of belonging while developing the overall concept. The installation will be interactive with the community.
All sessions will be led by a professional artist and will introduce art-making techniques and an overall step-by-step method for how to create a public art project successfully and respectfully.
It is important to acknowledge that not all the pieces created during the TAP encounters will be displayed in the public art piece, instead all teen voices and contributions will be acknowledged throughout the project and at the culminating unveiling and celebration. The final piece implemented in the summertime will be a result of a collaboration between TAP participants, visiting artists, MAM, and its educational team.
TAP Teaching Artist Team
The TAP Teaching Artist Team is comprised of MAM teaching artists/professional artists/muralists and MAM's educator, Janaína Vieira-Marques, who will work closely with the TAP Team in a mentor capacity. Additionally, exhibiting artists will be invited to collaborate as relevant to the program. This team will collaborate with mentorship at the core. As the summer TAP Resident Artist since the inception of the program, Vieira-Marques will share her experience fostering collaboration and community-building within the arts and with teens, as well as support the group with a focus on MAM's core values.
See what teens made during summer TAP 2021, 2022, and 2023:
What if You Could Fill the Void?