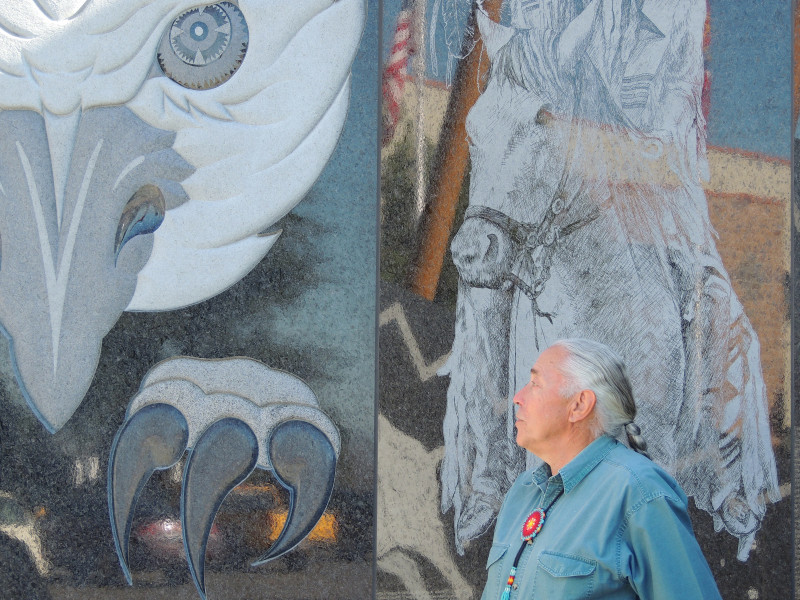 Art As Activism: A Public Talk With Corwin "Corky" Clairmont
March 15
5:30 PM - 7:30 PM
Doors will open at 5:30 PM for a reception with the artist. Talk at 6:30 PM.

MAM invites the public to "Art as Activism," presented by Montana artist Corwin "Corky" Clairmont in the Lynda M. Frost Gallery. Clairmont (Salish−Kootenai) has expressed his strong convictions through art for more than five decades. His work explores Indian Country and themes of environmental degradation and the effects on all humans and wildlife. This program is supported by the National Endowment of the Humanities and the Native American Studies and Anthropology departments at University of Montana.
MAM has hosted Clairmont many times and exhibitions of his works have amplified his views and activism. In 2018, Clairmont installed Two-Headed Arrow/The Tar Sands Project at MAM. Clairmont created unique works from sites including Standing Rock, North Dakota, which connected the Dakota Access Pipeline controversy to the project. This wide-ranging conceptual and performative piece covered many miles, from MAM to the Suncor mining operations in the Athabasca tar sands. Clairmont created works from materials used at 37 sites to remind viewers that decisions made in one place and time affect all life on the planet. Previously, MAM exhibited Clairmont's Yellowstone Pipeline Series, which tied the oil trucks that traveled within the Flathead Reservation to environmental hazards and potential loss of life through photographic and abstract imagery.
Clairmont was born on the Flathead Reservation and received a BFA at Montana State University and his MFA at California State University. He spent the 1970s as a practicing artist and professor at Otis Art Institute in Los Angeles, where he was influenced by the conceptual art movement. He returned to Montana to work at Salish Kootenai College in Pablo, where he was instrumental in creating the Fine Arts Department. Among other honors, Clairmont received the Montana Governor's Arts Award for Visual Arts and an Eiteljorg Fellowship. He designed the emblem of the American Indian Library Association and the Tribal seal of the Confederated Salish and Kootenai Tribes.
Image (above): Corwin Clairmont and the Eagle Circle Monument, courtesy the artist.