Gallery Talk: Anne Appleby
1 PM
Free and open to the public
Join us for a conversation between Tyler Green, one of the essayists featured in the upcoming catalog Anne Appleby: Hymn, and MAM senior curator Brandon Reintjes. Former Montana Poet Laurate Melissa Kwasny will read her poem Presence of Birds/ Absence of Birds which she wrote as part of a collaboration with Anne Appleby for her 1990 piece The Blue List.
Pre-order your copy of Hymn at the event, or email us.
Learn more about Anne's show by clicking here.
This event is full and we are no longer taking RSVPs. We invite you to tune in via the live-streamed webinar. Click here to register or to access the webinar on September 25.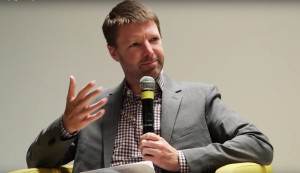 Tyler Green
Tyler Green is an award-winning historian and critic who has produced and hosted The Modern Art Notes Podcast since 2011. Green's most recent book is Carleton Watkins: Making the West American from University of California Press. It won the 2019 California Book Awards gold medal for contribution to publishing.
Green's pioneering website Modern Art Notes, which was published between 2001 and 2014, featured original reporting, art criticism, and analysis of non-profit art institutions. Newspapers such as the New York Times, the Los Angeles Times, and The Wall Street Journal all credited MAN with breaking stories that they later covered. The WSJ called Modern Art Notes "the most influential of all visual arts blogs," and later added, "You won't find a better-informed art writer than Tyler Green."
Green has contributed op-eds to newspapers such as the Los Angeles Times, the Boston Globe, the Philadelphia Inquirer, and The Wall Street Journal. His commentary has also aired on National Public Radio's All Things Considered.