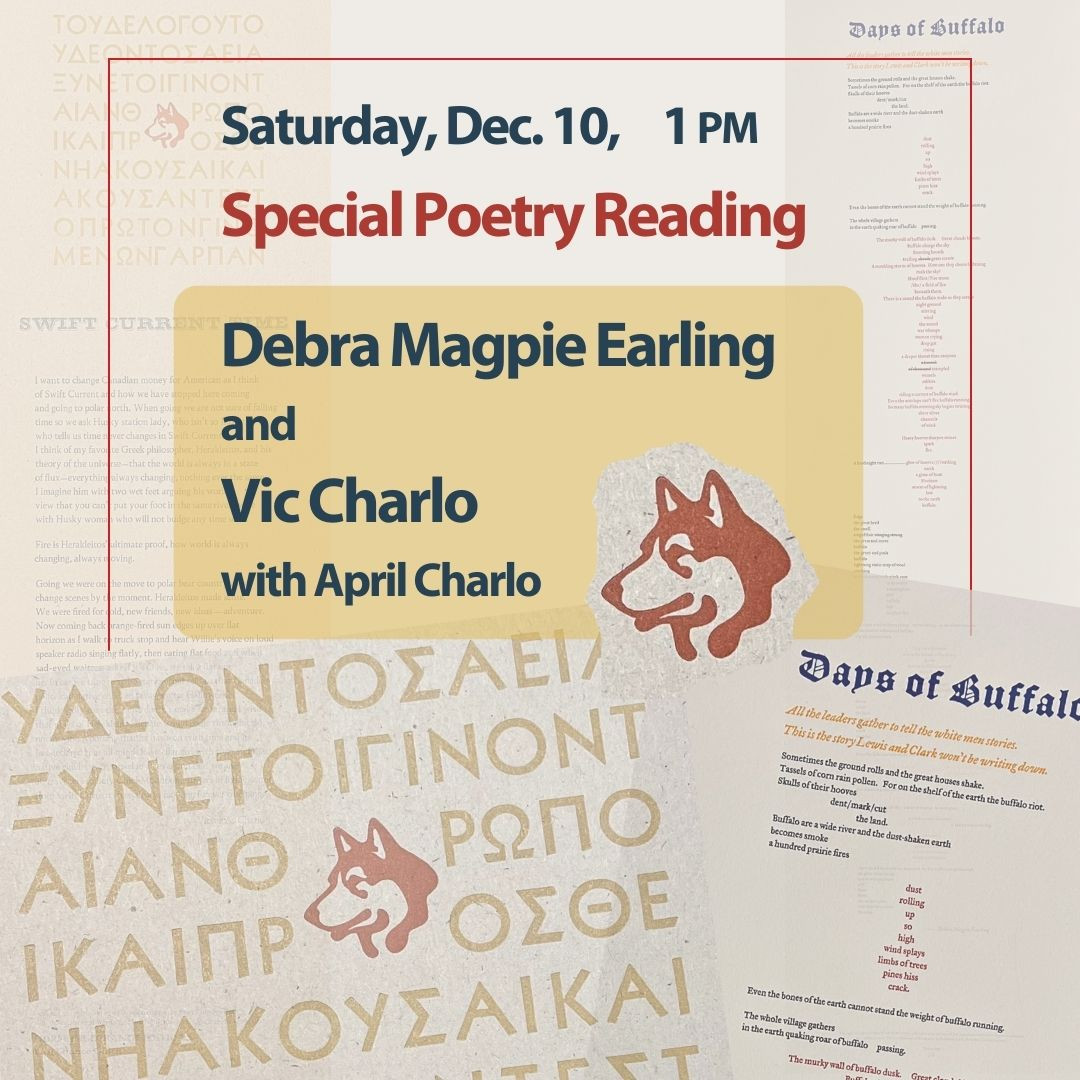 Poetry Reading: Debra Magpie Earling, Vic And April Charlo
Free and open to the public!
Missoula Art Museum invites the community to a special poetry reading. Literary artists Debra Magpie Earling and Vic Charlo, both Bitterroot Salish, will read poetry at MAM, Sat., Dec. 10, 2022, at 1 PM. April Charlo will provide Salish translation of her father's work.
Debra Magpie Earling is the author of Perma Red and The Lost Journals of Sacajewea. An earlier version of the latter, written in verse, was produced as an artist book during the bicentennial of the Lewis and Clark expedition. She has received both a National Endowment for the Arts grant and a Guggenheim Fellowship. She retired from the University of Montana where she was named professor emeritus in 2021. She is Bitterroot Salish.
Victor A. Charlo is a Bitterroot Salish poet, playwright, and educator. He is an elder of the Confederated Salish and Kootenai Tribes, and a direct descendent of Chief Victor Charlot, who refused to sign the historic Hellgate Treaty of 1859. Born and raised in Evaro, on the Flathead Reservation in western Montana, Vic writes poems about reservation life, family and friends, justice, and his struggle to define himself walking in two worlds (Native and non-Native). His first book of poetry, Put šeỳ(Good Enough), published in 2008 by Many Voices Press, contains a few of the bear poems Vic was inspired to write as a result of a journey he took with bear researcher, Chuck Jonkel, to Churchill, Manitoba, to visit the polar bears in the 1980s. Vic earned his BA from the University of Montana, and a Masters in Curriculum from Gonzaga University. In addition to his poems, he has co-written and produced plays with Zan Agzigian, his playwriting collaborator, which examine the real day-to-day lives and struggles of Native People. The Johnny Arlee and Victor A. Charlo Theater is located on the campus of Salish Kootenai College, in Pablo, MT. Charlo reads regularly in public and in schools. He resides in Old Agency, Dixon, MT, with his cat, Seeley, and his four children, and grandchildren surrounding him nearby with great love and support.
Images: details of two broadsides printed by Peter Koch with Hormone Derange Editions: "Swift Current Time," poem by Victor A. Charlo; "Days of Buffalo," poem by Debra Magpie Earling. Thanks to Peter for his gift of broadsides to MAM!