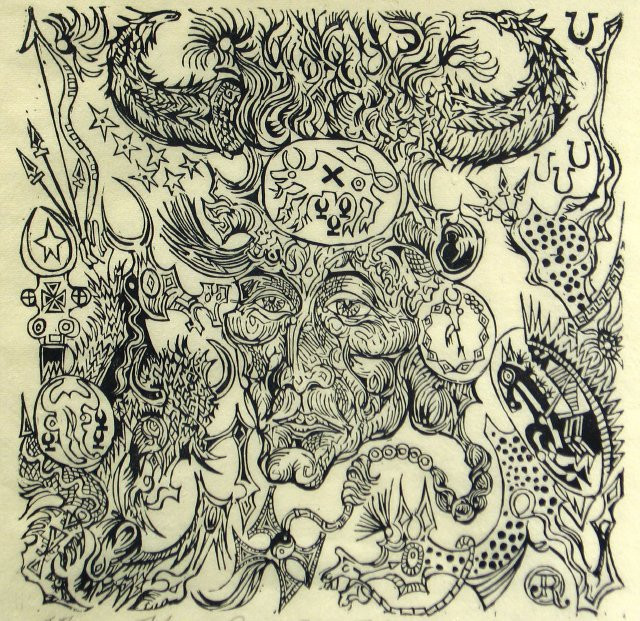 A Printing Primer: Selected Prints From The MAM Collection
January 18 2013 - March 30 2013
This exhibition aims to educate the viewer about the various printmaking techniques used by artists in the MAM Permanent Collection. Printmaking, from the time of Renaissance artist Albrecht Durer to the present, has been a means for artists to create multiples of their work allowing it to be shared by a broader audience. Artists soon recognized that printmaking has its own intrinsic and unique qualities making it a tool for creating new works of art and not just as a means of reproducing works of art conceived initially in another medium.
While woodcuts, engravings, and etchings have been around for centuries, innovations in printmaking continued to be introduced with the discovery of lithography in the 18th century and the later development of the silkscreen process in the 20th century. Since the 1950's artists have had a full range of printmaking processes available to explore and utilize in their art-making. Innovation in these fields continues today, by pushing the boundaries of what can be achieved with new technologies, inks, refined presses, and digital applications. The processes have also become safer and less toxic.
MAM is fortunate to have fine examples in its Permanent Collection of all types of printmaking, many of which are made by artists who were innovators and leaders in their field. John Armstrong, for instance, who studied at The University of Montana in the 1950's, continues to produce fine collagraph prints and is a master printer for others. Both Corwin Clairmont's and Susan Christie's work demonstrate in very different ways the expressive and experimental effect of the monoprint. Jay Rummel and James Bailey demonstrate the masterful use of line in their woodcut images, with Bailey employing the use of a reduction style relief print to create areas of bold color in his work.
Silkscreen, or serigraphy, is represented in the exhibit by Lummi artist Melissa Bob. The print demonstrates how the silkscreen process has come a long way from its initial use for commercial purposes. Lithography and etching were also traditionally used for commercial purposes and as a means to illustrate books, magazines, advertisements, and to create tourist prints and posters. Today the subtle and communicative effects of the medium are demonstrated in Miriam Shapiro's use of a found object employed as a lithographic image and Branson Stevenson's fine drawing quality expressed impeccably in his etching.
Among the works included in the exhibit were the following:
MAM is now the proud owner of a large monotype/intaglio press donated by the artist, art guide, and patron Diane Bodholt. You are encouraged to explore many of these processes here at MAM by taking advantage of the art and printmaking classes offered throughout the year.