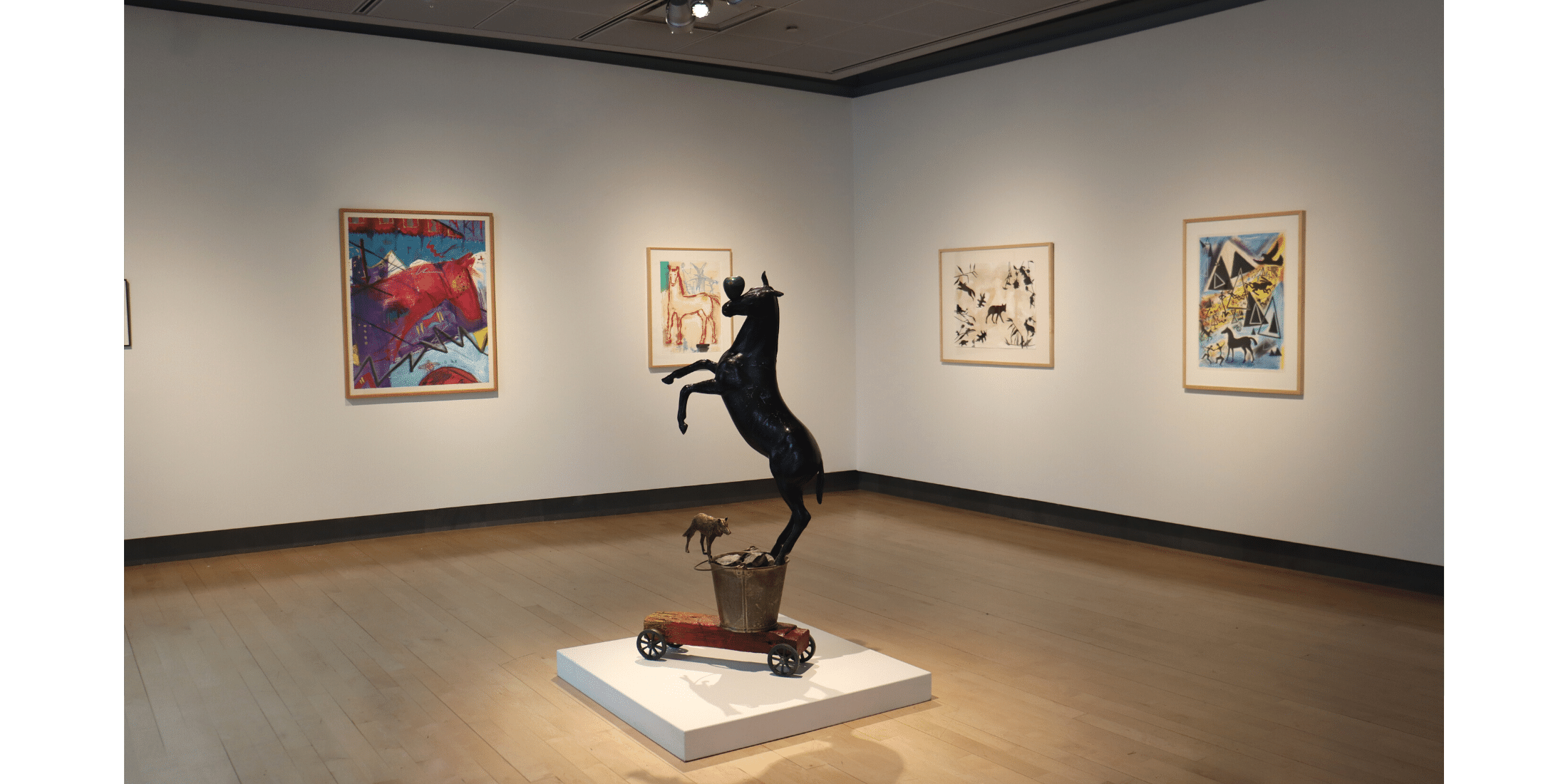 An Unnatural History: Animal Images In The MAM Collection
March 4 2022 - June 4 2022
This exhibition represents a small selection of artworks from MAM's Collection with a focus on the animal as subject matter. Some of the earliest artwork known to humanity are drawings of animals and human figures. Human dependence on animal populations for sustenance through hunting and domestication is the story of our inextricable evolution.
For some artists, the animal is simply a muse--Dog, by folk artist E.W. Riley, is a perfect example. A seated dog is a stylized form carved from wood, that conjures a naïve and endearing feeling. Positioned nearby, Untitled is Francis Pearson's sculpture of a mallard duck. While the piece is a homage to folk art, Pearson uses found objects, natural materials, and paint to capture a surprisingly natural gesture of the bird which invites viewers to look more closely. The other sculptural artwork in the exhibition, titled Beyond Opposites by Brad Rude, is a non-linear narrative told through a variety of cast bronze symbols—apple, horse, cart, pail, rocks. These three sculptural objects demonstrate a lineage between folk and contemporary art in two, albeit quite large, conceptual leaps.
Indigenous artists often depict animals that are culturally significant or as a way to make commentary on contemporary society. Paintings by artists Jaune Quick-to-See-Smith (Salish-Kootenai, Métis-Cree, Shoshone-Bannock) and Susan Stewart (Apsáalooke) honor the horse's relationship with and influence on Native American identity. Stewart's painting, Untitled, is from her Red Elk Dogs series. Horses came to North America from Europe and Indigenous people did not have a word for the animal. The term Elk Dog was used by many tribes and explained the animal's size and related to the use of dogs as beasts of burden. The New Traditional Money Maker by Jason Clark (Algonquin) offers biting commentary on the impacts of "Indian Casinos" on reservation lands. Other artists included in the exhibition are Rick Bartow (Mad River Band of Wiyot Indians), Ernie Pepion (Blackfeet), and Duane Slick (Meskwaki/Nebraska Ho Chunk), as well as Jay Rummel, Noah Reifel, and Heidi Oberheide.
Artists Featured:
Rick Bartow ( Mad River Band Wiyot, 1946–2016)
Noel Reifel
E.W. Riley
Ernie Pepion (Blackfeet, 1944–2005)
Heidi Oberheide
Jay Rummel (1939–1998)
Susan Stewart (Apsáalooke)
Jaune Quick-to-See Smith (Salish-Kootenai, Métis-Cree, Shoshone-Bannock)
Jason Elliott Clark (Algonquin)
Jeneese Hilton (Blackfeet)
Duane Slick (Meskwaki/Nebraska Ho Chunk)
Brad Rude