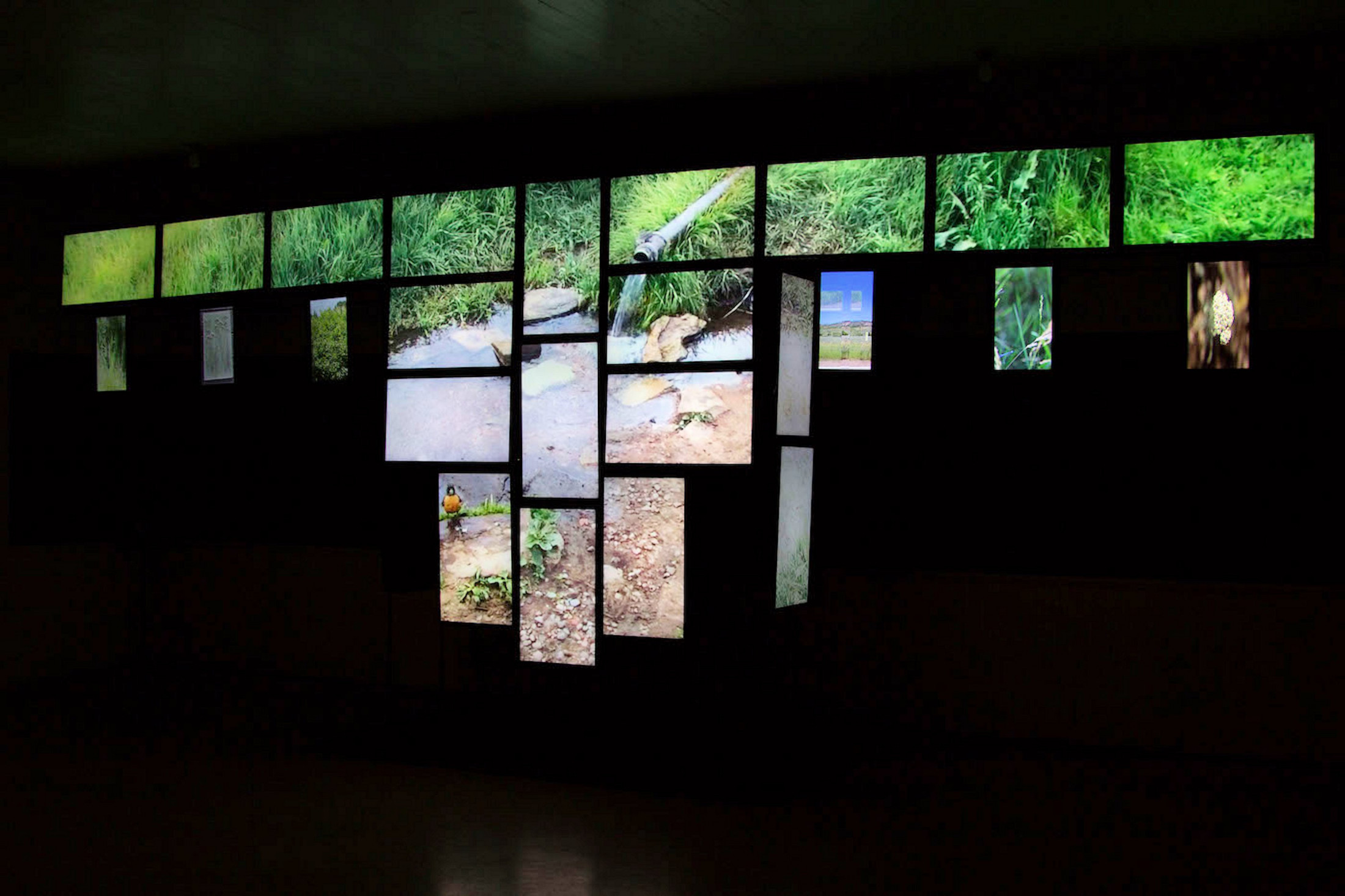 Bently Spang: Fire/Water
December 21 2018 - April 20 2019
Multidisciplinary artist Bently Spang ([Tsitsistas/Suhtai (Northern Cheyenne)]'s installation War Shirt #6-Waterways fills the gallery. This work takes the form of a monumental Plains Indian war shirt using 27 video monitors with six additional digital stills. Created for the Mountain Time Arts Water Works exhibition in 2017, this work has been reimagined and reinstalled at MAM. The video depicts the Tongue River, creeks, and springs throughout the Northern Cheyenne Indian Reservation.
Spang has used the form of the ancestral war shirt—traditionally believed to empower a warrior to protect his community—as a vehicle to explore contemporary issues. Spang made the first war shirt in the Modern Warrior Series in 1998 by stitching together family photographs into the shape that suggests a museum display of a traditional Native American garment: sleeves spread outright and perpendicular to the body of the shirt. He returned to this theme over the years, creating War Shirt #1 through #5 in a series using photographs and mixed media. The works take back ownership of the photograph that has continuously depicted Native people in an inaccurate, singular light, "I am committed to gathering as many mediums and modes of expression as are necessary to express my experience as a contemporary Tsitsistas man," stated Spang. "I work to expand the one-dimensional definition of Native people created by Western culture and, instead, reveal my own complex, place-centered cultural experience."
War Shirt #6-Waterways is the first time that Spang has incorporated moving images into the series. Using image, video, and sound from modern communications tools that have too often served to misrepresent and oppress, rather than lift up Native communities allows Spang to deconstruct and reconstruct media on a monumental scale. He explained, "My intention is not to re-create an actual war shirt but, as in past work in this series, to use the conceptual framework of this form and expand the scale to signify the importance of our water to my homeland." A conceptual counterpoint to his Waterways installation, Spang's video projection The Last Word reveals the devastating effects of wildfire. The video, documenting and engaging with the landscape in the aftermath of the 2012 Ash Creek Fire, includes a prediction from Cheyenne prophet Sweet Medicine that forewarns against complicity with extractive industries and consequences of climate change.
Spang was awarded a national artist fellowship from Native Arts and Cultures in 2018 and received the 2017 Artist's Innovation Award from the Montana Arts Council. This project is made possible in part with generous support from the Cultural Vision Fund.