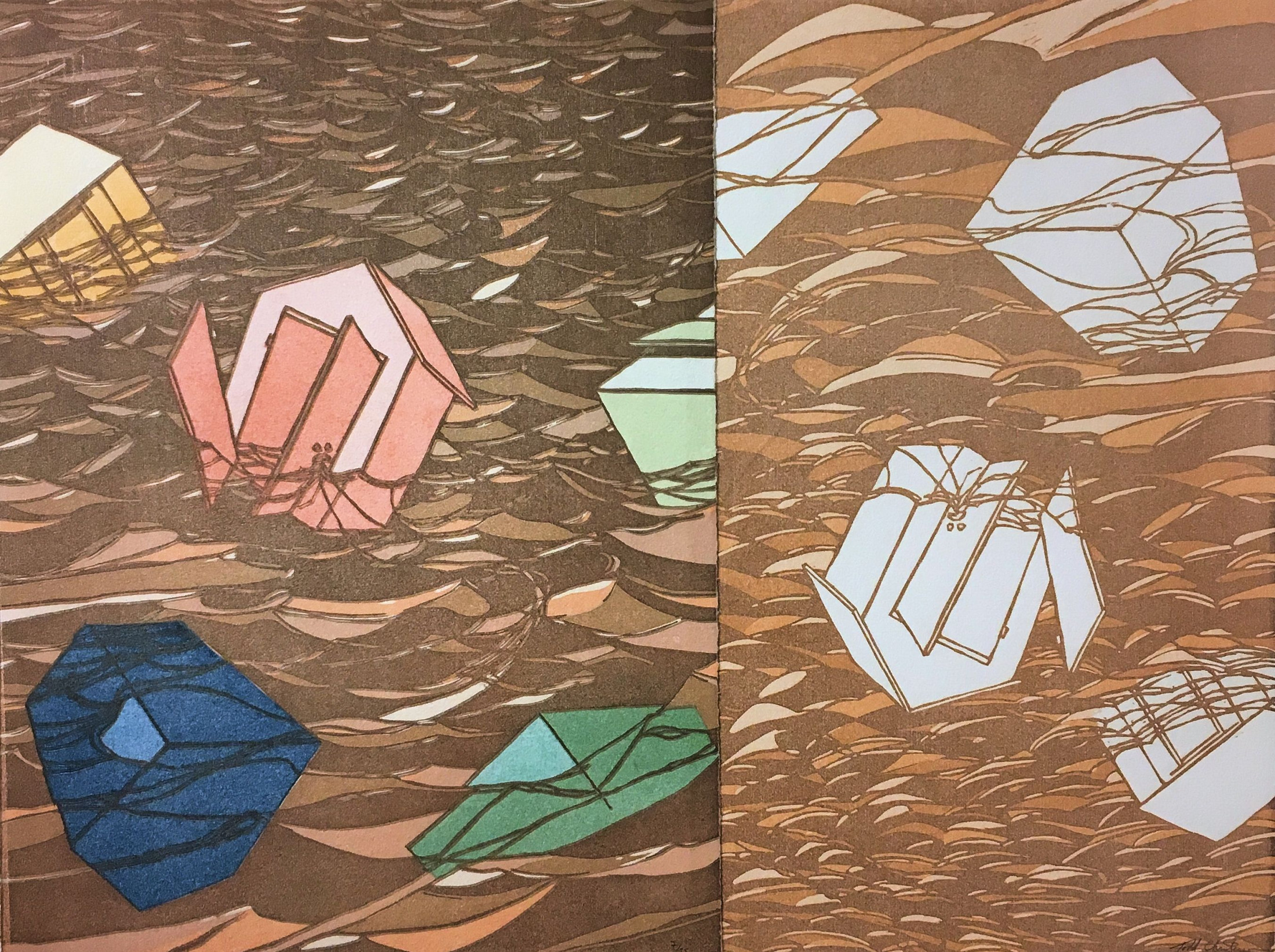 Communities: West III
August 14 2018 - December 31 2018
Communities: West is a biennial print project launched in 2013 by Sukha Worob and Andrew Rice with the intention of building connections between printmakers who have lived and worked in the western United States. Fueled by a generous spirit of creative exchange, Communities: West reaffirms a mutual love for the medium and strengthens the printmaking community even as it becomes larger and more widespread.
This exhibition features the third and arguably most ambitious portfolio in the series. Worob and Rice invited printmakers who participated in the first two portfolios to return and invite a colleague to participate. The enthusiastic response from 52 artists represents a diverse group of veteran and emerging printmakers, academics, and working artists. The curators acknowledge that even though some of the artists have moved to other areas of the country since contributing to the first portfolio, all of those selected for the third project share "unyielding ties" to the West. A few names, such as Elizabeth Dove and Melanie Yazzie, will be familiar to MAM audiences, but most of the artists will be shown here for the first time.
Communities: West III proves the extraordinary range of techniques encompassed by the overarching term "printmaking" and the potential for new developments in this historic medium. The portfolio includes lithography, etching, monoprint, intaglio, woodcut, serigraphy, and letterpress, as well as photographic, digital, mixed techniques, and non-traditional variable editions.
Worob and Rice are both committed to strengthening resources for their communities and raising the visibility of printmaking and printmakers. On the eve of this exhibit's opening, they have generously donated a complete edition of Communities: West III to the MAM Collection. They have archived previous Communities: West portfolios in collections with a commitment to the preservation and perpetuation of printmaking knowledge and ephemera, including the University of Colorado-Boulder and the Nelson-Dunks Collection at the Butte Silver Bow Arts Foundation in Butte, Montana.
Calli Nissen, Land Melded into Her
Kathy Puzey, Cut and Burn
Matthew Rangel, California Chinook, Longing for Ancestral Grounds
Andrew Rice, "Surprise Me," She Says
Jessica Robles, Valley Fever
Melissa Schulenberg, Untitled
Camilla Taylor, Compass
Eric Wilson, Orange Haired Clown Falls Off a Cliff
Sukha Worob, The Devil Between Us