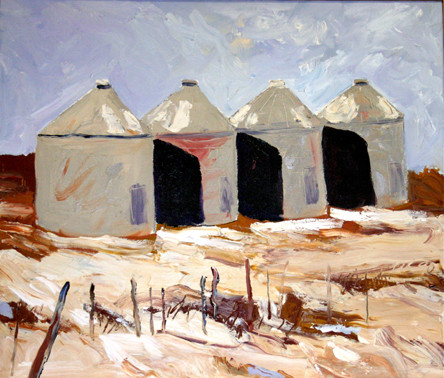 Family Gifts: Works By Freeman Butts
September 4 2009 - December 31 2009
In 2008, ten years after his death, the Freeman Butts' estate generously offered to gift a selection of this work to six institutions in the state of Montana. Those institutions including the MAM, met several times with the trustee of the estate and made selections from the estate to better reflect Freeman's work already in their collections. This rich gifting of works is intended to more fully frame the artist's legacy within the state. It has been acknowledged by the institutions, that no single one of them had the space or resources to accommodate the voluminous amount of Freeman's work. It made sense that all six institutions select works to fill out their collections, make a commitment to feature the work, and generate a scholarship about Freeman's influence. All six institutions agreed to lend and borrow the work with and to each other to further educate the public of the legacy of this important Montana painter. We are deeply grateful to Freeman's longtime friend Ray Campeau in helping to facilitate this important gift. MAM is deeply indebted to the Freeman Butts family and wishes to thank Daisy Butts for her faithful support. In addition to MAM, the other institutions accepting Freeman Butts work and committing to its exhibition are Custer County Art Museum in Miles City, Hockaday Museum of Art in Kalispell, Holter Museum of Art in Helena, Paris Gibson Square Museum of Art in Great Falls, and Yellowstone Art Museum in Billings.
Included in this exhibition were the following works:
The Brush That Laughed

by Stephen Glueckert, MAM Exhibitions Curator

"Freeman Butts and his wife Daisy moved to Montana in 1975. I met him at Paris Gibson Square Museum of Art in the late 1980s and shortly thereafter I had the good fortune to spend time with him in the foundry (a small business that he and Ray Campeau owned and operated for several years) and then in his studio in Bozeman. Eventually, Freeman and Daisy and my wife Bev and I spent a great deal of time together and that continued until Freeman's untimely death in 1998. We had many wonderful times together attending openings, traveling to each other's exhibitions, sharing many dinners, and routinely having breakfast on the road at the nearest "greasy spoon." One trip that stands out was a drive to attend a Dire Straits concert in Pullman, Washington. Thinking back, I treasure that time of riding across the landscape, listening to Freeman talk about the Palouse and commenting on the light while absorbing his descriptions of the exact kind of paint he was going to use in his next painting. Freeman was always willing to share advice. He comfortably assumed the role of an elder artist who wished to make a difference, not in your art, but in your life. He never lacked a few jewels of wisdom that could help you avoid some of the pitfalls of an artist's life.

I came to understand that Freeman had a very suspicious attitude towards the art world. He had been exposed to the jaded fast lane of the LA art scene and believed that there were more important things in an artist's life than simply the massaging of one's ego or the creating and subsequent hoarding of objects. I was not unique in this region's community of artists, for many were touched by Freeman's free-thinking, rich laughter, and boundless generosity. His life was proof that at the core of an artist's life is a community, and in order to be part of a community, one must choose to participate in it. Freeman immersed himself in it by sharing his own life and work and by being supportive of other artists regardless of their aesthetic approach or philosophy. I miss his inclusive way of looking at the world. To Freeman, art was personal, and who was he to be a critic of desire? He was never caustic and sought to celebrate the positive attributes of art and artists regardless of camp or school.

It is difficult for me to assume an objective dialogue about a dear friend, or to separate the artist from his work, or to set aside emotion about a spirit who both instructed and inspired. However, there are some important milestones to note and draw attention to. One thing is clear, in Montana Freeman's work changed and matured. He loved the people he came to know in the region and the landscape where he came to find himself working. He found true camaraderie with the artists of the region. Throughout the Inland Northwest, Montana, Idaho, eastern Washington, and across the Palouse, artists, and patrons came to understand that Freeman was one of the most prolific artists they would ever come to know.

Leaving California, falling in love with Paradise Valley in Montana, and no longer having to work for other artists, and finally in his later years, was able to focus on his own art. He had a large studio, was surrounded by the landscape he loved, immersed himself in the art community, and found support from Bob and Gennie DeWeese, Ray Campeau, Rudy and Lela Autio, Russell Chatham, Theodore Waddell, Gaylen Hansen, and Heidi Oberheide. His paintings also drew the attention and praise of curators from the regional museums like the Yellowstone Art Museum's Gordon McConnell, the Prichard's Johanna Hayes and Paris Gibson Square Museum of Art's Cathryn Mallory.

Throughout the '80s and '90s in Bozeman and Livingston, he nested and painted. In this time and place, his work became the sign language that we recognize today and is forever cemented in our consciousness. Freeman focused on two areas of content that inspired his work, the first was the figure and the second was the landscape. To some, his masterworks came when he combined these two subjects. Certainly, the influence of the landscape and the figure can be seen in the work accessioned into the MAM's collection. MAM accessioned a full gamut of work from Freeman's studio including drawings, paintings, and sculptures and all are rooted in this mature period in the artist's career.

With each visit in the later years, I always viewed his recent paintings and sculptures, but I was also always profoundly moved by the accumulation of hundreds of new drawings, pastels, charcoals, watercolors, and the addition of volumes of sketchbooks. To me, Freeman had a brush that laughed, which is to say that the genius of his work was, the way he worked. He worked fast, spontaneously, and with good humor. When approaching the figure or the landscape, whether drawing, painting, or sculpting, he was a true "expressionist" and as one would never rework, revisit, or overwork anything. His consistency regardless of media is truly remarkable. He never feared collaborating or experimenting, and as a way of complimenting, always marveled at other artist's disciplined work ethic. In nearly every charcoal smudge, pencil line, pastel mark, clay modeling, or brush stroke, one can sense Freeman's joyful, creative spirit.

Looking back, it is easy to see Freeman's influences. He was born and raised in Los Angeles, California. He studied on the GI Bill at the Hollywood Art Center School during 1945-1947, and following had a short stint at the Disney studio. But his real education came from the painters of the mid-1950s. He was profoundly influenced and never wavered from the influence of the great painters of his day, Richard Diebenkorn, David Park, and Elmer Bischoff. One can easily see that Freeman's spontaneous approach, his desire to merge a figurative style with abstraction, his instinct to simplify, and his attention to the process of painting is rooted in these early years, but it was later in Montana that his work matured. He had fallen in love with Montana, and the work would come to reveal these feelings. Freeman ButtsFreeman was unapologetic about the use of the female model, even at a time when there was an outright academic attack on this method of working. When this was brought to his attention, he would laugh and shake his head, appearing absolutely perplexed about a concern he considered absurd. Freeman would dismiss suspicious attacks about the use of live, female models by the male-dominated art profession as simply an argument by a morally misguided few seeking to change the ways of artists by dictating a correct way of thinking and living. Freeman dismissed this argumentative discussion the way he painted, directly and quickly. In his view, he already knew what was important and what was not and after following 50 years of his own practice, he believed he deserved a level of respect for an endeavor without victims. He deeply believed that history was clearly on the side of the studio painter and that most people exposed to the life of an artist would empathize with the traditions of his trade. He was inclusive and expected others to be enlightened as well.

There are many different kinds of artists in the world, and in Freeman's case, there was something very non-academic about his approach. I like to think of him as a blue-collar artist, a person who rolled up his sleeves and worked. Honestly, it is difficult for someone who has not been around practicing artists to empathize with obsessive creativity. In Freeman's studio, it was a bit overwhelming to step into an environment that was chock full of thousands of works of art. So it is understandable that sometimes the public perceives artists one way while artists perceive themselves another. The stereotype that artists are obsessed would never be dispelled by being around Freeman. He simply and deliberately moved ahead and kept everything uncomplicated. There were times in his studio or out for breakfast when we laughed and joked and threatened to explain it all by making a t-shirt that simply said, "Art is Work". And work he did. He developed a routine and left the talking and writing about art for others.

I would argue that this separation of the artist from a direct scholarship is in keeping with the attitudes of many earlier abstract expressionists who also left it to others to speculate about the meaning or philosophical basis of a work. Freeman lived in an era when many believed those who could paint became commercially successful, yet those who could not be commercially successful would teach. Perhaps it was not fair to say that Freeman was non-academic. But he remained in the moment and focused on the directness of his work. Like Diebenkorn, you either get it or you don't, and then you move on. In this world, you don't dally to explain, never labor over a painting, or even consider repainting. Freeman left it to others to talk about the overarching state of the art world.

However, when pondering this separation of the work from the scholarship, a kind of existential compartmentalization, he never let that interfere with other ways of communicating. Contrary to the stereotype of the bohemian loner, Freeman was never really alone nor ever far from a stimulating social support network. He was an integral part of an extended artist community, part of a loving family, a community that supported hard work, acknowledged the difficulties of working in isolation, and sought out social support that is necessary to live the creative life in the great wide open."