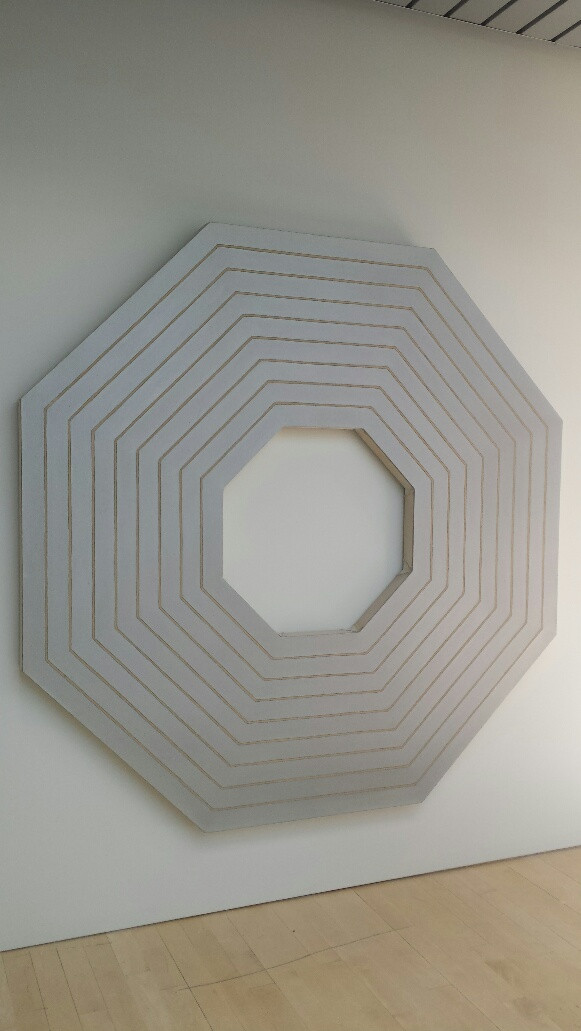 Frank Stella: Henry Garden
April 18 2016 - August 20 2016
MAM is pleased to exhibit a major artwork, Henry Garden, by American artist Frank Stella. Stella is one of the most important living American artists and his energetic paintings and sculptures have influenced a generation of Montana artists since the 1950s. His recent retrospective at the Whitney Museum of Art was the most comprehensive presentation of Stella's work to date and included expressions in every media, including his groundbreaking shaped abstract paintings such as the one exhibited at MAM.
Frank Stella was born in 1936 in Malden, Massachusetts. He attended high school at the Phillips Academy in Andover and went on to study at Princeton University, where he majored in history. Early visits to New York galleries dramatically influenced his artistic development and Stella moved to the city in 1958 upon graduating.
At the early age of 25, he was recognized as a visionary for casting aside illusionistic space for the physicality of the flat surface and deviated from the traditional rectangular-shaped canvas, such as can be seen here in Henry's Garden from 1963.
Stella's early series included his Black (1958–60), Aluminum (1960), and Copper Paintings (1960–61), Irregular Polygon canvases (1965–67) and Protractors (1967–71), all of which further extend the concept of the shaped canvas. Based on these contributions, the Museum of Modern Art presented his first retrospective in 1970.
Throughout the 1970s, Stella introduced deep relief into his art, which he called maximalist for its sculptural qualities. He began to use aluminum as the primary support for his paintings, which progressively became more elaborate, marked by curving forms, bright DayGlo colors, and baroque brushstrokes.
From the mid-1980s, Stella's paintings became full three-dimensional, with sculptural forms derived from cones, pillars, French curves, waves, and decorative architectural elements. To create these works, he made maquettes that were enlarged with the aid of assistants, industrial metal cutters, and the use of digital technologies. By the 1990s, Stella began making freestanding sculptures for public spaces and also began to develop architectural projects. MAM is pleased to share this piece on the advent of the most recent retrospective of the artist's work at the Museum of Modern Art. Stella continues to live and work in New York.