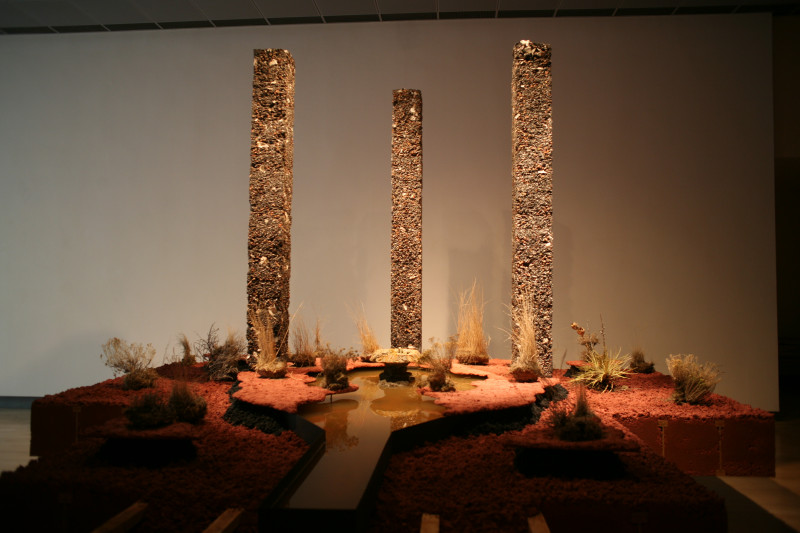 Gary Horinek: The Gathering
March 1 2013 - May 19 2013
MAM is no stranger to installations, and neither is Gary Horinek. The Gathering, created by Hingham, Montana artist Gary Horinek, is the most recent in a long line of installations created by this regionally important artist. Horinek is a farmer most of the year that has created a bridge between the agricultural world and the art world by setting his sights on creating installations. It is important to note that farming, and a deep-seated appreciation of the land and sustenance that the land provides us, is at the core of his creative expressions.
Horinek states of the new site-specific work, "In this piece I have a deck that represents mother nature, whose minerals are the building blocks of human existence. These basic building blocks are moved by water into organic containers such as wooden timbers which we use to store human experiences. In time, that information grows, matures, decays, and dies and transfers back to nature."
An art form popularized in the 1970s, MAM has hosted many installations over the years. In fact, MAM hosted an installation by Horinek entitled The Journey in 1994. The Gathering's audience will immerse themselves in an environment loaded with symbols. Horinek uses native plants such as sagebrush, yucca, and a variety of native grasses, mixtures of sand, cement colored natural dyes, wheat, and pottery shards. Experiencing this environment feels much more like an archeological dig site than a museum. Horinek deploys the materials to highlight the contrast between the impact that humans have on the land and the resilience of Mother Earth.
Several years in the planning, Horinek designed The Gathering specifically for the Carnegie Galleries at the MAM. His discipline is remarkable and it is one of the characteristics which make him a significant presence in the art scene in Montana. Among a handful of artists who also work the land, the state is fortunate to have such a disciplined and committed visionary. Horinek's commitment to the arts is evident in his selection of an art form that is both logistically difficult to execute and not easily collectible by the general public. However, installation art is a powerful and immersive form of communication, as a viewing of The Gathering will make it quite clear.
Horinek will be available by appointment for interaction with the public during his final week of installation in February. The residency and installation are supported through the generosity of the Paul G. Allen Family Foundation.