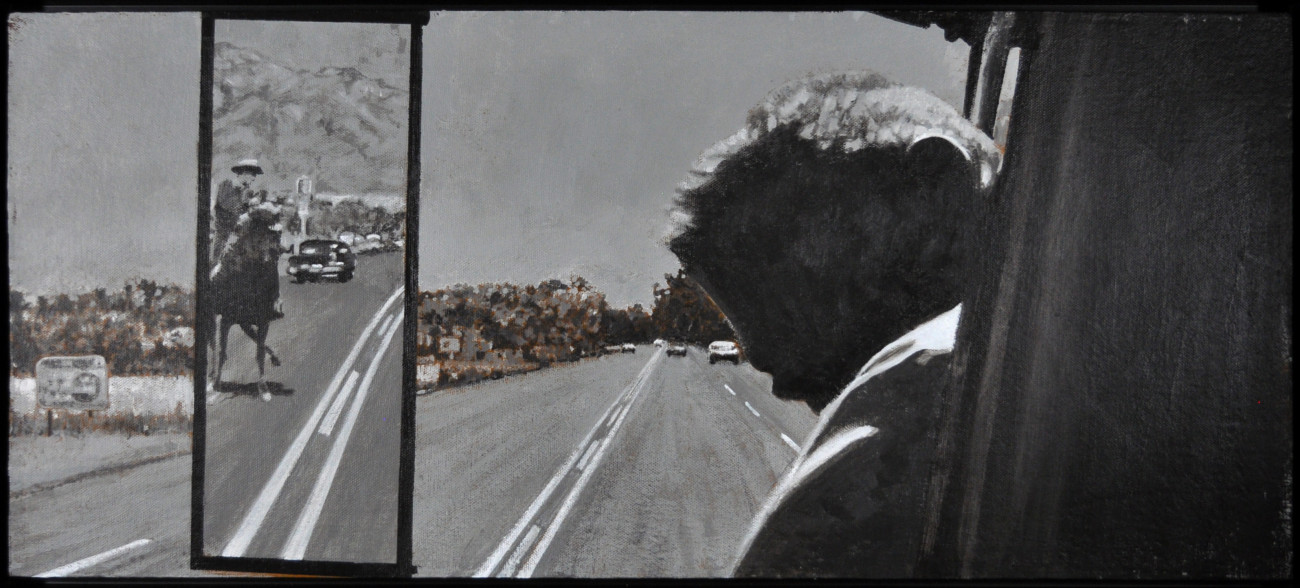 Gordon McConnell: When The West Was Won
February 7 2020 - May 2 2020
Virtual Gallery Talk with Gordon McConnell and Dr. Leanne Gilbertson, May 1, 2020 - Watch the recording here!
Born in 1950 and raised in southeastern Colorado, James Gordon McConnell grew up watching Western films with his dad. Now based in Billings, McConnell made his newest body of work, When the West Was Won, over the past five years. Since the late 1980s, McConnell has created works inspired by Western films and informed by his sustained study of the history of the American West and its representations in literature, art, film, and photography.

Dr. Leanne Gilbertson, Assistant Professor of Art (Art History), Director of the Northcutt Steele Gallery at Montana State University Billings, and curator of When the West Was Won states:
"The works interrogate the intersections of a series of iconic and familiar scenes of the West with the history of modern photography and film-making and considers their roles in constructing ideals of American masculinity. Collectively, the works offer an opportunity to examine these rich intellectual concerns in a suite of lovingly-wrought, carefully constructed images that prompt us to consider our personal attachments and investments in these scenes—the promises they hold, and the losses they contain and perhaps even perpetuate. Together McConnell's works offer a timely meditation on representations of the American West and depictions of America's past at a moment when such issues have once-again assumed significant political dimensions on the national and international stage."
McConnell, a self-described postmodern painter, has wrestled with the complicated inheritance of the West, the active colonization and decimation of Indigenous populations, the perpetuation of tired myths, of hyper-masculinity, of violence. He says, "My work is informed by a post-modernist aesthetic of appropriation, allegory, and mediated experience. At first, I had a subversive or satirical intention. The early work was intentionally crude and also tended toward darkness and expressionistic violence. As I've matured as an artist, my intentions have [been to]… honor the heritage of the West."
McConnell's father, J. G., was born in 1918 on the range near Pampa, Texas, and raised on the frontier stories of his great uncle and aunt, Henry and Fanny Lovett—buffalo hunters and ranchers. J. G.'s uncle, Skinny Adams, was range boss on Charles Goodnight's legendary JA Ranch in the Texas Panhandle. Goodnight [1836–1929], one of the principal cattlemen who drove wild Texas longhorns north in the great drives after the Civil War, was the reputed model for author Larry McMurtry's character Woodrow Call in Lonesome Dove. J. G. reluctantly left ranching in 1959 but retained "a great love for the mythic West," and watched the Encore Westerns channel "obsessively." His passion for Western film was contagious, and McConnell recalls how his father could recount the blow-by-blow plot of John Ford's 1946 masterwork My Darling Clementine which remains one of McConnell's visual touchstones.
McConnell received a BA in Studio Art from Baylor University and an MA in Art history from the University of Colorado at Boulder. After receiving his BA, McConnell spent a semester at California Institute of the Arts, where he studied with John Baldessari. McConnell moved to Montana in 1982 and served as the curator at the Yellowstone Art Museum for over 20 years. He currently lives in Billings, where he is still actively creating work.
This exhibition was organized by the Northcutt Steele Gallery at Montana State University Billings and is traveling under the auspices of Montana Art Gallery Directors Association (MAGDA).