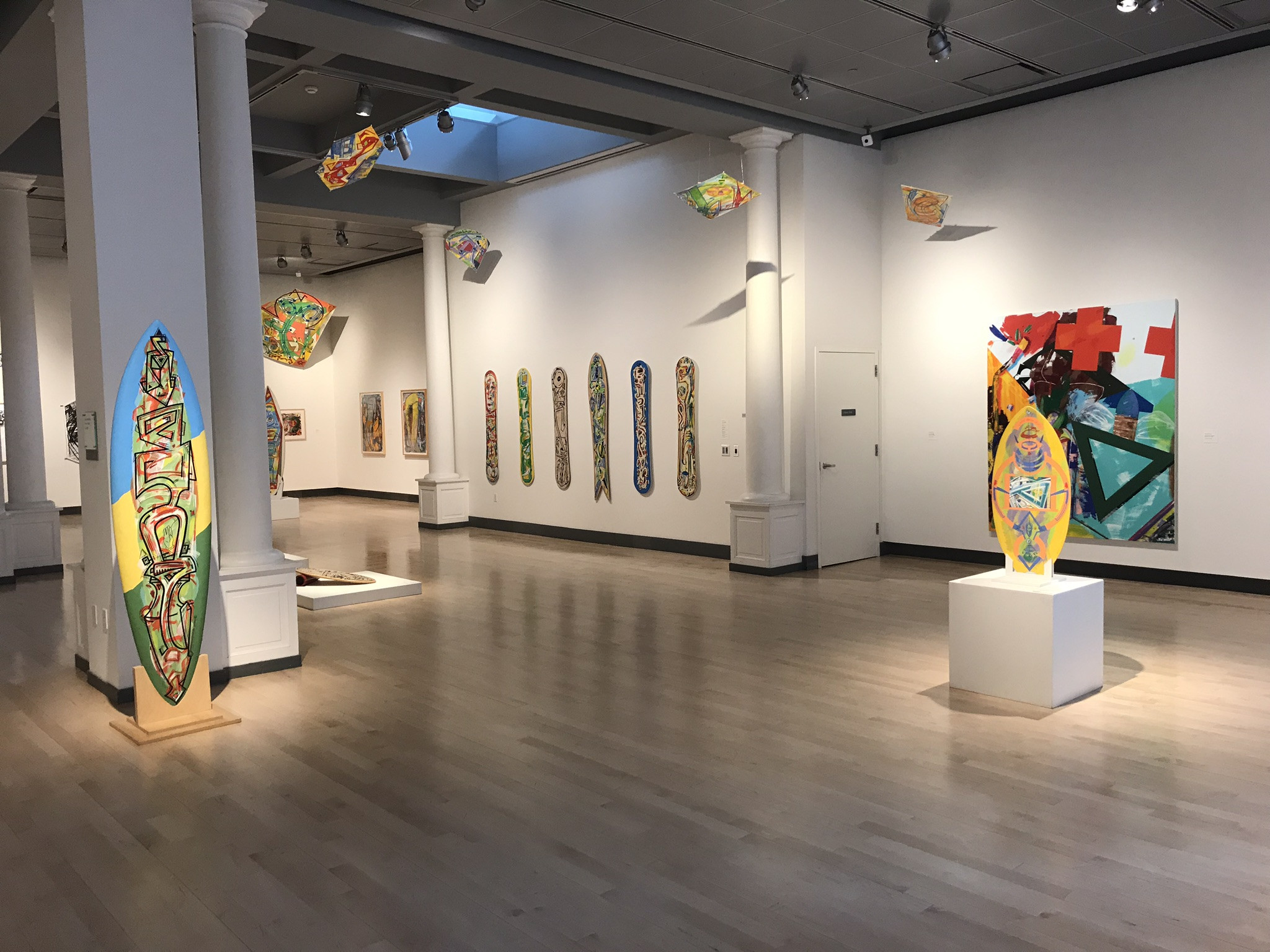 Harold Schlotzhauer: Living In A Good Dream
September 7 2018 - February 9 2019
Harold Schlotzhauer is a consummate artist who has created artwork for more than 50 years. The exhibition highlights a diverse array of works from the late 1960s to the present, showcasing the continual progression of Schlotzhauer's unique vision of abstraction. Throughout the course of his career, Schlotzhauer has worked to refine his authentic style while redefining the language of abstraction in the wake of Abstract Expressionism and other movements of the mid-twentieth century.
The paintings are edge-to-edge compositions constructed with arrangements of geometric forms, representational images, and amorphic shapes. "I am interested in the fluid boundaries between abstraction and representation," wrote Schlotzhauer. He finds steadfast joy in pure creation, and it is apparent in these works. The use of solid color from a saturated palette gives the paintings immense enthusiasm and vitality. Schlotzhauer's bold brushstrokes contrast with the geometry and solid colors. These contrasting elements do not compete, but rather build a rich complexity with the interplay between vivid gesture and solid form. The use of line is also a signature of Schlotzhauer's distinct visual language—solid lines delineate shapes and hard edges to either push the form forward or force it to recede into the picture plane. His paintings thrive on these relationships between formal elements to create movement, energy, and layers of space in the pictorial plane without the conventions of representational illusion.
Primarily a painter and printmaker, Schlotzhauer also makes sculpture influenced by his love of the outdoors and recreation. In the 1990s, influenced by the year he spent as an exchange professor in Japan, he began to merge the two media by building kites from wood and Tyvek, and then painting them. He moved to painting on skateboard decks, snowboards, spinning tops, and surfboards. The objects are more than three-dimensional supports to paint upon; Schlotzhauer's work is in essence about energy, freedom, and movement. He has devoted his life to surfing, snowboarding, climbing, and experiencing nature. The painted boards and kites are playful but serious artworks that combine the artist's enduring passion for a genuinely creative lifestyle.
Schlotzhauer was born in New York in 1941 and raised in San Jose, California, where he became passionate about surfing, climbing, and skateboarding. He earned his MFA in 1966 at California College of Arts and Crafts in Oakland. He taught in the California Bay Area throughout the late 1960s and 1970s, including at his alma mater CalArts, California State University, and the University of California at Berkeley and Davis. In California, Schlotzhauer was a founding member of Nut Art, a movement that emerged in the late 1960s and—not restricted by style or medium and favoring emerging formats—embraced eccentricity as part of an ongoing process of self-definition. Schlotzhauer was hired as a professor of art at MSU Bozeman in 1980 where he worked until retiring in 2008.