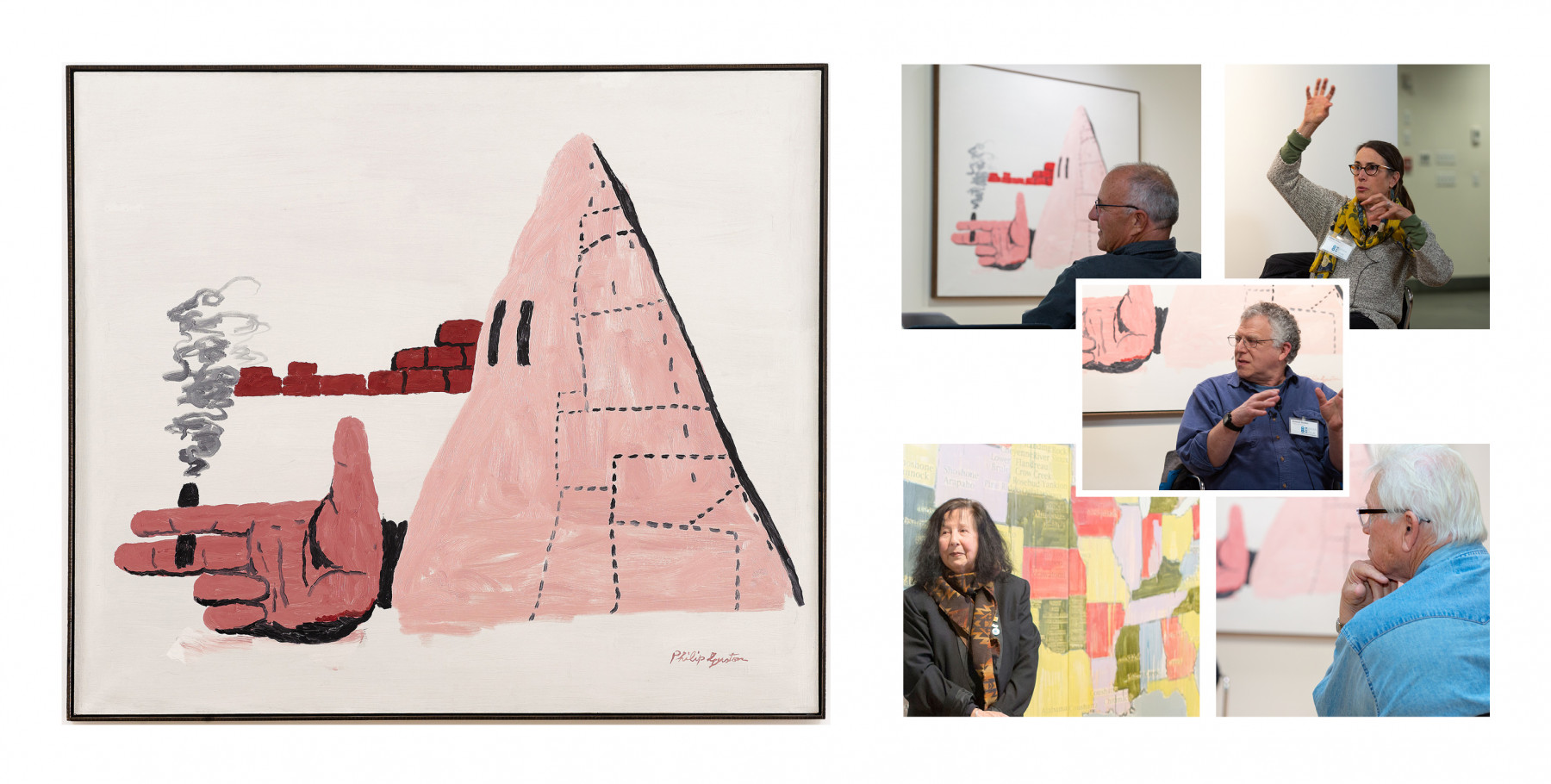 In Praise Of Folly: Five Artists After Philip Guston
January 24 2019 - August 31 2019
Five Artists After Philip Guston
Guston's iconic Cigar (1969), on long-term loan through Art Bridges, serves as the catalyst for five regionally based, nationally renowned artists—Adrian Arleo (Missoula, Mont.), John Buck (Bozeman, Mont.), Jaune Quick-To-See Smith (Corrales, N.M.), Richard Notkin (Vaughn, Wash.), and Jay Schmidt (Bozeman, Mont.)—to create artworks in response to the political and racial content found in Cigar and to Guston's aesthetic practice. These artists evoke, investigate, and expand upon Guston's artistic legacy, and demonstrate the continuing power of Guston's work as a touchstone for contemporary and American art.
MAM is grateful to Art Bridges for making this ground-breaking exhibition possible.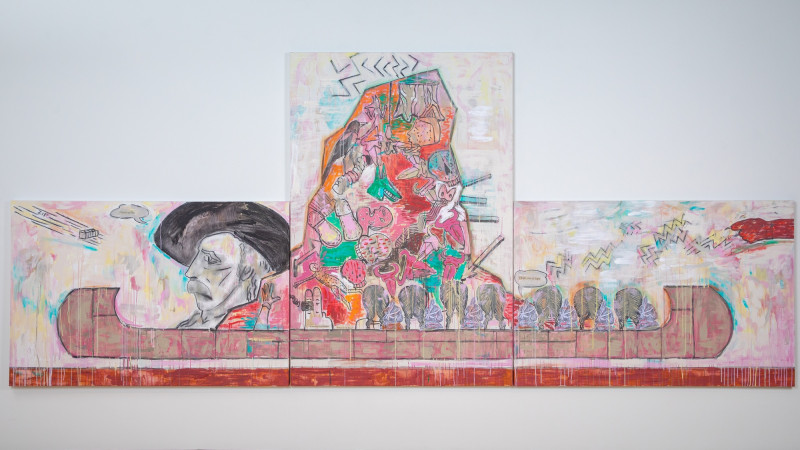 About the artists
Arleo is a ceramic sculptor whose practice has been dedicated to storytelling through human and animal imagery. She coil-builds her forms and embellishes her surfaces with intricate decoration and texture. She studied art and anthropology at Pitzer College and received her MFA in ceramics from Rhode Island School of Design in 1986. She moved to Montana in 1993. She is the recipient of the prestigious Virginia A. Groot Foundation and Montana Arts Council Individual Fellowship.
Buck is a printmaker and sculptor best known for his large-scale kinetic wooden sculptures, bronze sculptures, and woodblock prints that respond to social and political issues. He graduated from Kansas City Art Institute with a BFA in 1968. In 1971, he began studying at Skowhegan School of Painting and Sculpture in Skowhegan, Maine, and then began working as a teaching assistant the University of California, Davis, where he received an MFA in 1972. Buck taught at Gloucestershire College of Art and Design in Cheltenham, England, and was a sculpture instructor at Humboldt State University for two years. He served as assistant professor of sculpture at Montana State University from 1976 to 1990. He is represented by the Robischon Gallery in Denver.
Notkin is one of the foremost ceramists dedicated to socially engaged art. His work is a vehicle for political commentary, and he is influenced by the trompe l'oeil imagery found in Yixing teapots. He enrolled in the Kansas City Art Institute in 1964 and studied ceramics with Kenneth Ferguson. After graduating in 1970, he went to University of California, Davis, where he became Robert Arneson's teaching assistant, and received his MFA in 1973. He began visiting the Archie Bray Foundation in the early 1980s and lived in Helena from 1994 to 2014. Notkin's work is included in over 50 museum collections, and he is recipient of numerous awards, including artist fellowships from the National Endowment for the Arts, the Louis Comfort Tiffany Foundation, and the John Simon Guggenheim Memorial Foundation. He is represented by the Sherry Leedy Contemporary in Kansas City, Miss.
Quick-to-See Smith is an enrolled member of the Confederated Salish and Kootenai Tribes of Métis and Shoshone descent who is a self-described cultural arts worker. Her work comments on politics, American Indian identity, histories of oppression, and environmental issues. She is the recipient of the 2018 Montana Governor's Arts Award. She has an associate degree in art from Olympic College in Bremerton, Washington, and studied at the University of Washington in Seattle. She completed a bachelor's degree in art education in 1976 from Framingham State College in Massachusetts before moving to Albuquerque, N.M., where she graduated with an MFA in art from the University of New Mexico. She is represented by the Garth Greenan Gallery in New York City.
Schmidt attended the Kansas City Art Institute and earned a BFA in 1974, and then went on to complete an MFA two years later at the University of California, Davis. In 2007 he retired from a 26-year career as a professor of art at Montana State University. His large-scale paintings and sculptures comment on economic injustice, environmental destruction, and political dysfunction. He is a member of several artist collectives, including Paintaillica, The Living Breathing Thing, Free Art School, and the Rat Trap Clay Club.
Related Programs:
Guston: A Conversation on Race: February 19, 7 PM

Art Swing @ MAM with Arleo, Buck, Quick-to-See Smith, Notkin, and Schmidt: Friday, March 15, 5–8 PM

Voices in Contemporary Art Lecture with UM Professor Prageeta Sharma: The New York School of Painters and Poets, March 20, 7 PM

Voices in Contemporary Art Lecture with Poet and Critic John Yau: On Guston, April 3, 7 PM

Poetry Reading with John Yau: April 5, 8:30 PM

Guston: A Conversation on Race: Art Swing @ MAM with Arleo, Buck, Quick-to-See Smith, Notkin, and Schmidt