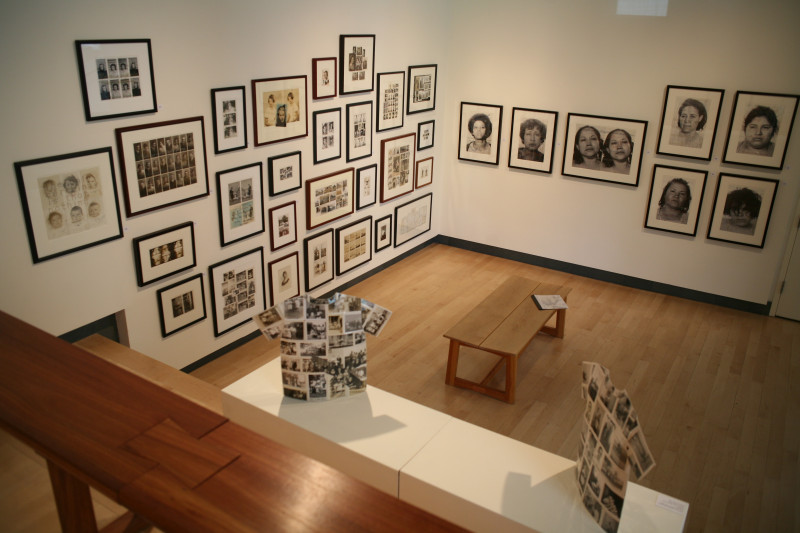 Jane Waggoner Deschner: Often, All That Remains
May 3 2013 - August 25 2013
MAM is pleased to host Often, All That Remains created by Billings, Montana artist Jane Waggoner Deschner. This new work has a different sensibility. In Often, All That Remains the works are generated from discarded and abandoned photographs. According to Deschner, there are three elements that come together in this body of work. The first is embroidery, the second is vernacular photographs, and the third is famous quotations. By pulling these three elements together she is layering the messages that they convey. In reality, she is layering three different sensibilities of language with a way of writing, recording, and remembering. The resulting work speaks with one voice, and one language. All the work has been embroidered on found photographs. Most are snapshots, while some are studio portraits, movie stills, or news photos. But, the emphasis is on family photos.
Deschner states, "The idea for stitching into photographs came from remembering the sewing cards from my childhood. I discovered only a few other artists (mostly European) who embroider into photos, so I have developed my technique through trial and error. What I have come to love are the connections I create with needle and thread, typography and design, and generations of unknown people, both ordinary and famous."
Deschner has exhibited extensively in the region. She has a BA in Art from Montana State University in Billings, Montana, MFA from Vermont College of Fine Arts in Montpelier, Vermont, studied at the Kansas City Art Institute, and has a BA in Geography from the University of Kansas in Lawrence, Kansas. She has been awarded numerous artist residencies and is in public collections throughout the region and is on the Montana Arts Council.