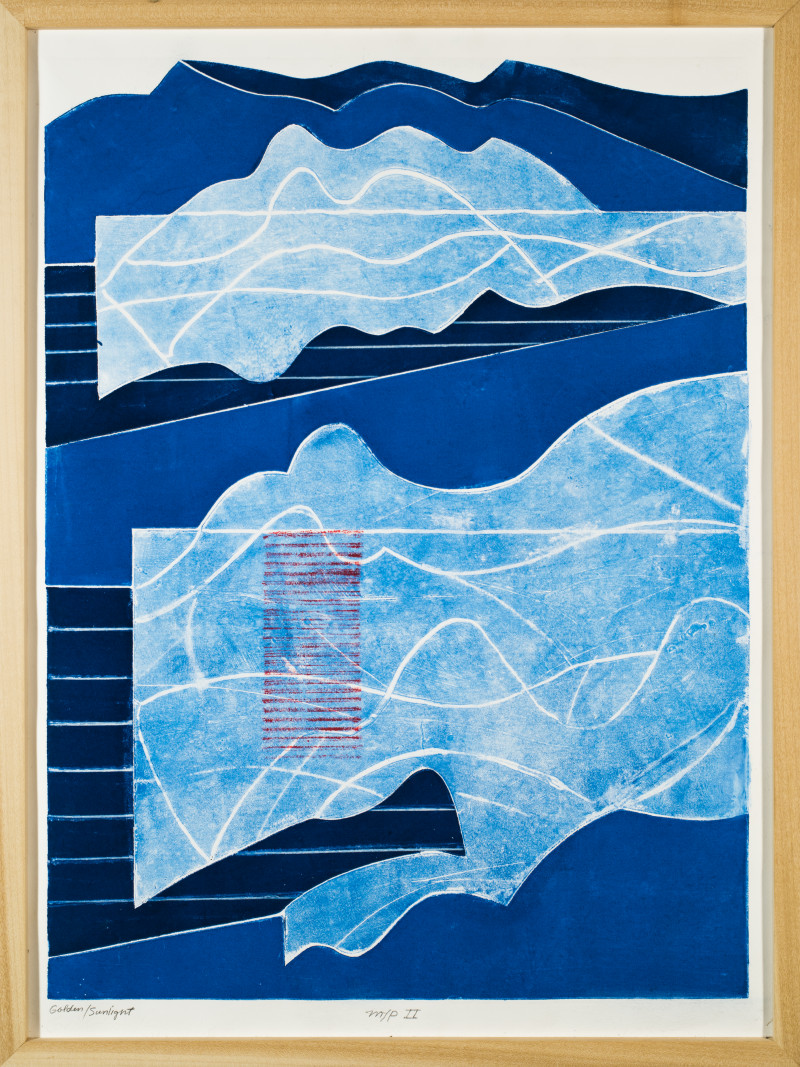 Jerry Rankin: Golden Sunlight
May 18 2021 - September 2 2021
Rankin's newest print series focuses on the environmental threats posed by the Golden Sunlight Mine near his home in Whitehall, Montana. The mine opened in 1982 and briefly shuttered in 2019 when gold production was not economically viable. It recently re-opened and will soon begin to pre-process the tailings, or material left over from mining. Rankin's artistic project began in 2015 as a series of drawings depicting the expansion of the mine and now features seven collagraph prints.
"Within each block or panel of the exhibit I've illustrated the progressive vandalized and irreparable landscape, the increasingly toxic waste pond lake, and the chewing and tearing at the seams of the earth caused by rock removal; the devastation occurring without consequence, without imagination. Centered in an earthquake zone, a four-point quake could easily slide the entire poisonous mass down the mountain and into the Jefferson River, a stream feeding first into the blue ribbon fishing waters of the Madison and Gallatin Rivers and joining the Missouri within a few miles. Points of stress are indicted by magenta symbols. The waste pond lake is shown in acidic layers of virulent greens and reds. The increasing network of lines throughout might represent an EKG map of the circulation system of the mountain. The work is another response to the dangers that Montana's industrial climate poses to the entire range of ecological systems." —Jerry Rankin
This exhibition is touring the state under the auspices of the Montana Art Gallery Directors Association (MAGDA).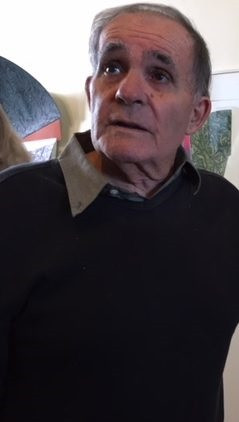 Jerry Rankin is one of Montana's most significant living artists. He was mentored by two of the titans in Montana's early Modernist art movement: Rudy Autio in high school and Robert DeWeese at Montana State University. He went on to earn his MFA in printmaking from the University of Montana. During his decades-long career as an artist, Rankin has developed a distinct visual language and his endless curiosity and investigation of the natural world through his studio practice continues today. Rankin's images are reflections on the landscape around him, as he sees it. He stated, "In 2015 I began a series of drawings, which I developed into prints exploring the expansion of the Golden Sunlight mine near Whitehall, Montana."
Rankin was born in Ohio and raised in Bozeman, Montana. His father was an engineer on the Going-to-the-Sun Road in Glacier National Park, and Jerry spent summers as a young boy living in a tent in the park. Rankin spent the better part of his professional career as an artist-educator, teaching in Alaska and Washington before returning to Montana to be a high school art teacher in Great Falls and Bozeman.