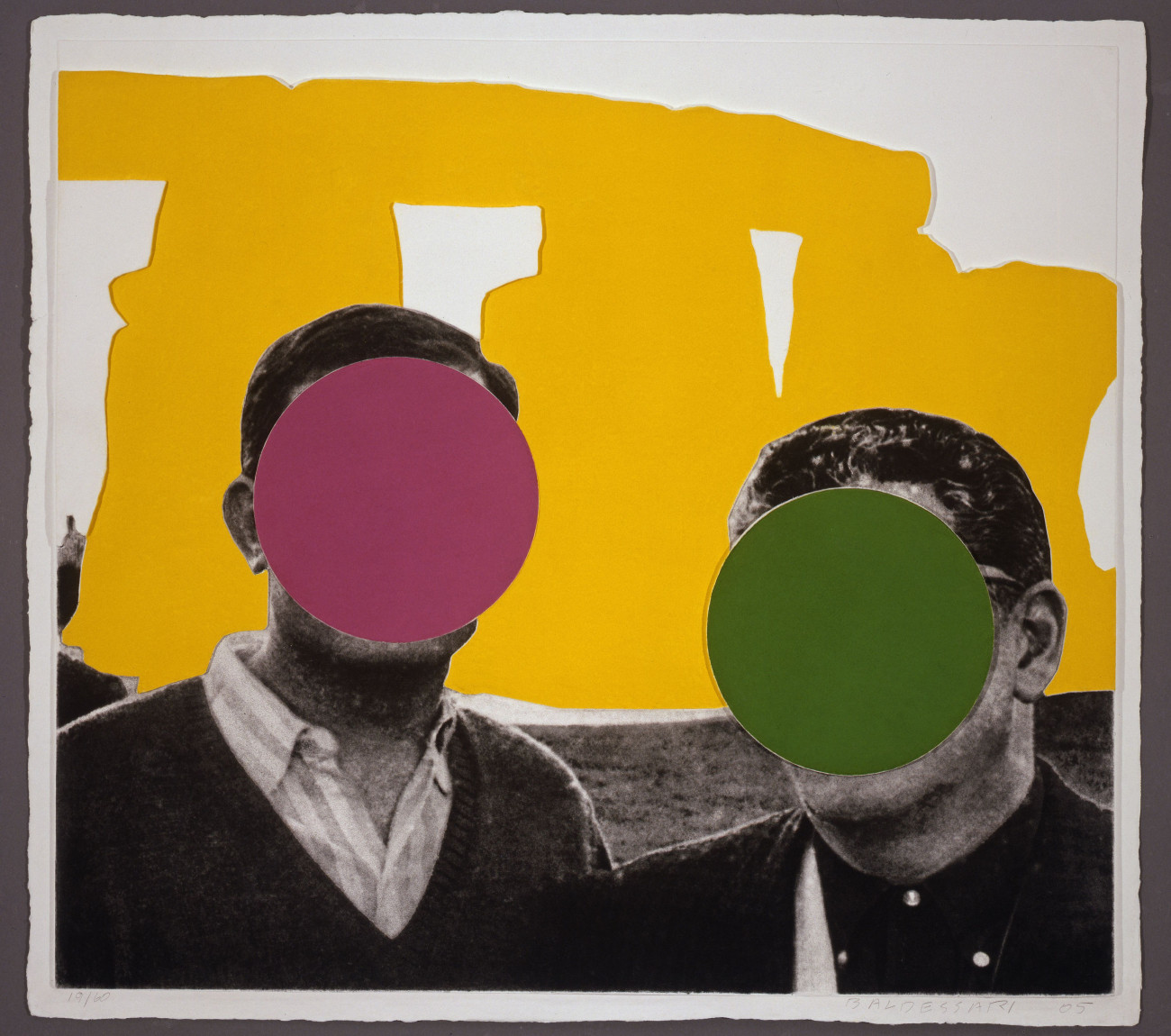 John Baldessari: Interference Effects
March 27 2018 - August 25 2018
Selections from the Collections of Jordan D. Schnitzer and His Family Foundation
John Baldessari's prodigious career in conceptual art and his commitment to teaching have influenced generations of artists, making him one of the most important artists of our time. Conceptual art, as understood in its emergence in the late 1960s and early 70s, is an art in the form of objects, performances, or ephemera, in which the concepts or ideas are given preference over traditional aesthetic, technical, and material concerns. Baldessari is known for making conceptual works that focus on the processes of chance, choice, and his selection to, as he says, grapple with order and disorder.
This exhibition is named for the incongruous effect that occurs when perceptual or cognitive processes come into conflict. Human perception and cognition involve many different sensorial and mental systems that parse and process information independently. When pieces of information are incomplete, our minds attempt to supply the missing information. The result is either confusion, or that which is otherwise commonplace is rendered unfamiliar. In many of his works, Baldessari alternately isolates or obliterates visual information, revealing ruptures in meaning tied to our limited perceptions. He states, "I [like] the whole idea of incompleteness." Author Wendy Weitman, in John Baldessari: A Catalogue Raisonné of Prints and Multiples, 1971-2007, writes, "The concept of incompleteness, distinguishing between parts and wholes, and how one conceptually creates a whole from fragmented parts is a fundamental theme in Baldessari's work."
Emerging from the art resurgence that roughly paralleled the 1960s counterculture on the West Coast, Baldessari presented new possibilities in art-making. For isolated artists living throughout the western states, he stood as an example of someone who engaged in the art world at-large while living and working in the West.
This exhibition traces Baldessari's print innovations and artistic development from the 1970s after Baldessari famously burned all of the artworks he made prior to 1967, to the present. MAM thanks Jordan D. Schnitzer and His Family Foundation for exhibition loans and support.
About the Jordan Schnitzer Family Foundation
At age 14, Jordan D. Schnitzer bought his first work of art from his mother's Portland, Oregon contemporary art gallery, spurring his lifelong avocation as collector. He began collecting contemporary prints and multiples in earnest in 1988. Today, the collection exceeds 12,000 works and includes many of today's most important contemporary artists. It has grown to be one of the country's largest private print collections overall. He generously lends work from his collection to qualified institutions and has organized over 100 exhibitions at more than 100 museums. Mr. Schnitzer is also President of Harsch Investment Properties, a privately owned real estate investment company based in Portland, Oregon, with 25 million square feet of office, multi-tenant industrial, multi-family and retail properties in six western states. For more information about the Jordan Schnitzer Family Foundation, please visit jordanschnitzer.org.