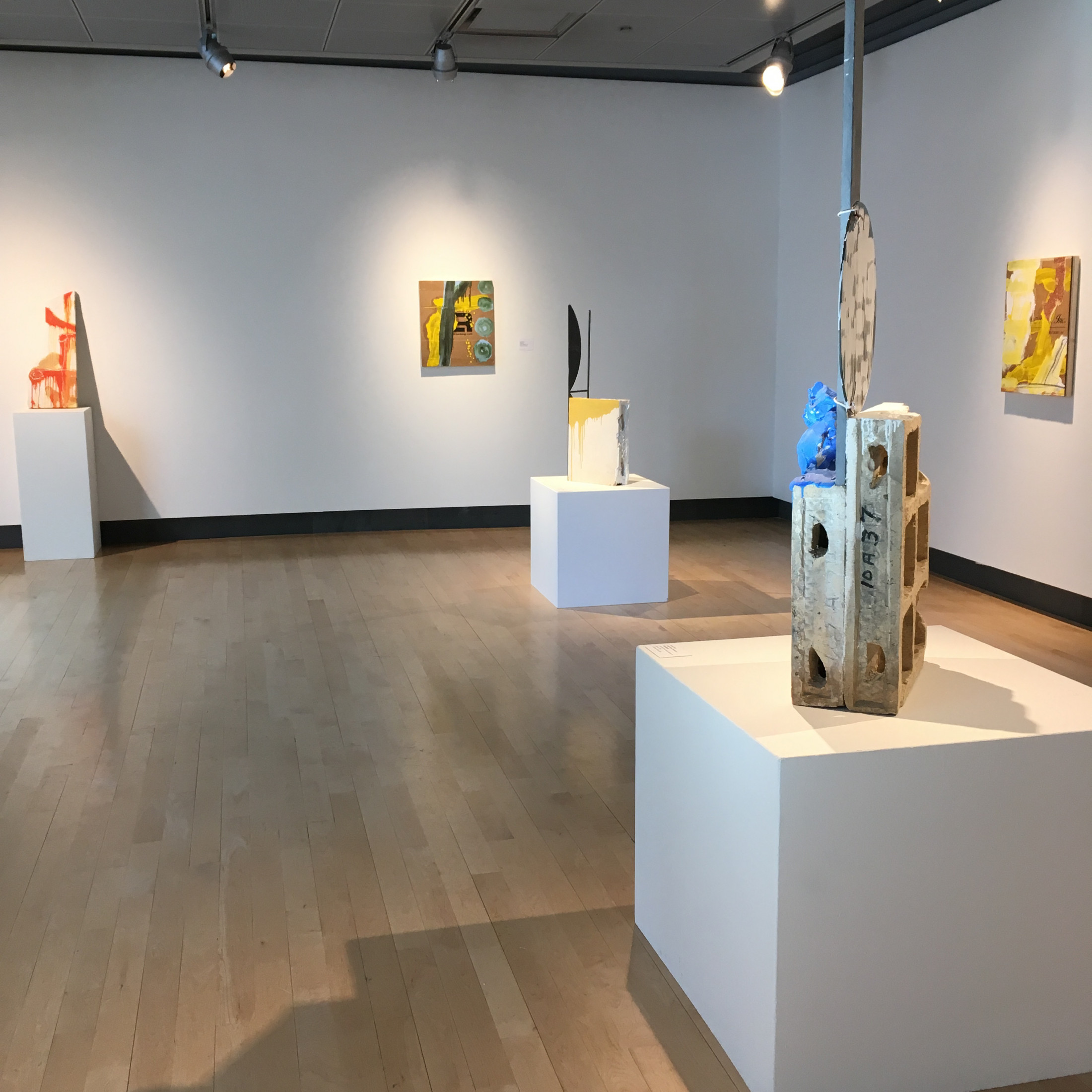 Joseph Baráz: Totems And Stelae
February 15 2018 - May 26 2018
This exhibition focuses on recent works by Hungarian-born, Helena-based artist Joseph Baráz. Baráz was born in the Baroque city of Eger. When he moved to Budapest to study acrobatics, he saw an Egyptian bronze cat from the 3rd century at the Szépmüveszéti Múseum (Museum of Fine Arts)—an experience so profound that he made the decision then to become an artist. As an acrobat, he traveled throughout Europe with the circus. Later, he and his wife Agnes escaped from the Soviet-supported socialist government, Magyar Népköztársaság, and eventually settled in San Francisco.
As an artist, Baráz is largely self-taught, having gained aesthetic insights from his travels throughout Hungary, Germany, Italy, and the United States. His sculptures and paintings integrate construction refuse, architectural fragments, quarried stone, and found objects to reflect a wide range of influences—Egyptian and Cycladic sculpture, Bay-area artists Peter Voulkos and Stephen De Staebler, and 1980s neo-expressionists like Georg Baselitz, Julian Schnabel, and Cy Twombly.
His artworks hover uneasily between painting and sculpture and recall the modernist pursuit of ideal perfection. Yet Baráz's work purposefully cultivates a deliberate reliance on unfinished, uneven surfaces, recalling an architectural principle from the Renaissance called rustication—a rebellion against classical perfection that takes advantage of the tension between rough and refined surfaces. Similar to Arte Povera artists in the 1960s reacting against the refinement of modernist abstraction, Baráz rejects form and finish, preferring cast-off, common materials. Speaking about the history of cardboard as an artistic material, Baráz references artists like Robert Rauschenberg and Sigmar Polke. Baráz purposefully cultivates an unfinished quality and consciously avoids, as he says, any "manifestations of technique or pattern." Instead, he responds to his materials without forethought, preferring "unthought" and spontaneous reaction.
Baráz's artistic practice is serial, focusing on a few areas of inquiry: totems, defined as sacred objects or symbols that serves as an emblem, and stelae (from the Greek meaning shaft or pillar), stone slabs or columns typically bearing a commemorative inscription or relief and used as a monument. These take the form of spiritual tools (hand-held pieces of worked stone), expressionistic paintings, and enigmatic found-object sculptures. This exhibition represents new work Baráz created since 2011 that has not been publicly exhibited.