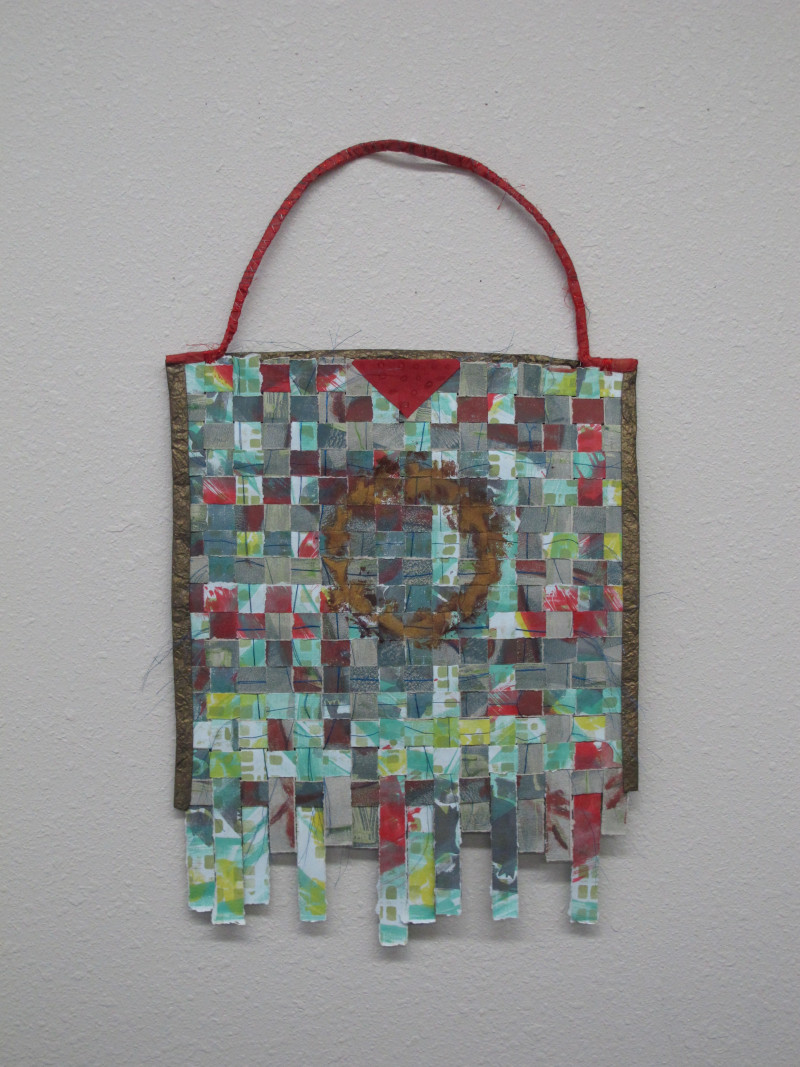 Karen Goulet: Debwe
February 21 2014 - May 31 2014
Debwe is the title of the new exhibition at MAM of recent works by the artist Karen Goulet (White Earth Ojibwe Nation). Debwe in the Ojibwe language means "speaks the truth honestly". Speakers of Ojibwe span from the northeastern coast of the United States, through Canada, and the upper central and western United States. This concept is a strong driving force for Goulet both as an artist and educator. The exhibition features a series of flat paper weavings and star quilts.
The paper weavings are reminiscent of basket forms and techniques. Goulet began making these woven paper shapes after taking a traditional split ash basket-making class. She developed a strong connection to the process but, not having easy access to the black ash used in the baskets, she looked to different materials to weave. What she had readily available were piles of prints she had accumulated over the years as a printmaker.
In her quilts, Goulet gravitates to the star quilt because of the inherent richness of design and the important spiritual and cultural relevance this pattern has for native people. She has created many of these quilts, each with a distinct color scheme and much innovation in the thread work and
design elements.
Goulet received her BFA from Evergreen State College where she worked with Joe Feddersen and Gail Tremblay, who deeply influenced her decision to be an artist. She received her MFA from the University of Wisconsin-Madison and her master's degree in Education from the University of Minnesota in Duluth. As she says "weaving and quilting are my way of talking about culture, weaving past and present together in a way that I aspire to keep stories new. In every piece of art I make is my admiration for the people I am from and the people I know who 'make' with their hands."
Goulet is the director of the Art Department at Salish Kootenai College and an enrolled member of the White Earth Band of Ojibwe with Métis heritage as well. She came to Montana from Minnesota, where she was teaching at the White Earth Tribal and Community College. She has strong roots in her traditional culture, specifically in honoring the resiliency and resourcefulness of native women in her choice to work with forms related to traditional woman's creative work in weaving and quilting. Goulet is an enrolled member of the White Earth Ojibwe Nation. She lives in White Earth and is currently the director of Gizhiigin Arts Initiative, a tribal entity serving artists on the reservation. She is also art instructor at White Earth Tribal and Community College.
This exhibition is hosted in the Lynda M. Frost Contemporary American Indian Art Gallery, a gallery dedicated to honoring the creative cultural contributions of American Indian people to contemporary art, and to ensure that Indian artists will always have a place to celebrate that contribution.