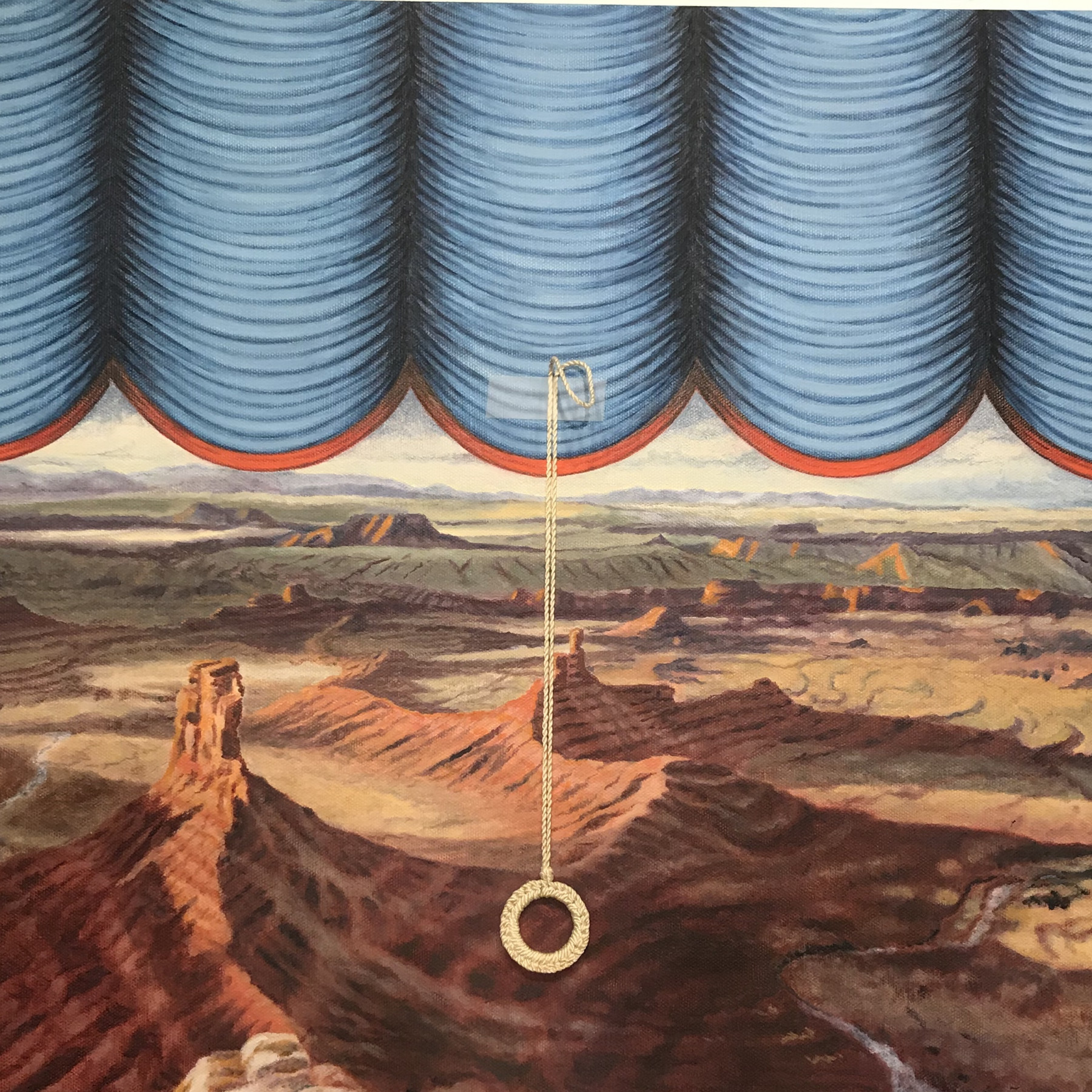 Kathleen Herlihy-Paoli: Act Three
September 6 2020 - September 11 2021
Act Three is a series of acrylic paintings from Missoula artist Kathleen Herlihy-Paoli. The paintings feature sharply rendered subjects that focus on water issues and wildfire in the West. Each painting features a classic theater stage with parted curtains and the main subject pictured center stage. This visual thread creates a cohesive series and leads the viewer directly to the next painting. Although some of the issues that Herlihy-Paoli paints address serious concerns, she manages to keep the works approachable with her customary playfulness.

Schedule:
Emerson Center for the Arts & Culture, Bozeman: September 7–November 28, 2020
Paris Gibson Square Museum of Art, Great Falls: December 15, 2020–March 15, 2021
Holter Museum of Art, Helena: August 2–September 12, 2021
MAM Associate Curator John Calsbeek recently spoke with the artist about this series. Here's an excerpt from their conversation:
John Calsbeek: "The theatrical setting of the images offers so many wonderful details. How did you arrive at using the stage and theater curtains as the backdrop of the paintings?"
Kathleen Herlily-Paoli: "I began using the stage and curtain images after a lengthy health battle that involved many surgeries and their physical and legal aftermath. The series began with one angry painting that I never finished. I scrapped that painting, but I realized that the stage part of it was very useful."
JC: "I like the idea that the viewer of these paintings is seated "front and center" to the story. The solitary object or single subject that occupies the stage is the key content you want the viewer to explore."
KH-P: "Absolutely, it is my intention to frame the viewer's focus and to draw the viewer into whatever I choose to put on stage. By painting a simple glass of water and putting it on stage, the glass of water becomes something more important than if had I just painted a glass of water by itself. I guess they all make the viewer ask, 'Why is this on a stage?'"
JC: "You often sew objects onto the canvas like buttons or beads that reference something in the painting such as raindrops or stars. You are such a skilled painter that sometimes the viewer has to ask whether it is painted on or sewn into the canvas. They add a wonderful, playful element to the paintings."
KH-P: "I am drawn to circular shapes. The buttons and beads that I sew on are in memory of my maternal grandmother. She was a remarkable woman, whose strength in times of adversity has always been inspirational. Among other things, she was an expert seamstress; she bought fabric by the bolt and made matching outfits for her many grandchildren. As a young teenager, she would ask me to sew on the buttons, finish hemming a dress, or help her with other finish details. The buttons and objects conjure memory for me, while the stage, curtains and subject matter of the paintings, mostly tend to conjure hope. All reference live theater arts, which for centuries, and in many cultures, remain an important form of communication."
This exhibit was featured at MAM from September 22–December 15, 2018.