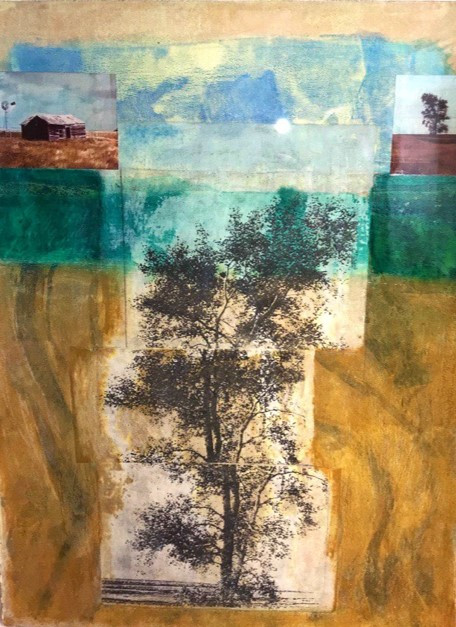 Laura Barrett: State Of Grace
May 12 2020 - August 22 2020
This exhibition is a survey of works by Laura Grace Barrett (1930–2017), including prints, collages, and paintings. Barrett, who opened Bridge Street Gallery and Wine Café and Restaurant, Collage Gallery in Bigfork, Montana, Ambos Galeria de Arte y Artefactos in Puerto Vallarta, Mexico. Barrett exhibited and supported many Montana contemporary artists. As a result, her artwork was influenced by their friendships, especially those Montana modernists Bob and Gennie DeWeese, Theodore Waddell, and painter Inez Storer.
This exhibition was organized as a statewide traveling exhibition by the Missoula Art Museum and is traveling under the auspices of the Montana Art Gallery Directors Association (MAGDA). Thank you to Stockman Bank for their sponsorship of the exhibit in Missoula.
Born in Froid, Montana, and raised on a wheat farm, Barrett left at the age of sixteen to attend the University of Montana, where she studied writing, language, and education, and later art at the University of Hawaii and the University of California, L.A. She wrote and directed the play "Garden of Pleasure," which was performed at UCLA, and wrote "What is More Real Than a Dream? Memoir of Chateau Montelena Winery" about the winery in Calistoga, California she and her husband helped found whose 1973 Chardonnay won the landmark Paris tasting of 1976.