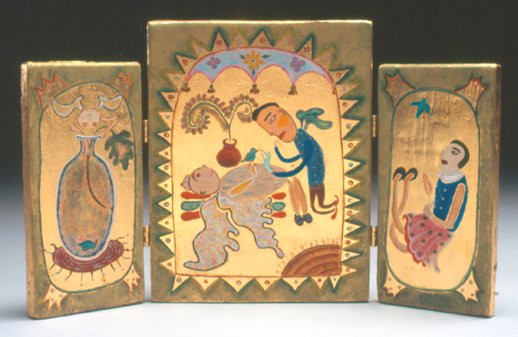 Lulu Yee: Works From The MAM Collection
December 13 2009 - May 30 2010
Lulu Yee's narrative style of painting has for years depicted simple joys of everyday life. People sitting down for a meal, reading a book, or sleeping became a way of documenting what Yee describes as "happy blessings many of us share".
Born in 1962 in the San Francisco Bay area to teachers of Home Economics and English, Yee recalls a very happy childhood. She has especially fond memories of the Monkey Club, a special group formed between herself and her older siblings. Her fascination with whimsical sock monkeys continues and in fact, they often appear in her paintings, representing to her, goodness and innocence.
Yee's paintings also reflect her passion for collecting. Even though her formal art education began at the San Francisco Art Institute, she attributes her interest in collecting and recording personal stories to the influence of her mother, an avid collector, and a creative homemaker. Though Yee has lived on the east and west coasts, for much of her life Missoula has been her home base, and from Montana, she has traveled throughout the world.
Lulu Yee's first exhibition of Collecting Miracles was in Reykjavik, Iceland, where she lived and worked in the dark time of the year. An expanded version, Collecting Miracles II, was shown in Brussels, Belgium the following year. In 1998, the then Art Museum of Missoula, (today MAM) hosted Collecting Miracles, an installation by Lulu Yee. The Art Museum of Missoula subsequently offered the exhibition for travel at MAGDA, and the installation then traveled to the Holter Museum of Art in Helena, Montana, ASMSU Exit Gallery in Bozeman, Montana, and Paris Gibson Square Museum of Art in Great Falls, Montana.
Among the works included in the exhibition were the following: