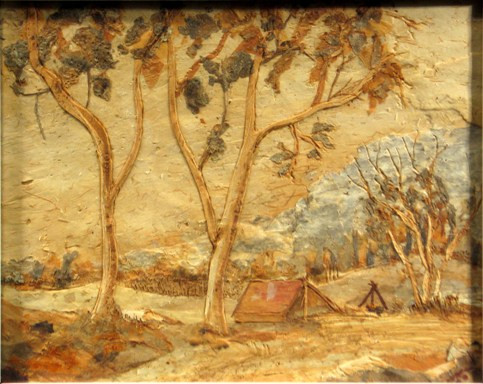 MAM Collection: Joyce Folsom Gift
May 10 2010 - September 30 2010
Joyce Folsom's gift to the MAM in 1999 included over 60 landscape works by Montana painters. Inspired by Folsom's generosity MAM's Joyce Folsom Society, of bequest donors, was formed shortly thereafter. Six works from this collection will be featured in the Goldberg Family Library through September 30, 2010.
Joyce Folsom started collecting late in her life and with a limited budget, but in a very short time amassed an impressive collection consisting of three main areas of appreciation: still life, rural landscapes, and urban landscapes. A very private, introverted person, collecting gave Folsom a sense of self-confidence and a means to break down social barriers. She believed that the process of looking at and appreciating art and artists helped her become part of a world that offered serenity, contemplation, and acceptance.
Folsom was born in Maryborough, Queensland, Australia on May 16, 1916. She married U.S. serviceman, Lewis Folsom, in 1944 in Brisbane, Australia. After WWII Lewis resumed his career with the U.S. Forest Service and in 1949 Lewis and Joyce were transferred to the Missoula area, where they lived the remainder of their lives. After Lewis' death in 1977, Joyce's passion for collecting began to intensify, and consequently, this collection evolved.
Art in the American West has a rich tradition inspired by the land, so it is no surprise that MAM's collections are thoroughly laced with landscape painting. While the works included here range from realistic to abstract and are reflective of no particular school of painting, they have a distinctive regional character.
MAM's collections have continued to grow primarily through gifts from artists and patrons. Many gifts come from unexpected places, yet their importance to the life of a museum cannot be understated. MAM is proud to accept the responsibility for the care of this work and hopes to continually share these landscapes and the inspirational story of Joyce Folsom.