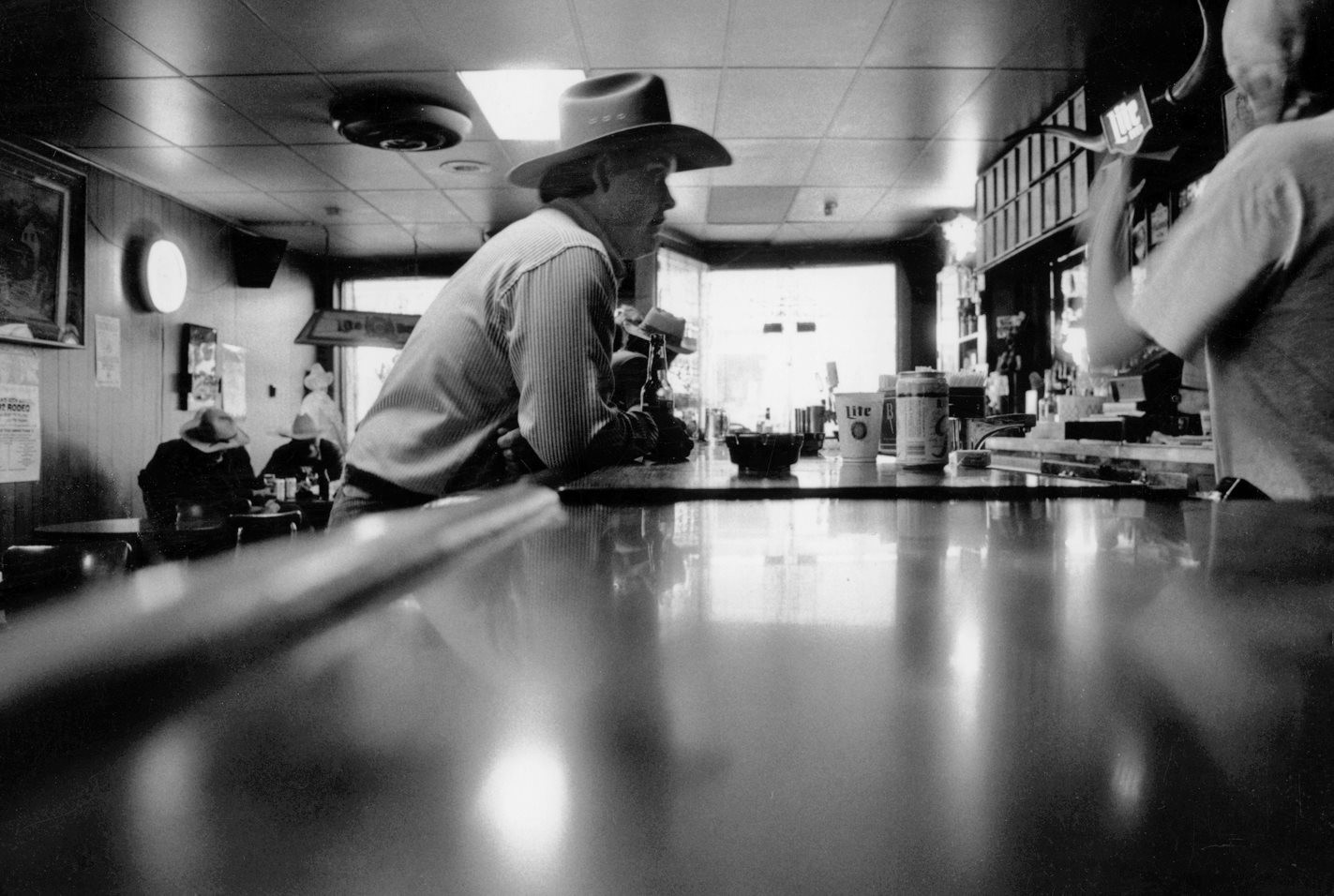 Montana Bars And Lee Nye: Eddie's Club Adjunct Collection
February 12 2019 - May 18 2019
Two distinct but interrelated photographic exhibitions, Lee Nye: Eddie's Club Adjunct Collection and Montana Bars, draw from MAM's Collection and are augmented with select loans. The recently acquired, nearly complete set of the Eddie's Club Adjunct Collection was photographed and printed by Lee Nye (1926–1999) for his personal collection. The majority of works were donated by Tracy Blakeslee, with the gaps in the series filled by donations from Nye's widow, Jean Belangie-Nye. The collection of 32 portraits is the heart of a now-legendary cast of characters—the patrons of Eddie's Club in Missoula. The bar is known today as Charlie B's, and more than 300 of Nye's original portraits still cover the walls.
Nye was born in Hysham, Montana, in 1926. He enlisted in the Navy at age 18, and it was during this period that he was introduced to photography. At the end of his service, he lived in California and had formal training at the Brooks Photographic Institute in Santa Barbara. In 1965 he returned to Montana and landed in Missoula. Nye worked as a bartender at Eddie's Club in the late '60s to early '70s while pursuing art and English degrees at the University of Montana. Nye photographed his regular bar patrons in the club's back alley throughout these years.
Nye was a meticulous photographer and expert technician both behind the camera and in the darkroom. The perfect natural lighting and an air of candid grace captured in the faces of these men brings their stories back to life. Belangie-Nye researched biographical information for a number of the photos. Now recognized as the "Greatest Generation," many of Lee Nye's subjects had returned home after military service to find work in local mills, as cowboys, or on the railroad. The bios invite the viewer to relate to these men as individuals; they are uncles, fathers, and grandfathers. From noted poet Richard Hugo to men known simply as Plato or Wishbone Moy, Nye's portraits of Missoula's blue-collar working men and local celebrities are part of Missoula's identity.
Implicit to the Eddie's Club portraits is the barroom where relationships helped form the art. As community gathering sites, Montana's bars, saloons, and taverns have had an undeniable role in the formation of the civic and political character of a town. To this end, a selection of photographs of taverns and barrooms is on exhibit in the adjacent gallery. Montana Bars includes iconic images of the Club Moderne in Anaconda, Swede's Place in Drummond, and the New Atlas Bar in Columbus by photographers John Smart, Jill Brody, J.M. Cooper, Michael Gallacher, Kurt Wilson, and collaborative work by Geoff Sutton and Monte Dolack.
A Corner of Space and Time: Lee Nye's Eddie's Club Portraits, a fine art book featuring all 125 portraits, was published in 2020.