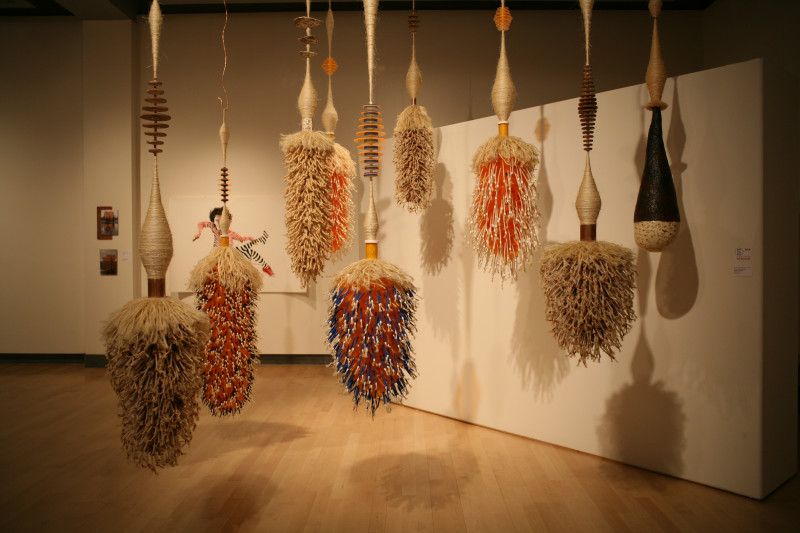 Montana Triennial: 2012
May 4 2012 - August 26 2012
A Triennial is intended to serve as a survey exhibition of contemporary work from a particular region. The Triennial is a perfect fit for the Missoula Art Museum's programming, whose mission states, "… strives to engage artists and audiences in the creative exploration of contemporary art relevant to our community, state and region."

Most often Triennials are selected by a respected juror or panel of jurors from outside of the region. Keith Wells, Curator of Art at Washington State University's Museum of Art, was tapped to be this year's juror. Wells is no stranger to Missoula having curated the Galen Hansen exhibition at MAM in 2008 and presenting a rousing gallery talk. MAM would like to thank Keith Wells for this Herculean effort in the role of Juror for Montana Triennial 2012. Wells selected just 39 artists to be represented this year, or roughly 25% of the artists and works that were submitted.
The Second Montana Triennial is hosted at MAM, May 4 - August 25, 2012. The exhibition will be displayed in the Carnegie, Aresty, Silvers and Shott Galleries, doubling the space and effort dedicated to this important juried exhibition. To that end, over 100 works were selected for inclusion. The exhibition was open to all artists living and working in the state of Montana, will feature work by both established and emerging artists statewide and include a variety of media. This statewide event invited artists from every corner of the state to submit and will produce a full-color catalog including the selected artists, complete with the juror's essay. Please join the museum for the extensive programming associated with the exhibition.
Below are Keith Wells' comments illuminating his curatorial vision.
Being Judgmental about the Montana Triennial: 2012 by Keith Wells:
"I love my job as Curator for the Museum of Art at Washington State University. Having taught several classes in art history and theory, my philosophy is to open minds rather than fill them in. I am certain that my experience as both an artist and instructor helps to inform my decisions as a curator when making art selections for an exhibit."
The Montana Triennial: 2012 artists are:
Joel Allen, Bozeman
Eric Ashcraft, Missoula
Lela Autio, Missoula
Larry Blackwood, Bozeman
Pamela Caughey, Hamilton
Andy Cline, Missoula
Melvin Cooper, Lonepine
Ken Dvorak, Seeley Lake
Tom Foolery, Dillon
Lauren Grabelle, Bigfork
Sheryl Hester, Kalispell
Sally Hickman, Missoula
Jenesse Hilton, St. Ignatius
Lorie Hoffman, Bridger
Tim Holmes, Helena
Hall Jameson, Helena
Amy Jane, Missoula
Peter Keefer, Missoula
Louise Lamontagne, St Ignatius
Kay Langland, Missoula
Jennifer Li, Kalispell
Toni Matlock, Missoula
Alan McNiel, Troy
Shawna Moore, Whitefish
Richard Notkin, Helena
Kirsten Pabst, Missoula
Jennifer Pulchinski, Bozeman
Katherine Quick, Stevensville
Alison Reintjes, Missoula
Kathryn Schmidt, Bozeman
Barb Schwarz Karst, Missoula
Cynthia Swidler, Missoula
Thomas Thornton, Bozeman
Shalene Valenzuela, Missoula
Willem Volkersz, Bozeman
Ralph Wiegmann, Bozeman
R. David Wilson, Missoula
Sukha Worob, Bozeman
MAM would like to thank the Paul G. Allen Family Foundation, Pat & Jeff Aresty, and Montana Cultural Trust for their support of Montana Triennial: 2012.