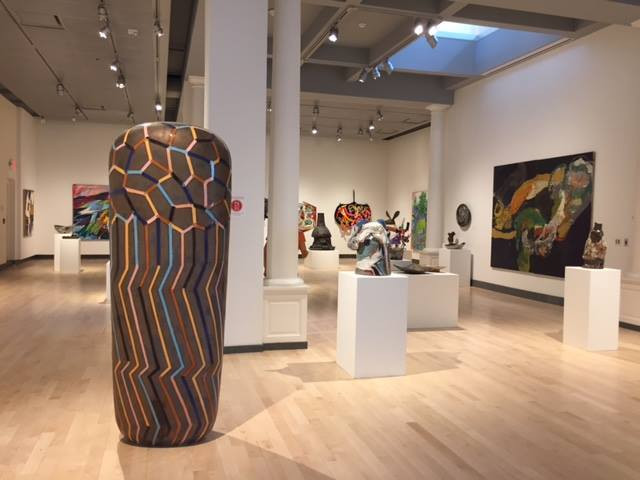 Nexus: The Lela And Rudy Autio Family Collection
March 1 2017 - June 24 2017
MAM is proud to present a comprehensive overview of the Autio Family Collection, an art collection shaped by more than six decades of friendships and professional artistic relationships. The Autios were at the center of a post-World War II generation of makers who experimented with abstraction and alternative materials, and laid the foundation of the cultural milieu which exists in Montana today. Through Lela and Rudy, the art community in Montana seemed like one big family—a group of friends who gathered from all over the state to see one another's homes, studios, and exhibitions, providing a constant source of encouragement and inspiration.
These artists' engagement with modernism came hand-in-hand with a sustained relationship to what author Willa Cather calls "the great fact" of the West—the expansive and dramatic landscape. The result of this experimentation was to challenge the dominant aesthetic of Western art, especially that evidenced by the widespread example of Charles M. Russell. The Autios' role in developing contemporary art in the state is without parallel.
Lela Autio, born Leila Moniger, in Great Falls, graduated from Great Falls High School and attended Montana State College with a scholarship, where she met Arne Rudolph Autio, or Rudy. Rudy, born in Butte, served in the Navy during World War II and attended Montana State College on the GI Bill. In 1950, Rudy began graduate school at Washington State College to study for an MFA in sculpture. Together, they formed an inseparable team.
Their eldest son Arne was born in 1949, followed by Lisa, Lar, and Chris. Throughout Lela's dedicated years of raising a family, she created an impressive body of experimental art that hovered between painting and sculpture, using unlikely materials such as vinyl, found fabric, and Plexiglas. She was also, as Rudy was known to call her, "the true artist and his best critic." Rudy, meanwhile, revolutionized the ceramics world with his large-scale, multi-lobed altered vessels that functioned as complex three-dimensional canvases adorned with figures and horses floating in an indeterminate space.
Rudy and fellow student Peter Voulkos became the founding resident artists at the burgeoning Archie Bray Foundation for the Ceramic Arts in Helena in 1952. Five years later, Rudy and Lela moved to Missoula, where Rudy founded the ceramics program at the University of Montana. He taught there for 28 years until he retired in 1985. Their home in the Rattlesnake Valley on Duncan Drive became a gathering place for artists ever since. When Rudy passed on in 2007, Lela continued to support and advocate for artists until her passing in 2016.
The collection includes works by an impressive array of artists, such as Aden Arnold, Harold Balazs, Jim E. Dew, Robert and Gennie DeWeese, Edith Freeman, Walter Hook, Isabelle Johnson, Jun Kaneko, Ken Little, Helen McAuslan, Henry Meloy, Michael Peed, James Poor, Jerry Rankin, Jay Rummel, Frances Senska, Branson Stevenson, Bill Stockton, Akio Takamori, James G. Todd, Jr., Peter Voulkos, Ted Waddell, Patti Warashina, Jessie Wilber, and Kensuke Yamada, among others. The exhibition presents an incredible opportunity for MAM visitors to connect to the art that shaped modernism in Montana.