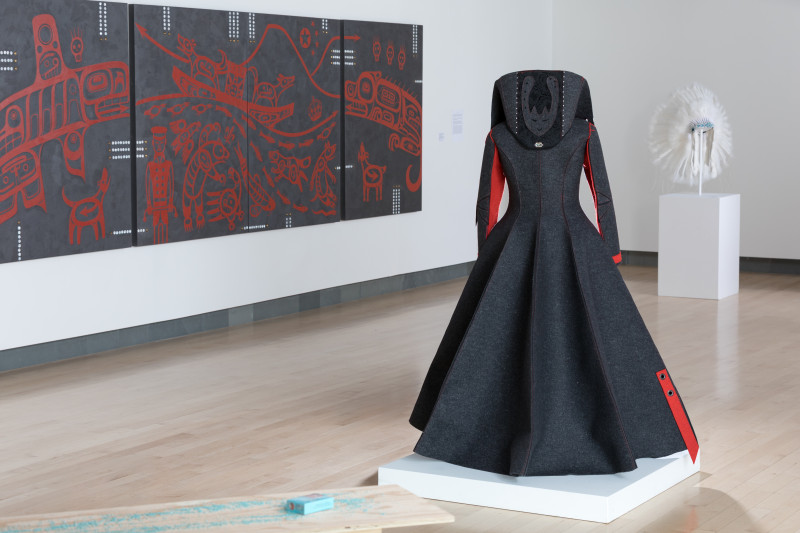 Our Side: Elisa Harkins, Tanya Lukin Linklater, Marianne Nicolson, And Tanis Maria S'eiltin
September 12 2017 - February 24 2018
MAM invited artist and curator Wendy Red Star to assemble an exhibition meditating on the groundbreaking 1985 exhibition, Women of Sweetgrass, Cedar and Sage, curated by Harmony Hammond and Jaune Quick-to-See Smith. Red Star's response is Our Side, a reexamination of land, body, language, and history from the perspective of four contemporary indigenous American and First Nations artists: Elisa Harkins, Tanya Lukin Linklater, Marianne Nicolson, and Tanis S'eiltin. The exhibition upholds MAM's commitment to the expression of Native women's voices in contemporary art and continues Red Star's dedication to redefining archival and historical norms through the lens of new historical, social, and cultural dynamics, both within and outside of contemporary indigenous realities.
In her curatorial statement, Red Star writes:
"To be Bíiluuke—'Our Side'—implies that one has the same ancestry, language, spiritual beliefs, territory, and social structure. From this term, which my ancestors used to define themselves as a separate unique people, this exhibition, Our Side, invites four contemporary artists: Elisa Harkins, Tanya Lukin Linklater, Marianne Nicolson, and Tanis S'eiltin to creatively investigate identity, language, and territory, from their individual perspectives. Sharing a common understanding of the significance of origin stories as a temporal and historical space where community is shaped, each artist works from a broad range of media including performance, sculpture, painting, sound, social engagement, and video, and to maintain common ties around indigenous narratives, engagement with community, feminism, activism, and the importance of specificity."
Elisa Harkins is a composer and artist originally from Miami, Oklahoma, and is an enrolled member of the Muscogee (Creek) Nation. She uses the intersection of performance and lived experience through electronic music, sculpture, and the body to explore subjects such as adoption, enrollment, and the 1990 Indian Arts and Crafts Act.
Tanya Lukin Linklater, originating from the Native Village of Afognak and Port Lions in southern Alaska and based in northern Ontario, Canada, exhibits her performance collaborations, videos, and installations internationally. Relationships between bodies, histories, poetry, pedagogy, Indigenous conceptual spaces and languages, and institutions are the compelling themes in her work.
Marianne Nicolson ('Tayagila'ogwa), is an artist of Scottish and Dzawada̱'enux̱w First Nations descent. The Dzawada̱'enux̱w People are a member tribe of the Kwakwa̱ka̱'wakw Nations of the Pacific Northwest Coast. Nicolson's practice encompasses both traditional Kwakwa̱ka̱'wakw forms and culture and European-based art practice to engage with issues of Aboriginal histories and politics arising from a passionate involvement in cultural revitalization and sustainability.
Tanis S'eiltin's art is informed by her Tlingit heritage. She was born into a family of artists. Her mother was a master weaver of Chilkat Robes and an exceptional skin-sewer. S'eiltin's installations, videos, and prints reference the impact of Western colonization.
Our Side is generously supported by the Andy Warhol Foundation for the Visual Arts. The exhibition is part of a forum titled Convening Indigenous Voices that takes place in two parts this fall.