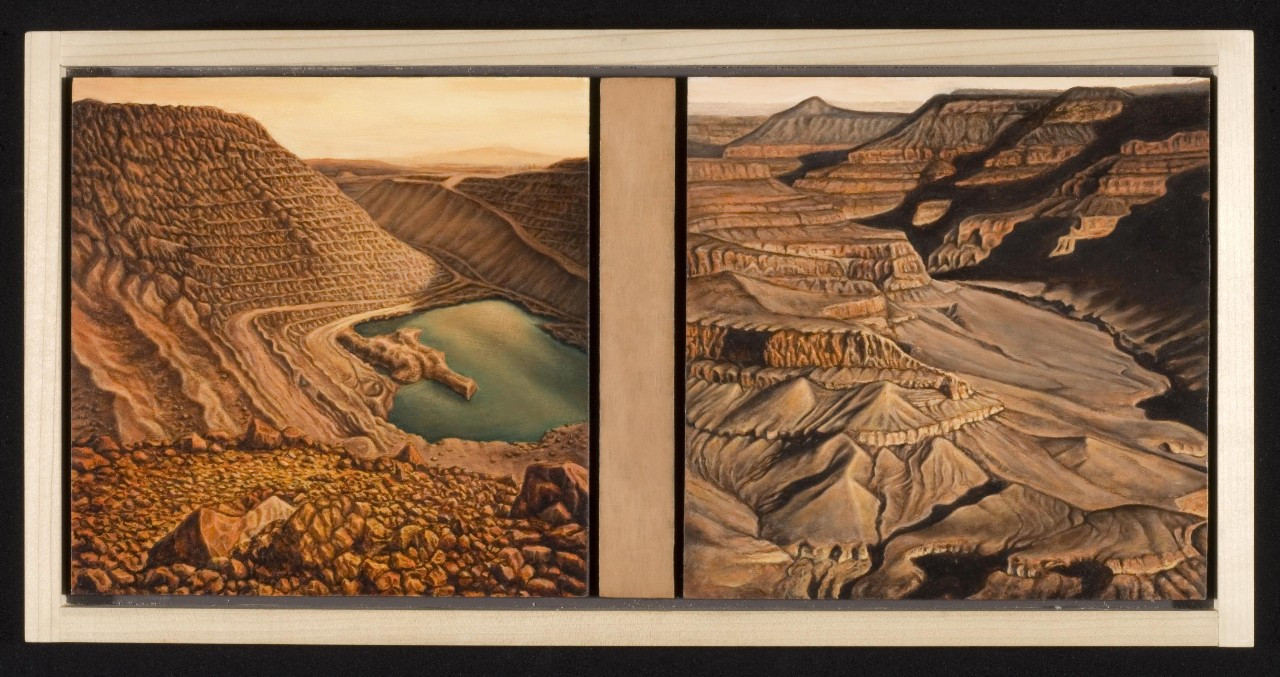 Pennies From Hell
May 18 2021 - September 2 2021
Selections from the MAM Collection
Included are featured pieces from the MAM Collection which focus on the effects of extraction, including George Gogas' enigmatic painting M-M Cocktail: Ingredients: 1 Part Missoula Air, 1 Part Milltown Water which refers to the inversion pollution in the Missoula Valley, coupled with the problematic legacy of Milltown, a blue-collar community which lies seven miles to the east of Missoula. The Milltown Dam at the confluence of the Clark Fork and Blackfoot rivers historically aided timber extraction and the nearby sawmill. The dam, downstream from the open-pit mines of Butte and the smelter in Anaconda, retained mine waste laden with heavy metals from the Clark Fork River and was declared a Superfund site, resulting in years of remediation.
Also included in the exhibition are photographer Mark Abrahamson's vibrant semi-abstract aerial views in the Montana Legacy Suite, such as tailings, settling ponds, and Superfund sites, Gennie DeWeese's iconic rendering of Montana clear cuts using cattle markers, Edgar Smith's stunning landscape painting contrasting the Berkeley Pit to the grandeur of the Grand Canyon, Susan Barnes' hand-painted photographs of impacted sites and communities, and drawings of the Hanford nuclear site in eastern Washington, whose fallout has moved on downwind through air currents and aquifers to Montana by Karen Rice.
The title of this show is borrowed from an article by the late Edwin "Ed" Dobb, who wrote extensively about the effects of the Berkeley Pit on his hometown of Butte. Click here to read Pennies from Hell: In Montana, the Bill for Copper Comes Due from 1996. Dobb, along with CODEX Foundation director Peter R. Koch, conceived of the Extraction project but Dobb passed away before he could see it be completed.
Artists Featured
Mark Abrahamson

Susan Barnes

Gennie DeWeese

George Gogas

Robert Harrison

Karen Rice

Edgar Smith

Ursula von Rydingsvard