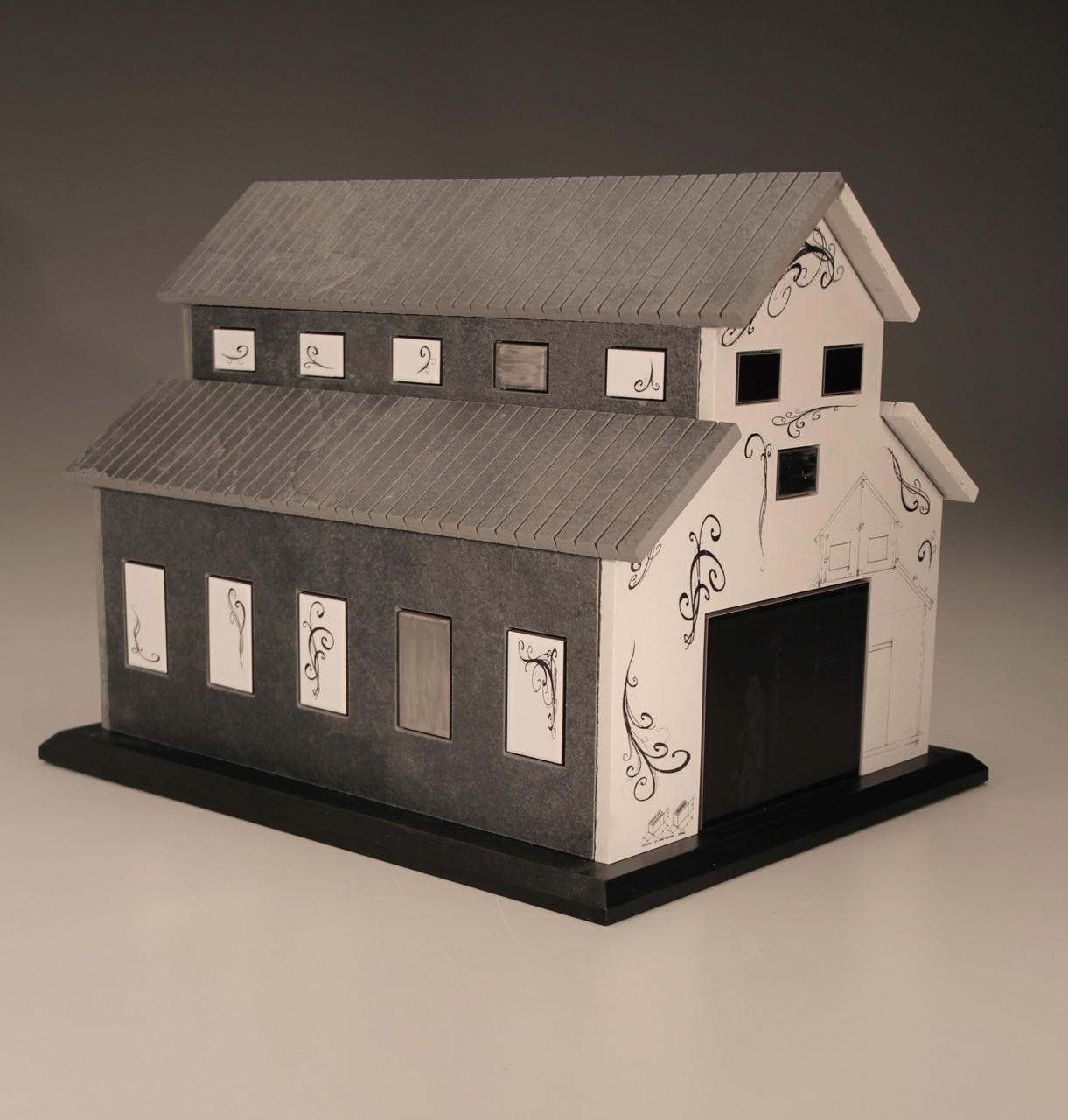 Stephen Glueckert Contemporary Montana Art Collection
October 7 2016 - December 31 2016
MAM is thrilled to debut a new category of the Permanent Collection dedicated to MAM Senior Curator Emeritus, Stephen Glueckert. The collection, established in 2015 on the occasion of his retirement, primarily comprises work by living artists who had the fortuity to work with and know Glueckert. Many of these artists began making art in the 1960s and 1970s, laying the groundwork for contemporary art as we know it today.
This exhibition includes a vibrant chorus of works by notable artists, such as the sculptures of Ken Little, illuminated manuscript pages by Cathy Weber, drawings by MaryAnn Bonjorni, and more. A print by James Todd gifted to this collection, Museum of Charles Willson Peale, speaks to Glueckert's profound love and respect for the role that museums have played in education and artistic exploration. Glueckert often refers to Peale as an integral figure in allowing art to be accessible to all people. Glueckert carried Peale's vision forward by dedicating 24 wonderful years to MAM as Senior Curator and by serving a passionate career as an art educator and curator.
Instilling a Love for Art at an Early Age
This fall ushers in the 30th anniversary of the Fifth Grade Art Experience. Montana students will have the good fortune to develop an early love for art with Stephen Glueckert, a longtime Missoula artist and Senior Curator Emeritus of MAM. In addition to exploring Glueckert's solo exhibition, All Mixed Up, students will discover The Stephen Glueckert Contemporary Montana Collection, which includes the sculptures of Ken Little and the illuminated manuscript pages of Cathy Weber. Donations to the growing collection highlight the intellectual spirit of contemporary art in Montana as it is - and was - being formed among Glueckert's contemporaries.
The survey of works presented in this exhibition is only a first glance at a growing collection. If you are an artist or art lover, please consider giving a gift of contemporary Montana art to the Stephen J. Glueckert Contemporary Montana Art Collection at MAM in honor of this dedicated advocate.
Ken Little
Ken Little is a nationally recognized artist who has been granted two Visual Arts Fellowships by the National Endowment for the Arts in 1982 and 1989. He was a graduate in the first Bachelor of Fine Arts class at Texas Tech University in 1970. He went on to earn a Masters of Fine Arts at the University of Utah in 1972. He has held tenured positions at major universities, including The University of Montana. Since 1988, Little has been a professor of Art in Sculpture at The University of Texas at San Antonio.
He generously donated two of his pieces to the Glueckert collection, saying "I consider Steve a revered colleague. He is a wonderful person and a great artist himself." When asked if he has a childhood experience that helped inspire his passion of art today, Little recalled painting china with his grandmother. "My grandmother was a china painter and from early as I can remember I would stay at her house and paint with her. For some reason, growing up in Amarillo, Texas, I thought I should be an artist. No one was an artist in Amarillo."
Little lived and worked in Missoula for seven years in the 1970's and as his generosity to MAM indicates, he still recalls it fondly, "I've been a lot of other places since then, but I still remember Missoula and the people in it."
Cathy Weber
Cathy Weber grew up in the Midwestern U.S., studied at the Herron School of Art and Indiana University, and completed a formal painting apprenticeship in Mexico City. In 1981 she moved to Montana, where she maintains a studio in historic downtown Dillon. Though most of Weber's work is done in oil, she is skilled in a variety of media.
She gave several reasons for supporting MAM, "I'm a huge fan of Steve, for one thing. We worked together in 2000 when the Grief Show was here and he curated it. He was a treasure as a curator at MAM. I feel really honored to have worked with him and I was delighted when I saw the call for this work. This museum is a treasure. It's so important that we document the art that is being made here and now. We are a community of makers. We are a community of artists. This museum does a good job of keeping track of us."
Cathy recalls her thirst for art education as a child, "I was, without question, the "art girl" in my Catholic grade school. It was never a choice for me. When I was in fifth grade; I was that kid who would be desperate for the technical information. I needed to see what was made and how it was made and who made it. Maybe this a terribly narrow view but that's what museums are for, right? Museums allow us to see the art we need to see. Then we see it and it acts on us in our life."
Cathy grew up in Indianapolis, where she says she haunted the museum grounds as a teen, "I probably spent at least half of my formative years exploring the grounds and the sculptures," she says, "It's another reason why the Missoula Art Park is going to be so fabulous. It was really important to my experience as a kid."