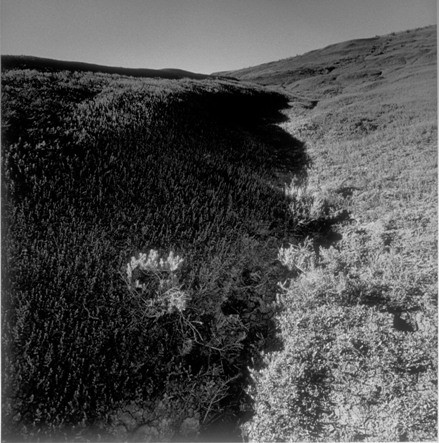 The Wide Open
September 8 2008 - January 19 2009
An exhibition featuring three of the most accomplished contemporary photographers working today: Lee Friedlander, Lois Conner, and Geoffrey James. The works in this exhibition comprise the artist's interpretations of the high plains of Northeastern Montana where the American Prairie Reserve is being created.
The black and white images in the exhibition are compiled with the work of 22 prominent writers in a volume entitled The Wide Open published by The University of Nebraska Press. The exhibition is coordinated to correspond with the release of the book and with the Montana Festival of the Book, which will celebrate the book and the Prairie Project with a panel discussion and reading culminating with a reception at MAM.
Proceeds from the book are in support of the American Prairie Foundation, a non-profit group dedicated to preserving the wild grassland prairie of eastern Montana.
This exhibition is made possible in part with a grant from the Prop Foundation. Additional sponsorship provided by the American Prairie Foundation and the University of Nebraska Press.