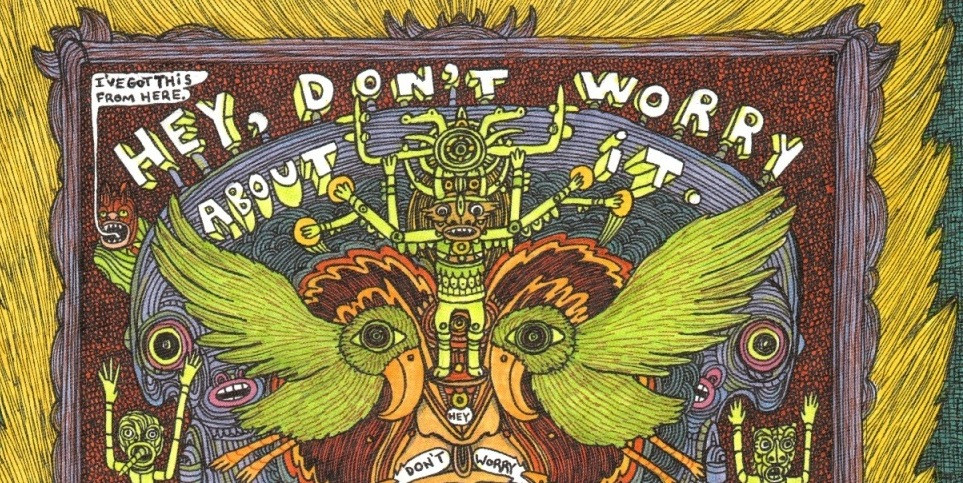 Theo Ellsworth: Thought Clouds
February 20 2015 - June 26 2015
Theo Ellsworth is a self-taught artist, comics creator, and elaborate storyteller. He is a painter, sculptor, mixed-media artist, as well as an illustrator. MAM is thrilled to share a cross-section of more than 50 original illustrations to celebrate his first solo museum exhibition. The selected works will be representing a cross-section of his publications.
The intensity of the illustrations and storytelling is marked by a sensitive layering of color, finished with a graphic line. His approach relates to the language of the comic book. The stories are upbeat and touching, reflecting a tale of ultimate safety in the face of what some might interpret as dangerous situations, as in his The Understanding Monster.
His work reaches out and touches people of all ages through engaging illustrations and surreal storytelling. Ellsworth's web presence is entitled Thought Cloud Factory, which is an appropriate title for his imaginary approach. His work has been featured in Juxtapozmagazine, S! (the Baltic Comics Magazine), Trip Magazine (Quebec),The Treasury of Mini Comics, Vol. 2 (Fantagraphics, Seattle) and Cicada Magazine (Chicago).
Ellsworth was raised in Missoula and maintains a studio here. His first book, Capacity, was published in 2008 by Secret Acres. It is made of material from his mini-comics produced from 2005 to 2007, plus 100 pages of additional material created specifically for this publication in order to tie the stories together. Sleeper Car is a 32-page comic that came out in 2009. His story, Norman Eight's Right Arm, from Sleeper Car was chosen for The Best American Comics anthology in 2010.
Book One of his The Understanding Monster came out in 2012 and won the 2013 Lynd Ward Graphic Novel Honor Prize given by Penn State University and selected for Best American Comics 2014. A review from The New York Times referred to The Understanding Monster as "Imagination turned up to fire hose intensity." Most recently, Ellsworth was one of 10 Montana artists to receive the 2013 Montana Arts Council Artist's Innovation Award. This award is made possible by funding from the National Endowment for the Arts.