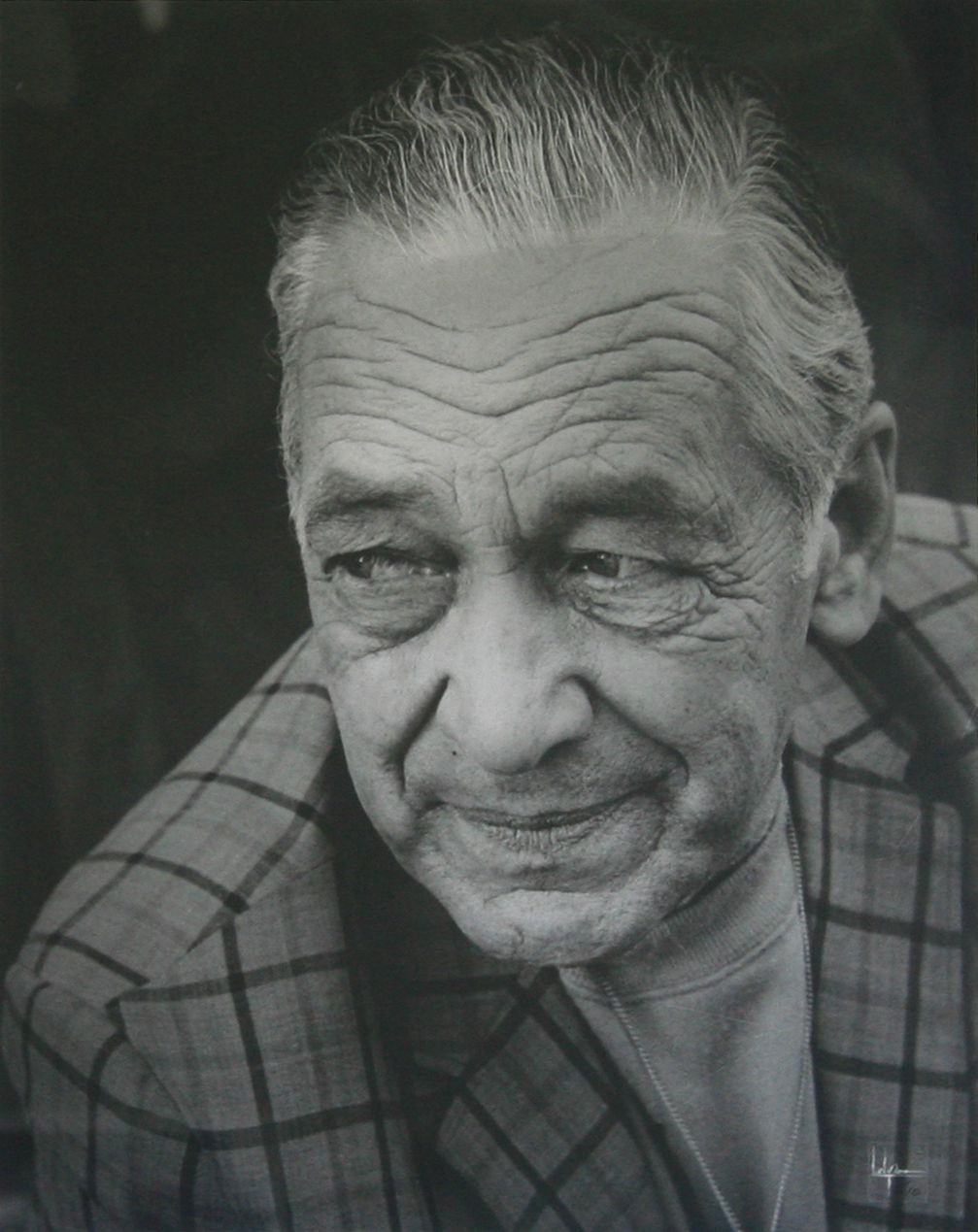 Eddie's Club Adjunct Collection
Tony D'Orazi is a member of the Eddie's Club Adjunct Collection, an exclusive group of portraits of the patrons of Eddie's Club, a legendary bar located in downtown Missoula and known today as Charlie B's.
Photographer Lee Nye worked as a bartender at Eddie's in the late 1960s and early '70s. Around 10 in the morning, when the light was just right, he'd take one of the bar patrons into the back alley for a photograph. With conversation, continuous eye contact, and a Rolleiflex twin lens reflex camera held casually at chest height, Nye captured the portraits hundreds of men—and a few women—in moments of ease and candor. He meticulously printed the negatives on velvety Kodak Ektalure G paper and hanged the finished, framed prints at the bar. The unforgettable faces of Missoula's miners, loggers, railroaders, drifters, writers, and poets began to line the walls, and the Eddie's Club Series was born. Though the bar has changed names, the photos remain just as they were.
Around 1970, Nye selected 31 portraits and made prints of alternate poses or expressions, and called these the Eddie's Club Adjunct Collection. Tracy Blakeslee acquired the prints in 1996 and donated them to MAM in 2017.
MAM exhibited these works in 2019. While many of the characters were well-known, lifelong Missoula residents, several had become lost in time. The exhibit, reviewed by John Yau, became an opportunity to collect stories and memories and discover what became of some of the men, like Tony D'Orazi.
D'Orazi was born in Missoula in 1909, the oldest of 10 children. He and his wife, Miltreta, raised their family in Eagle Rock, a neighborhood in the northeast of Los Angeles. D'Orazi was a quick sketch artist and pioneer in children's programming, radio, and television. He attended the American League Arts school in New York in the late 1920s and received two first prizes at the Chicago World's Fair Exhibition in the 1930s. In Los Angeles, he hosted a radio and television program that taught children how to draw, earning him the moniker the First Cartoonist of the Air. One of his cartoons of Will Rogers is in the collection of the National Portrait Gallery. He was one of the early in-between artists for Disney and worked on Pluto and Goofy. In fact, he may have voiced these characters, as well.
According to an oral history with his sister, Marie Giles, recorded in 1990, "Other than illness, he would have had a very successful life. ... My father...had to go pick him up and everything. It was like a nervous breakdown is what had happened from the pressure. In fact, that affected my brother Tony's life for the rest of his life. Otherwise, I think he really would have been very successful with his artwork."
D'Orazi passed away in the Eagle Rock neighborhood of Los Angeles in 1974.