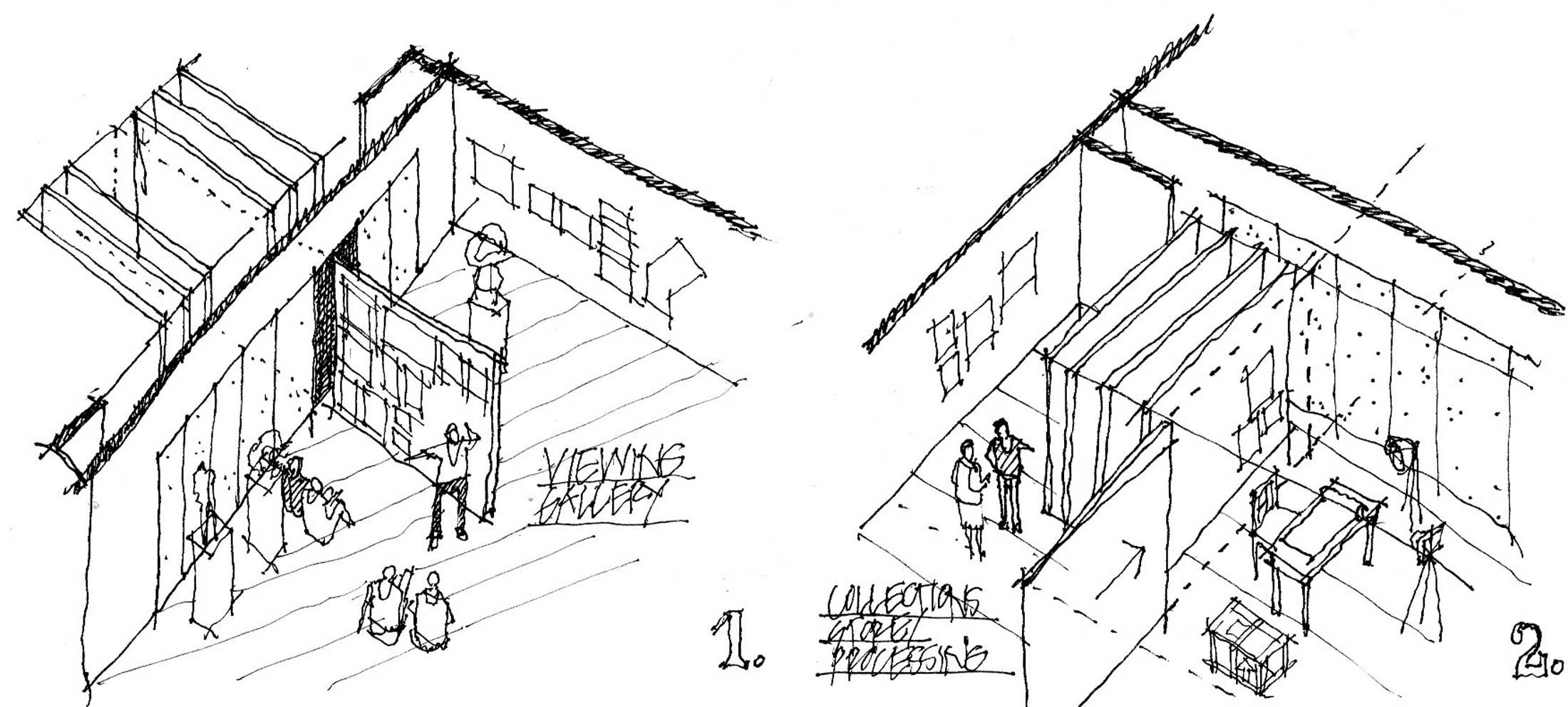 The MAM Collection Access, Research, and Education (CARE) Center is an ambitious vision for MAM to improve preservation and access to the MAM and other regional cultural collections.
The CARE Center is the outcome of a yearlong effort to determine the potential for community and statewide collaborations in collections-driven research, education, storage, preservation, and conservation efforts.
The project was conducted with a $25,000 grant from the Institute of Museum and Library Services (IMLS) program, Museums for America, in 2017. Only 24% of applications to this highly competitive program were funded, placing MAM in the national ranks of 138 projects that support the IMLS goal to connect communities to their artistic and cultural resources. IMLS Director Dr. Kathryn K. Matthew says, "As centers of learning and catalysts of community change, libraries and museums connect people with programs, services, collections, information, and new ideas in the arts, sciences, and humanities. They serve as vital spaces where people can connect with each other."
Montana has a rich history, and its institutions hold important collections of artwork, documents, and archival materials. However, many of the state's museums and libraries are experiencing shrinking capacity as collections continue to grow.
MAM Senior Curator Brandon Reintjes says, "Museums and libraries tend to develop and expand resources independently. However, there are significant opportunities for us to collaborate with our colleagues throughout the state, specifically in regards to collections. We're extremely proud to have received this important national grant."
Nearly $22,000 of the total grant stayed in Montana communities and provided direct benefits for Montanans, including training stipends and new access to much-needed professional development resources. The project was enhanced with a grant from Humanities Montana to expand outreach to rural communities.
MAM conducted a statewide collections survey, hosted two workshops with Denver-based book and paper conservator Beth Heller and Mansfield Library Head of Archives and Special Collections Donna McCrae. Architect Warren Hampton facilitated d three design charrettes resulting in conceptual designs for a new facility. More than two dozen regional collection professionals and community members informed MAM's vision for the future collection center.
Vision Statement
The Missoula Art Museum Collection Access, Research, and Education (CARE) Center provides free access to visual art and resources that help preserve cultural collections in western Montana. CARE helps to fulfill MAM's vision to encourage creativity, connect with the community, and strive for excellence and sustainability in collection care.
The CARE facility has dynamic spaces dedicated to the storage, care, and use of more than 2,000 artworks in the MAM collections and the Missoula County Art Collection managed by MAM. In the Study Center, educators, scholars, students, and museum colleagues examine original artworks, explore archives, and delve into MAM's art research library, a non-circulating branch of the Missoula City-County Public Library. In the Teaching Gallery, interns and guest curators, including artists working in our community, use the collections to create changing exhibitions that promote curiosity, critical thinking, and bold responses to current issues in contemporary art. Classrooms facilitate professional gatherings and trainings in collection stewardship, and workshops allow for safe conservation, photography, and fabrication. A climate-controlled storage vault protects the collections and allows for sustainable growth.
Believing in the power of inclusive alliances and unexpected solutions, CARE seeks to function as a spirited point of connection between diverse partners, including K-12 schools, colleges and universities, civic and tribal agencies, and social organizations. Building on MAM's years of outreach in the region, CARE focuses on catalyzing collaborations in the area of Missoula, Ravalli, Lake, Granite, and Sanders counties.
READ MORE
• Statewide Collection Assessment: 
In fall 2017, MAM contacted the directors of more than 230 Montana museums, libraries, and archives with a request to participate in a survey to identify significant needs, challenges, and opportunities.
• Mid-Year Report: Recap of CARES programming and lessons learned from two workshops and three community design charrettes