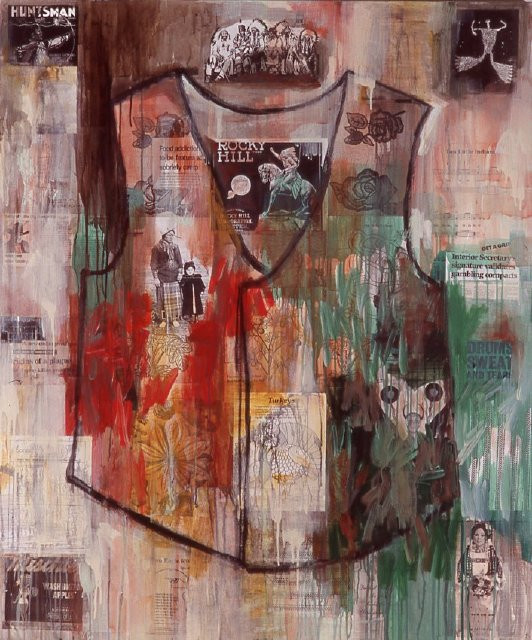 Montana Connections surveys the work of contemporary artists and issues vital to the cultural and aesthetic history of the state. Resources available for online viewing and free download include images, scholarly essays, and K–12 curriculum developed by teachers, for teachers. This program was initiated with support from the National Endowment for the Arts and Montana Cultural Trust.
Jaune Quick-to-See Smith
Jaune Quick-to-See Smith (Salish-Kootenai, Métis-Cree, Shoshone-Bannock) was born in St. Ignatius, Montana in 1940 and is an enrolled member of the Flathead Nation. She has lived in New Mexico since the late 1970s, working as an artist, teacher, lecturer, curator and activist. Her powerful commitment to social, environmental and political issues and her expressive, creative voice have established Smith as a dominant figure in contemporary American art. But Smith has always maintained a vital connection to her home and American Indian culture. She has proven her support for the arts with with more than 40 of her own and other artists' works to the MAM Contemporary American Indian Art Collection.
Educational Resources
This program was created and is made available freely with support from the National Endowment for the Arts and Montana Cultural Trust.
Want more? Download this packet, created in collaboration with the Montana Office of Public Instructions (OPI): Learning Through Art: Corwin Clairmont and Jaune Quick-to-See Smith.
Rudy Autio
Rudy Autio (1926–2007) was a Butte native and lifelong Montana resident who changed the nature of contemporary ceramics. His interests, methods, and artworks influenced individual artists around the globe. His ideas that budded in the 1950s forged the notion that clay was not simply suitable for utilitarian crafts but also an expressive sculptural medium.
Resources